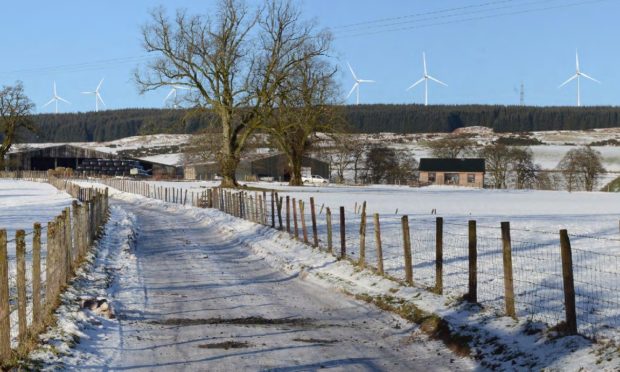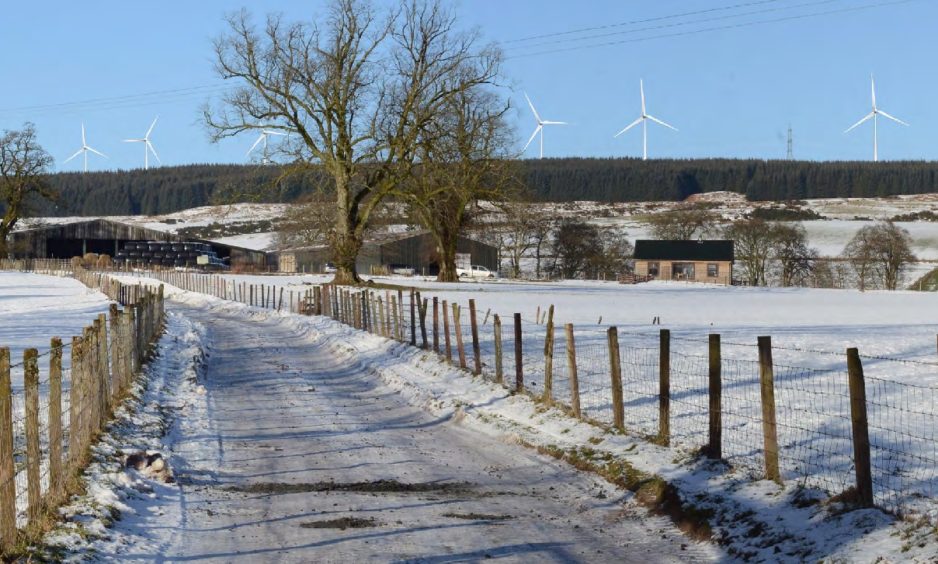 Madam, – I am not surprised that Bill Thomson of Braco and SNP Councillor Tom Gray (Shock as government approves proposal for unpopular wind farm, Courier, January 21) are appalled by the decision of the reporter appointed by the Scottish Government's Directorate of Planning and Environmental Appeals to overturn Perth and Kinross Planning Authority's decision to kick out the Greenscares, aka Glenalmond wind farm application.
But should they be surprised with the Scottish Government's flawed energy policy predicated on renewables?
Developers are kicking at an open door in Scotland.
More so since the Westminster Government's decision only to allow wind farm development where communities welcome them.
Few communities would want to live beside a wind farm. In Scotland most wind farm developments have been refused by planning committees made up of democratically- elected councillors often supporting recommendations made by planning officers.
These applications are carefully scrutinised by planners and often by qualified landscape architects who assess the landscape impacts as unacceptable.
These applications are also usually objected to by droves of local residents or people who value the landscape qualities that are being assaulted.
Then along comes a DPEA Reporter whose layman's qualification in landscape assessment will be sketchy at best and who disagrees with the professionals and decides that the application before them is acceptable.
So much for democracy in Scotland.
Graham Lang,
Scotland Against Spin,
Westermost, Ceres,
Cupar, Fife.
Better use for light night cash
Madam, – Having read in The Courier that the Conservative-led Perth and Kinross had spent £100,000 on the 2018 Christmas lights switch-on, I have to express my total revulsion (Christmas switch-on costs plan revealed, Courier, January 21.)
To have the sycophantic adulation of so-called stars of the pop industry named as musicians is a travesty.
What they provide is not music but amplified noise and the content of the "entertainment" they provide has nothing to do with the real meaning of Christmas.
It would be better for our council to donate the money frittered away on this annual gimmick to Perth Royal Infirmary's Instrumental Music Service, which does something worthwhile for the country, and to help single parent families, elderly people and the homeless.
Alister Y. Allan,
18 Castle View,
Letham, Perth.
Disrespect to wartime heroes
Madam, – The senseless defacing with paint of the memorial to the brave aircrews of RAF Bomber Command (Second World War memorial and Churchill statue covered in paint, Courier, January 22) was obviously carried out by someone who has no respect or decency.
Many who survived the horrors of war must look in anguish at a country that is so violent and so disrespectful.
Thomas Brown,
18 Garry Place,
Bankfoot.
No broad brush for older drivers
Madam, – Roy McIntosh from Falkirk has "always thought there should be an age limit" for drivers (Upper age limit for driving, Courier, January).
I am a recently retired driving instructor having driven since the age of 18 without incurring a single penalty point on my licence.
Why should I be precluded from visiting my family near Froickheim because of my age?
To continue visiting would involve making a bus trip to Dundee from Cupar, another to Forfar and a third towards Froickheim. Thereafter I would have a one-mile walk as there is no bus.
Alternatively I could pick up a bus or train to Dundee and then on to Arbroath and then a bus towards Forfar with the mile walk to complete my trip. Some people require a car.
Introducing an automatic ban is ageism.
No doubt Prince Philip's accident justifies a broad-brush approach to all older drivers.
Donald Adams,
31 Kirklands Park,
Cupar.
Health checks for motorists
Madam, – I refer to Mr McIntosh's letter suggesting an upper age for driving at 70.
I am over 70 and am not going to agree with that. But I do have reservations about the three yearly renewal of the driving licence beyond the age of 70.
The form for renewal is all self certification and people could answer every question with a lie.
I do think there should be some form of health check to ascertain the ability to drive.
People who end up in hospital or visit an optometrist often fail the criteria to drive after the DVLA is advised and their license is revoked.
Jim Balneaves,
4 Tayside Place,
St Madoes,
Glencarse.
Cuts not the fault of coalition
Madam, – In an attempt to deflect attention away from the Scottish Government's swingeing cuts to Scottish local government in 2019/20, Henry Malcolm blames the former Westminster Coalition Government (Lib Dems played role in UK crisis, Courier, January 19).
To try to lay blame next year's cuts on a government that left office four years ago takes implausibility to a new level.
When I said the Scottish Government was responsible for large cuts to local government for 2019/20, I was not venturing an opinion – I was stating a fact.
The Scottish Government's draft budget cuts Scottish councils' core revenue budgets by some £237 million. This is a disastrous settlement for local government that will lead to more than £19m of budget cuts in Dundee alone.
There is time for the Scottish Government to reconsider and I strongly urge it to do so.
Councillor Fraser Macpherson,
City Chambers,
Dundee.
Oceans show climate change
Madam, – I do not understand people like Clark Cross and his ilk (Climate disaster overstated, Courier, January 21).
Presumably he has a car, a television set, a computer and smartphone. All of these are the product of science yet when scientists tell them that man-made global warming threatens the planet they hotly deny it.
Mr Cross fills his letter with very iffy statistics to justify his assertions.
Well I have another one for him and there is nothing iffy about this; let me introduce him to Argo.
It is a submersible buoy that can go sub-sea to a depth of two kilometres.
On resurfacing it then beams, via satellite, its co-ordinates and measurements of salinity, temperatures and ph readings (acidity) to researchers.
For the past 10 years a fleet of 4,000 have been measuring global oceanic temperatures, and the results are not good.
Oceanic temperatures have been steadily rising at a rate 40% faster than was previously thought.
As 93% of global warming occurs in the world's oceans these facts should give even Mr Cross pause for thought.
Jim Robertson,
194 High St,
Montrose.