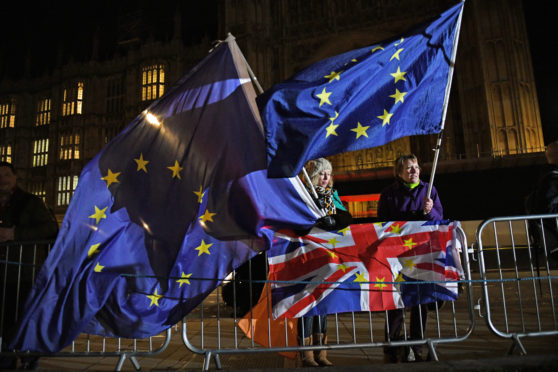 Madam, – I expect my MSP to do her or his very best for every constituent in their area.
Likewise, I expect them to do their very best for the country at large.
I'm in the fortunate position of having an SNP MSP, John Swinney, and MP Pete Wishart.
But what of those voters who, for whatever reason, returned 13 Tories to Westminster?
Are they seeing their representatives fighting for Scotland at a time of national crisis?
Unfortunately not, as it transpires they are set to block any formal role in trade negotiations by the Scottish Government after Brexit.
I find this a totally scandalous outburst from elected representatives whose job is to look after Scottish interests.
So much for them voting as a bloc to protect Scottish interests as they proclaimed after the 2017 general election.
If I had the misfortune of being represented by one of the 13 I'd be demanding answers – and quick.
I find it despicable these parliamentarians can actively rail against their own country when the debacle of Brexit unfolds around us.
Are they so totally in thrall to Westminster and the weakest government in decades that they can't even stand up for their own constituents?
They must surely be aware of the incredible damage that Brexit – deal or no deal – will do to our country.
Not only will the cost of a no deal be around £14 billion pounds per year, but by the government's own HMRC regional statistics, EU countries account for more than 50% of all Scottish exported goods.
The Tories' stance is despicable and indefensible.
Yet I expect more of this behaviour in the coming months.
With an independence referendum getting closer every day such behaviour is all the government has left in their arsenal.
All the scare tactics of economic doom which were spouted last time around have been shown to be palpable nonsense.
And yet, here we are still yoked to the most dysfunctional Westminster ever, overseen by an incompetent and ill-informed UK government backed up by a totally discredited and all-at-sea Labour party.
As far as I can see the only shining lights and people of probity, good sense and intellect at Westminster are on the benches of the third biggest party, the SNP.
Whether you like them or not, no-one can say they are not standing up and fighting Scotland's corner.
Graeme Finnie.
Balgillo, Albert Street,
Blairgowrie.
Selling pupils short is wrong
Madam, – We now appear to have at least two high schools in Fife shortening the school day purely because of reduced funding, and this being done with the knowledge of our Scottish Government.
When I was a headteacher in the 1970s I received orders from my superiors to end the school day for pupils at 3.15pm, instead of the customary 4pm, in order to allow preparation time for teachers.
I realised that would mean a loss of 150 hours of education annually each year for each pupil, but I had no option but to obey.
Many schools, I believe, now end the pupils' day at 3pm.
The difference today is that recent shortening of the school day is being proposed purely for financial reasons and not specifically to give staff further preparation time.
Can our SNP Government not see the long-term damage that this will do to our country?
As a nation, Scotland can't go on reducing the hours of pupil education without there being a knock-on effect to national competitiveness in the international marketplace.
We are already well down the league tables in maths and science when matched against other world nations.
Those responsible for the inadequate financing of our educational system have a lot to answer for.
Archibald A. Lawrie.
5 Church Wynd,
Kingskettle.
Support for vanity schemes
Madam, – I was recently discharged from Ninewells Hospital and found a bus to drop me off close to the railway station to get a train home to Kirkcaldy.
On starting to chat to nearby passengers about Dundee's fantastic new V&A, I found not one person had a positive comment to make.
The majority piped in along the lines of what a total waste of money it was. I am apolitical but I cannot comprehend that vanity schemes continue to thrive while councils are closing libraries, musical lessons and leisure centres.
Michael Diack.
14 Biggin Wa's,
Kirkcaldy.
Brexit risk to UK hospitality trade
Madam, – Recent reports show Scotland's hospitality and tourism industry is in good health. A survey by the Scottish Licensed Trade Association (SLTA) indicates growth, while data from the Office for National Statistics shows visits and spending by overseas tourists in Scotland rose to its highest level on record last year.
The industry is critical to the economy.
But the impact of Brexit is already bearing down and crushing any optimism.
One in four businesses in the SLTA survey is expecting to lose staff because of the UK leaving the EU, with 65% anticipating further staffing problems.
It is estimated that anything up to 750,000 EU citizens work in the UK hospitality industry, making it critical we retain this workforce and talent.
At the same time, in Scotland, lowest-ever unemployment figures raise fears for skill shortages and highlight the growing need for a bigger talent pool to fill the gap left by UK citizens who choose different jobs.
Mrs May's scrapping of the £65 'Settled Status' fee for EU citizens is to be welcomed.
However, EU citizens will still need to apply to continue to live in the country that they now call their home. More needs to be done.
The impact of Brexit on the hospitality sector is something we all have to come to terms with.
Accessing the right talent is key to success and has to be a priority.
Julie Grieve.
CEO, Criton,
Codebase,
Edinburgh.
Huge benefits to music tuition
Madam, – I live in hope that one day those who hold the purse-strings will understand the co-operative, emotionally-rounded society that we all crave will only exist if music, art, drama and literature are a focal point in our children's education.
Music, and in particular learning an instrument, teaches the life-skills of concentration, stickability, co-operation, confidence and a sense of self-worth, which parents marvel at when they see their children performing.
It is heartbreakingly short-sighted to put instrumental tuition beyond the reach of those who will most benefit from it.
Jill Duguid.
26 Ballinard Gardens,
Broughty Ferry.
Drive to go green comes at a cost
Madam, – The Kia e-Niro has been named the best car in Britain at the annual What Car? awards.
It is the first time that an electric car has won.
The report says it will be available from April for £32,995, thanks to a government subsidy of £3,500. It is not a government subsidy but a taxpayer one.
Clark Cross.
138 Springfield Road ,
Linlithgow.