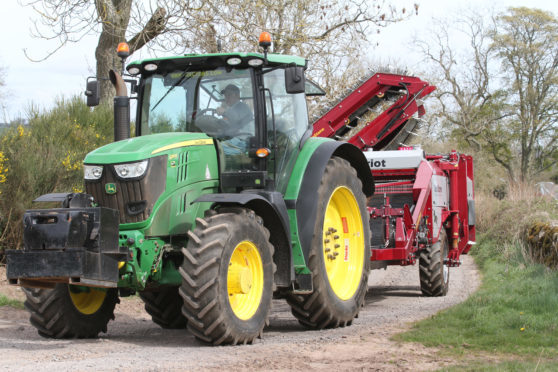 Madam, – While sympathising with cash-strapped local authorities, the plans by Angus, Dundee and Perth and Kinross councils to centralise the preparation and distribution of school meals seems to be at odds with Parliamentary policy.
Over the last few years the Scottish Parliament has been considering how best it could support Scotland to become a "Good Food Nation".
This ambition is intended to create a population which is knowledgeable about sourcing, choosing, preparing and eating the best of food.
It is hoped that these noble aims will lead to improvements in the health and well-being of the Scottish population, which is, at the moment, second only to the USA in its poor diet-related health issues.
Most people acknowledge that Scottish farms produce some of the highest-quality foods.
Unfortunately what happens in the processing and marketing of these foods alters the quality and nutritional value.
Consumption of highly processed end products along with a sedentary lifestyle have contributed to Scotland becoming the sick man of Europe.
While accepting that frozen foods can be tasty and nutritious, this is only part of the picture.
Over the last 20 years, farmers in Scotland have been attempting to establish links with schools to try to connect people with the food they produce.
Children have enjoyed these talks and visits which have opened eyes to the variety of fresh produce grown here.
It is inevitable that a centralised preparation system will bulk buy and not necessarily from local sources.
Also, the knowledge and skills of those in school kitchens will be lost. Surely they should be part of the good work being done to educate children about healthy food choices?
Finally, Perth is the only Scottish "Slow City" and Angus was at one time looking to be part of a local movement called "Good Food Served Here".
Both schemes focus on local food for local people, creating a more knowledgeable and healthier population.
Centralised frozen meal production will take food further away from our children, the next generation of buyers.
I hope elected members of these three councils will think long and hard before they move to a centralised frozen food system for our young people.
Gill Lawrie.
Newton of Arbirlot,
Arbroath.
Obsession for independence
Madam, – In reply to the comments made by Alex Orr (History says prime minister should resign, Courier, January 26). This coincided with a visit to London by First Minister Nicola Sturgeon to orchestrate the downfall of the UK Government during a crucial vote on Brexit, which has now been seized upon as another excuse to further the obsession for a second Scottish referendum.
Theresa May is not short of critics, namely the Scottish Government and others with political and personal ambitions.
However, no-one can deny her tenacity and sincerity to uphold democracy in our country.
When we examine the record of Mr Orr's government of choice and in particular Nicola Sturgeon's history, it tells us that in 2014 during the Scottish referendum 1.6 million people voted for independence and 2.1m voted to remain in the UK – a difference of 500,000 votes.
Mr Orr in a previous letter stated that nearly 50% of people voted for independence, but they did not.
Nicola Sturgeon directly after the referendum result in a broadcast stated "it's not a question if Scotland will be independent but when." It was a complete rejection of the will of the majority of people who do not want independence.
Her response was a gross betrayal of our democracy.
Democracy denied is dictatorship, which is what we have now in Scotland with the SNP.
David Balfour.
Strathern Road,
Dundee.
Why Scottish votes all add up
Madam, – Alex Orr in his letter of January 26 quotes "in a democracy people get the leaders they deserve" and wonders why we have such appalling Westminster governments.
The reason is simple, Westminster is a sham democracy using first past the post where most of the electorate can only choose between the two main incompetent parties, or they waste their vote. We are fortunate in Scotland because Holyrood uses proportional representation and we can all vote for the party we really support.
Scots mostly vote for parties that put the people of Scotland first (SNP and Green) which is what you would expect.
Why would you vote for the branch office of a London-based party that puts the people in the south-east first?
Andrew Collins.
Ladyburn House,
Cupar.
Future looks rosy for Greens
Madam– I was surprised at the letter from Mev Braid in Glenrothes (Churchill row raises questions, Courier, January 29).
Mev seems to be "frightened" that Ross Greer MSP is part of an "unelected party".
Strangely enough it does not seem to have occurred to the writer that the letters MSP after Ross Greer's name means he has been elected as a member of the Scottish Green Party to serve his constituents in the Scottish Parliament.
The fact that the Greens are influential above their representative number is due to the growing realisation among the electorate that we must all become greener if this planet is to survive.
Elspeth Maclachlan,
Dunsinane Drive.
Letham.
Belittling others' views not on
Madam, – This morning I received a email from the national leader of the Liberal Democrats telling me that in the wake of the Brexit debates this week nothing has changed.
In one way I think he is right but not in the way he thinks.
What has certainly changed in the last few years has been the constant belittling of people who either believe in Scottish independence or those who believe in the union, and the constant negative attitudes towards the Scottish Government.
Do those who engage in such things think that it somehow impresses voters of the future?
Peter Ovenstone.
6 Orchard Grove,
Peterhead.