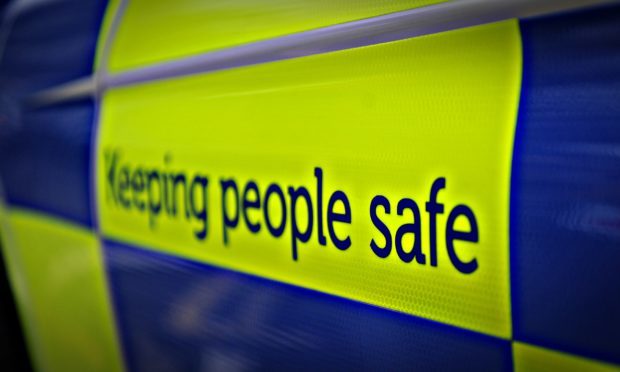 Madam, – Contrary to Gordon Pay's recent offering (Real risk to pedestrians on Scottish roads, January 21), the long-term trend in road traffic accidents (RTAs) involving pedestrians in Scotland is downwards – something that has been confirmed by numerous studies.
The increase in RTAs involving cyclists reflects the substantial increase in the number of cyclists on the road.
Even I can exceed 20mph on my bike, though I usually need a hill.
Furthermore, Aberdeenshire Council alone confirmed to Holyrood's rural economy and connectivity committee the estimated cost of implementing the required changes for a 20mph limit in the first two years would be £500,000.
SNP MSP Maureen Watt said this suggested the initial cost of the proposal had been "grossly underestimated".
Whilst those who respond to consultations may favour the proposal, that is very different from this being regarded as a high priority for the public to justify the use of a substantial amount of very limited council funds.
Hamish Hossick.
Strathern Road,
Broughty Ferry.
Time to build a new model
Madam, – I thought Jenny Hjul was sympathetic but less than fair towards former deputy SNP leader Angus Robertson's organisation Progress Scotland (Courier, February 6).
It is aimed at trying to take a scientific approach to finding out the views of those yet to be convinced of the case for independence.
That is the pensioners, the people born elsewhere in the United Kingdom, Europe and the rest of the world, the people with considerable savings, those who work in the financial and energy sectors among many others.
Mr Robertson already knows that current polling evidence shows support for autonomy has not changed much since the referendum of 2014.
He wants to find out what these people are thinking, and how policy can change to accommodate them.
That in itself will not be enough. He knows, too, that it is not sufficient simply to shout louder and louder to try to persuade voters. Some serious work has to be done on citizenship, on the currency, on public spending and taxation, on Brexit, on oil, on transport. A new model of independence has to be created to suit the conditions of the 2020s and 2030s.
It is simply not good enough to rely on the "we wuz robbed" approach taken by so many activists to the vote of more than four years ago.
The new model has to be worked on and put to the voters in the 2021 Holyrood election.
Mr Robertson's project may go a long way to help develop a programme to give independence supporters a fresh mandate for the next decade.
Bob Taylor.
Shiel Court,
Glenrothes.
Trumped up breakaway
Madam, – If the UK goes through with the Brexit plan and leaves the EU, then presumably the Scottish First Minister will call for a second independence referendum.
If Scotland decides to break away from the union and re-joins the European Union, will there need to be a border wall between Scotland and England, and will the First Minister expect the English to pay for it. Or will she ask Mexico to fund it?
Mike Gardner.
Manor Street,
Forfar.
Cuts talk strikes a sour note
Madam, – The recent critical inspection of Perth High School praised the range of after school and lunchtime activities available to pupils, particularly in sport and music.
As current Perth High School parents we agree that the music provision in lunch breaks is excellent.
However, it should be noted that these music groups rely heavily on tutors from the Instrumental Music Service, which is currently under threat due to the proposed fee increase of 60% over three years.
The fee increase will make it harder for many pupils to play, reducing participation and putting school music groups at risk.
It would be a great shame if future Perth High pupils were unable to benefit to the same extent as our children have.
Susannah Rae, on behalf of the group.
Barnhill,
Perth.
Council plans are madness
Madam, – How can it be that straight thinking men and women, some of them business people, become so daft as soon as they are elected as councillors?
These two latest Angus Council schemes concerning parking and bin emptying are, simply, mad.
And now they are counting on tourists to fill up the car parks in the summer in order to walk up and down an empty high street.
There's fat chance of that. How can this save any money?
John Milne.
Addison Place,
Arbroath.
Battle scars run deep in Angus
Madam, – The battle of Arbroath also saw a feud open between the Ogilvys of Inverquharity and those of Clova, who fought on opposite sides.
When the current head of the Inverquharity branch, Sir Francis Ogilvy led a cycling group round historic Angus last year, I felt obliged to seek dispensation from our clan chief, Lord Airlie before offering hospitality at Balnaboth.
At Kinblethmont they maybe have shorter memories.
Perhaps of more interest are the documents in our archive pertaining to Arbroath, the oldest being a copy charter by Cardinal Betoun (sic) of 1544.
Hector Ogilvy MacLean.
Balnaboth,
Kirriemuir.
Kindness of Kinross folk
Madam, – I would like to thank the person who found and then posted a packet I had lost while on the way to the post office.
A New Zealand friend of mine had purchased a pair of earrings on her last trip to Edinburgh but had lost one.
She asked if I could source another pair and send them to her cousin's address in Manchester.
On December 28 I popped the earrings into a small addressed padded envelope and set off to walk to the post office in Kinross.
It was only as I neared the post office that I found the envelope was not in my jacket.
I walked the route over the next several days but believed all was lost. That was until my friend messaged me on January 30 that the package had arrived.
To many people this may not have much meaning but I am elated.
It is heartwarming that someone thought to help recover my error.
Tommy Smith.
Muirpark Road,
Kinross.
And three more cheers for Crieff
Madam, – My partner and I are privileged to have visited many places around the world but the people in Crieff are amongst the warmest and friendliest we have ever come across.
A special mention to Vicky in Crunch Munch for the best waffles we have eaten; the Central Fish Bar for an excellent fish supper and the talented owners of the craft and sewing shops.
An excellent holiday and we can't wait to return. Thank you all.
Elaine and Mike Hansak.
Helsby,
Cheshire.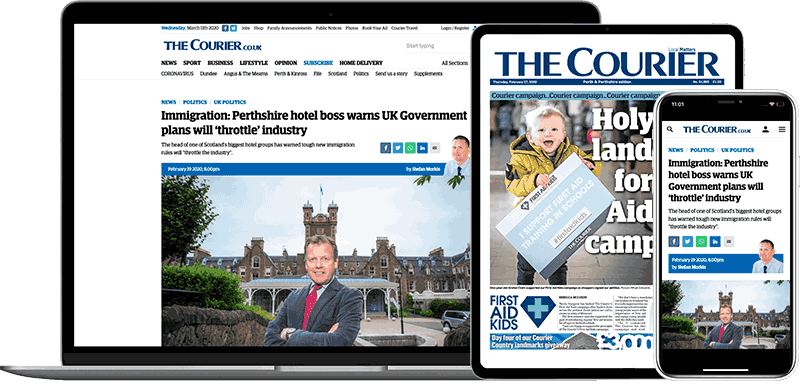 Help support quality local journalism … become a digital subscriber to The Courier
For as little as £5.99 a month you can access all of our content, including Premium articles.
Subscribe