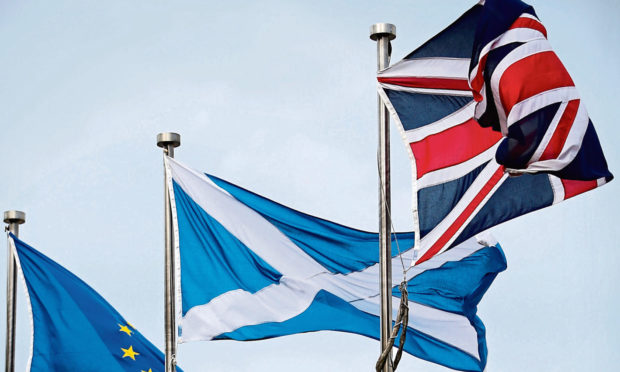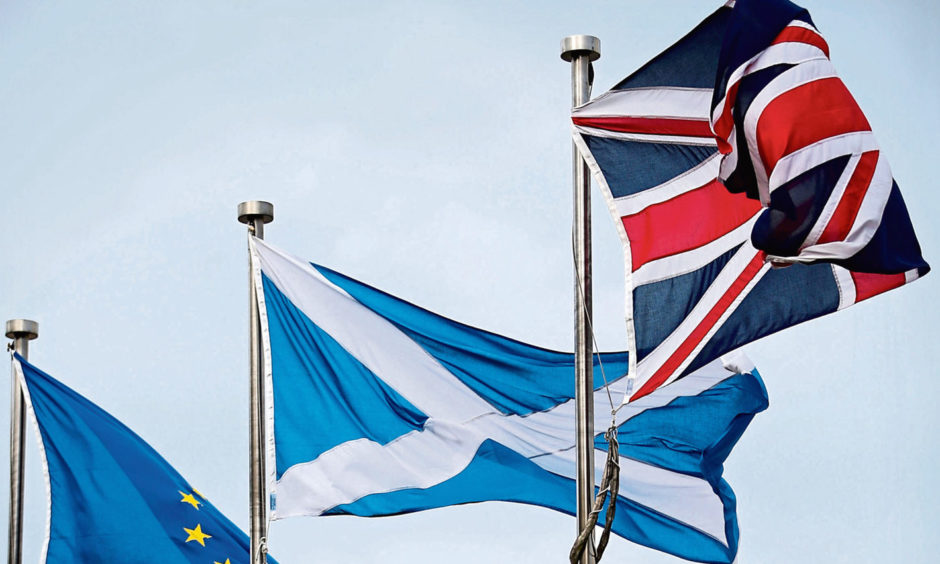 Madam, – One of the regular 'Scotland in Union' letter writers, Martin Redfern (Monday, February 18) attempts to convince us of his vision of a future Scotland in union.
To consider Ruth Davidson as a potential First Minister of Scotland is, frankly, wishful thinking.
Scotland has rejected Tory policies since the mid-1950s.
To borrow one of Ms Davidson's favourite lines, when will her party accept that no means no?
Continuing with his unionist wish list, Mr Redfern asserts there will be no Scottish independence referendum until Downing Street grants permission.
In essence; never.
Since September 19 2014, Scots have seen the true face of English establishment absolutism lurking behind the mask of union.
It hasn't been a pretty sight.
Uglier yet, since June 2016, in the aftermath of a European Union referendum result being posited as a reclamation of English independence.
Mr Redfern and his comrades' acceptance of London diktat is their own affair.
Singularly failing to explain why the rest of Scotland should acquiesce to this affront to democracy, quite another.
His fanciful hope regarding Nicola Sturgeon's immediate future is built on her failing to achieve a Holyrood majority in a parliamentary system designed to favour minority government.
Indeed, it has been admitted that the voting system chosen by the unionist cabal had the express purpose of keeping the Scottish National Party (not "nationalist", Mr Redfern) from achieving a position they have now held since 2007.
The sort of popular democracy sadly lacking in the so-called mother of all parliaments.
And that's a deeply flawed, reactionary Westminster institution, which is, by dint of its inbuilt English majority, constitutionally harmful to Scotland.
Ken Clark.
15 Thorter Way,
Dundee.
A prescient song for the future
Madam, – It struck me, on reading so much about this these days, that back in the year 2000 the children of the High Kirk in Dundee put together a musical story (Orbit to the Future) which showed they were concerned, even back then, of the worrying changes in our world.
They helped put together a story which was put to music and staged successfully (for them and, we trust, also the audiences) with a chorus as follows:
Millennium, millennium,
What are we going to do with this millennium?
Nothing seems to be going quite right,
There's dark in the morning and light in the night.
And the weather! It's all
Inside out and upside down,
There's floods in the country and drought in the town!
Inside out and upside down,
What can we do to get by?
I'd love to think some of these children will today be putting some of these ideas into useful channels, maybe even in politics.
Dr Norma H. Smith.
7 Adelaide Terrace,
Dundee.
Is our MP working on this?
Madam, – What does our Labour MP, Lesley Laird, actually do?
It is so frustrating to hear Dalgety Bay's radiation remedial work has been delayed for a year following a failure of the UK Government minister to act.
For everything to be in place only for the final approval to sit in a minister's inbox unanswered, resulting in a one-year delay, suggests incompetence on the part of the minister and a lack of involvement on the part of our MP.
Our previous MP got the issue moving and spoke of being in regular contact with the MOD and ministers to ensure progress.
Has Lesley Laird done anything on this or has she been distracted with personal career progression and Brexit?
This issue went nowhere for roughly 20 years under Gordon Brown, got moving under Roger Mullin and is now stuttering with Labour's Lesley Laird.
I believe she was an ineffective councillor but is it too much to hope that she'd feel bothered enough to do something for the area as our MP?
Peter Madill.
River View,
Dalgety Bay.
Let the people decide on Brexit
Madam, – I am writing in response to the chaos we are yet again witnessing in our Houses of Parliament.
Westminster is meant to be the mother of all parliaments, but this week you could be forgiven for mistaking it for a children's playground.
With Labour MPs defecting and the Conservatives riddled with blue-on-blue infighting, it is hard to see how our politicians can solve this Brexit mess and get our country back on track.
But there is a way forward that can put all this infighting to rest and focus on the real issues facing our country.
Politicians have to give the decision back to the people about what to do next on Brexit.
Only by giving us the final say can we break the deadlock and let our politics get back to doing what it is supposed to.
That's why we, Best for Britain East of Scotland, are calling on Lesley Laird (MP for Kirkcaldy and Cowdenbeath) to support an extension to Article 50 to allow for a people's vote on the deal.
Only then can we begin to put this mess to bed and hopefully get back to the grown up politics this great country deserves.
Roberta Buchan.
Balfour Street,
Edinburgh.
St Cyrus solution?
Madam, – I have sympathy for the travellers who pitched up at St Cyrus and with their own efforts established an acceptable site.
However, I too would have complained had I occupied a house nearby and experienced the loss of amenity.
There are difficult decisions to make but I believe these travelling individuals, oft disadvantaged,would not have sought to develop this site if there had been a more suitable remedy.
Viewing the photograph ("Travellers' site still a flood risk, says watchdog", The Courier, February 20), I can but wonder how the established dwelling house came to be on the so-called flood plane.
It would appear to me the solution to this impasse would be to remove the risk of flooding by whatever construction necessary, in order to alleviate the cost of providing suitable accommodation elsewhere for these travellers from the public purse.
This provided the cost of these works were deemed to be affordable.
Just a thought.
AG Walker.
Puddledub Cottage,
Guthrie.
Continue the airport subsidy?
Madam, – The current £400,000 (over two years) subsidy given to Dundee Airport by Dundee City Council comes to an end next month.
I am told discussions are under way to extend this subsidy.
The residents of Dundee are already facing a council tax increase and an additional garden waste collection charge.
Is this the right time to be supporting those who want to fly to London?
Albert A'Hara.
21 Rockfield Street,
Dundee.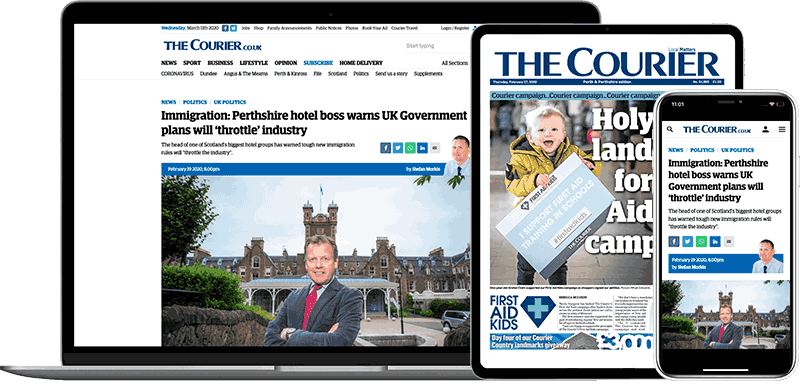 Help support quality local journalism … become a digital subscriber to The Courier
For as little as £5.99 a month you can access all of our content, including Premium articles.
Subscribe