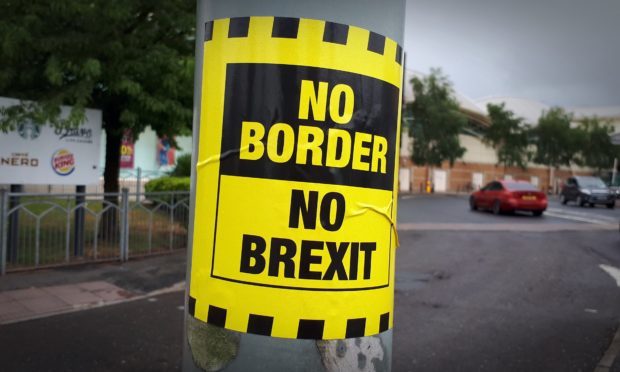 Madam, – I am writing about the chaos unfolding in our parliament yet again.
Leaked documents have revealed our Government is setting up a hardship fund to deal with the pain and destruction caused by a no-deal Brexit.
And, at the time of writing, 11 MPs have left their parties behind to form a new independent grouping. Meanwhile, the Labour Party has now said they will campaign to give people the final say if their own deal can't win support, and more and more MPs are leaving their previous parties behind.
The Government's own calculations show that no-deal Brexit will lead to thousands of job losses and untold suffering for thousands of people in our area. The fact the Government has set up a hardship fund to mitigate the effects of its own flagship policy is ludicrous.
Studies also show that any form of Brexit is bad for the economy.
And even Labour's alternative Brexit plan would lead to job losses on a serious scale.
Now is the time to accept that Brexit in any form is a disaster for the UK.
MPs have spent nearly three years achieving nothing.
We need to give the people the final say, and make sure Labour stick to their new policy backing this course of action.
Roberta Buchan.
Best for Britain regional spokesperson,
East of Scotland.
Why create trade barriers?
Madam, – While I agree with Les Mackay that Brexit has turned into a fiasco I am not too sure about his other assumptions (A new solution to Brexit bamboozlement, Courier, January 2).
I voted for the UK to stay in the EU on balance with the UK's Schengen opt out and being able to avoid the Euro I felt that was the right thing for Scotland.
Your correspondent Mr Mackay incorrectly makes the assumption that I and others like me would automatically vote for an independent Scotland to stay in the EU.
That would be an entirely different question altogether.
It is all very well for those who see the world through Saltire-tinted specs to say that Scotland would not have to accept the Euro.
However, as the UK is currently finding out, the junior partner in the negotiations gets told what is happening.
The UK has about 12% of the European Union population, Scotland about 1%.
If you think Mr Barnier and his pals are not treating the UK fairly wait till you see the reaction when Scotland starts negotiating the terms of entry.
Mr Mackay then goes on to say "Scots would be willing to accept a hard border with England if that is what it takes to stay in the EU".
Well maybe he would but why would you want to create trade barriers with by far your biggest trading partner – 60% and rising – to keep free trade with a far less significant trading partner of 20% and reducing?
Steven Lyall.
17 Rossie Avenue,
Broughty Ferry.
Criticism of First Minister falls flat
Madam, – How apposite of The Courier to place cheek by jowl the epistles of your regular, if somewhat irrational, correspondents Messrs Howell and Redfern (Courier Readers Letters, February, 28).
As is the norm their contributions once again fail to recognise the positive contributions being made by our shrewd and increasingly successful First Minister.
Their efforts to decry her relevant and popular approaches to both Brexit and independence as usual fall as flat as their self-baked political pancakes.
Colin Mayall.
1 Almond Place,
Comrie.
Vital GP/patient relationship
Madam, – The importance of the relationship between a GP and patient cannot be ignored any longer.
Latest figures show that, faced with increasing workloads and pressures, four out of 10 GPs plan to quit in the next five years.
For patients, this means a consistent relationship with a GP is increasingly out of reach.
And for people with learning disabilities, the implications are alarming.
Dimensions' #MyGPandMe research found that people with learning disabilities are 30% less likely to feel listened to by their GP, and only half feel involved in decisions about their healthcare.
It is encouraging that, despite the pressures they face, three quarters of GPs told us they would like training on how to meet the needs of patients with learning disabilities.
The Government must recognise this and the current consultation into mandatory learning disability training for healthcare professionals is hugely encouraging.
We urgently need rigid measures to ensure all GPs receive training and support to better and more confidently communicate and diagnose health issues.
This will go a long way towards beginning to address the startling health and life expectancy inequality that people with learning disabilities currently face.
Alicia Wood.
Head of Public Affairs,
Dimensions.
Reward Tony's dedication
Madam, – I think most people would agree that Tony Foulds should receive recognition for dedication and commitment to caring for the memorial for the 10 US airmen who lost their lives in the plane crash at Endcliffe Park, Sheffield (Tearful tribute to airmen as 75-year flypast dream comes true, Courier, February 23). The fly past by the US Airforce and the RAF was a fitting tribute to the ten. More than I, I fancy, had tears in their eyes.
It was good to see so many people from the community in the park.
Probably a fitting honour for Tony would be if he was awarded the British Empire Medal.
Thomas Michie.
93 Main Street,
Kinglassie.
Destination of Ineos cash
Madam, – The news that a billion pounds is to be invested in Scotland's oil and gas industry is good but it would be better if the investment went to UK industries (Ineos plans to pump £500m into key North Sea pipeline, Courier, February 28.).
The ownership of Scottish industries appears to be complex and regrettably takes the investment elsewhere.
Why does Holyrood not at least try to intervene with an intention to secure work in this country?
Allan Bullions.
6 Glencairn Crescent,
Leven.