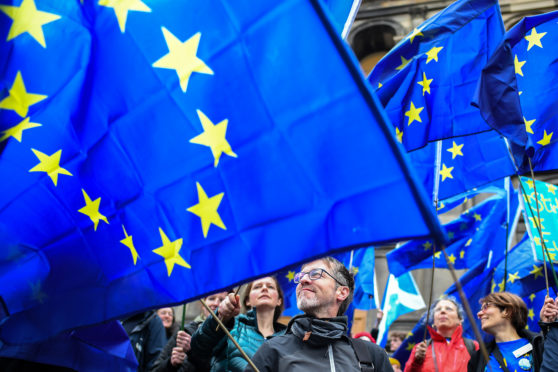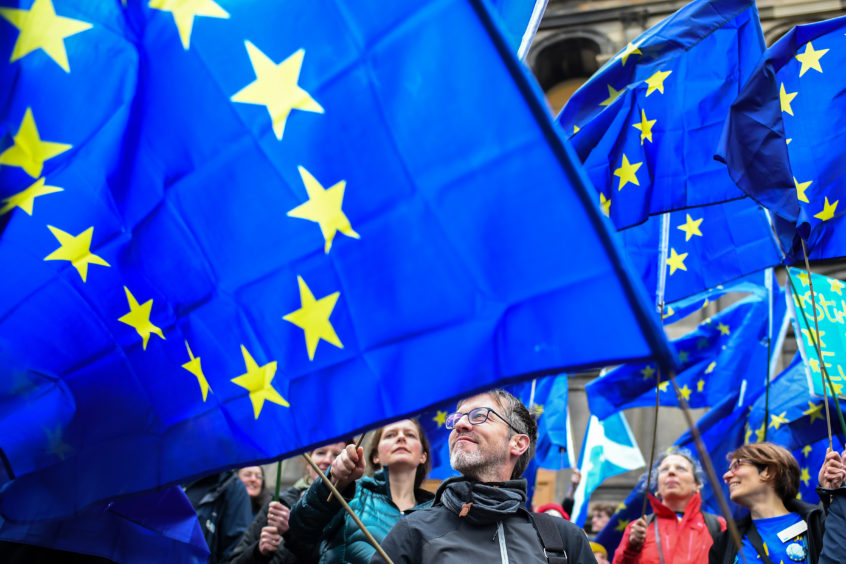 Madam, – Whenever I see a politician holding a baby in front of a camera or putting an arm around a frail OAP I can't help feeling uncomfortable.
Sometimes this notion borders on emotional blackmail because, even if the political agenda behind such a publicity stunt may be glaringly obvious, one feels obliged to let feelings of sympathy override a more rational consideration of the actual issue at hand.
The settled status registration scheme for EU nationals living in the UK is such an issue which the SNP uses relentlessly to stir resentment, to portray Westminster as a callous regime and to play on the fears of those affected.
Yet EU citizens' reactions vary. Some do feel victimised while others shrug it off as a minor inconvenience.
After all, in many of their home countries it's mandatory for EU nationals to register their residence with the relevant authorities.
For example in Denmark EU citizens must obtain an EU Registration Certificate if they are going to stay for more than three months.
Denmark also happens to be the native country of Mrs Tove MacDonald whose case has become a political football which the Nationalists have kicked into the public arena and are playing with gusto in social media and the main debating chamber in the House of Commons.
All of this might be of little comfort to Mrs MacDonald who deserves sympathy for her feelings and it's debatable whether Ian Blackford's grievance-ridden rant in the Commons will do anything to actually help her.
Perhaps it would be more useful if Mrs MacDonald's local MP clarified with the Home Office whether EU nationals like her, who came to Britain some 10 or 15 years after the war and might have had their indefinite leave to remain confirmed long before the UK joined the EU, are in fact exempt from settled status registration.
Regina Erich,
1 Willow Row,
Stonehaven.
Police powers eroded
Madam, – The 1953 Prevention of Crime Act was intended to combat the carrying of knives and knuckledusters, given the rise of post-war street crime and gangs such as the Teddy Boys.
Supported by the 1863 Offences Against the Person Act and backed up by the right of police officers to stop and search it was effective and easily enforced. Sadly in recent times stop and search has been crippled by the bien pensant with their faux-equality and institutionally racist nonsense.
I have also been aware on my visits to New York of the constant NYPD police presence.
It was once considered far more dangerous than London – a situation now reversed – so its difficult to accept the government's reassurance that the absence of police officers on our streets is not a significant cause of the rise in knife crime.
Rev Dr John Cameron,
10 Howard Place,
St Andrews.
A Grayling-esque disaster
Madam, – A good report from Graham Brown regarding parking (Parking fees fall short of target, Courier, March 7).
However , Conservative-led Angus Council's stated first year forecast of £300,000 income is not correct.
The original forecast income was £700,000. With February's income only £20,000 and running costs of £40,000 per month it is quite clearly losing money. I believe £165,000 was borrowed to pay for the parking meters.
It would appear the finance supremo Angus Macmillan Douglas went to the same training school as Chris Grayling, taught how to come up with outlandish schemes which fail spectacularly, with the taxpayer picking up the bill.
This finance disaster by the Tory-led council is of their own making.
Car parks are empty, shops are shutting, people are losing their jobs and businesses are suffering a serious loss of income.
This council was voted in to support constituents and communities and it is about time they showed that.
Jim Stewart,
3 Croft Terrace,
Kirriemuir.
Fossil fuels the future?
Madam, – So 30% of the UK's electricity needs are to be met by 2030 through the merits of wind power: great! (BiFab yard back in business as wind sector deal revealed, Courier, March 7)
But what is going to supply the other 70%? Certainly not coal-fired power stations.
The demise of Scotland's Longannet power station has finished that and I note that the new contracts for construction of UK wind turbines have been given to Belgium, Spain and a Middle Eastern country over the head of Fife's well-established BiFab turbine-building company which is closed!
Never mind, I suppose we can run our electric cars on petrol or diesel if push comes to shove.
Archibald A. Lawrie,
5 Church Wynd,
Kingskettle,
Fife.
Universal right to be safe online
Madam, – Learning disability hate crime, both online and offline, is an important issue that is not often talked about.
The abuse that Katie Price's son Harvey has been experiencing online is not right.
For too long, myself and other people with learning disabilities have been excluded from digital spaces out of fear of abuse. We have a right to feel safe online. What needs to change is the behaviour of the abusers, and not the victims.
Online disability hate crime should have tougher laws.
Abusers should be prosecuted, and their profiles taken down.
Social media companies also have a role to play. They should make their safety procedures easier to understand, so people with learning disabilities know how to better protect ourselves.
Mark Brookes,
Campaigns Adviser,
Dimensions.
Herculean task to agree deal
Madam, – The 1988 picture of Hercules the bear in Powrie bar (Plans submitted for change of sue of famous pub, Courier, March 7) reminded me of a rent negotiation I had in those days with Andy and Maggie Robin at Sheriffmuir Inn, when it was part of Kippendavie Estate. I was placed next to the open back door, with Hercules' cage a few feet away.
Hercules rattled his bars with increasing vigour as time passed, whilst Andy pondered much on how famished the bear, and how dilapidated the cage, was getting.
The minute we were agreed, Andy rushed to feed him – a loaf of bread.
Hector Maclean,
Spott, Glenprosen,
Kirriemuir.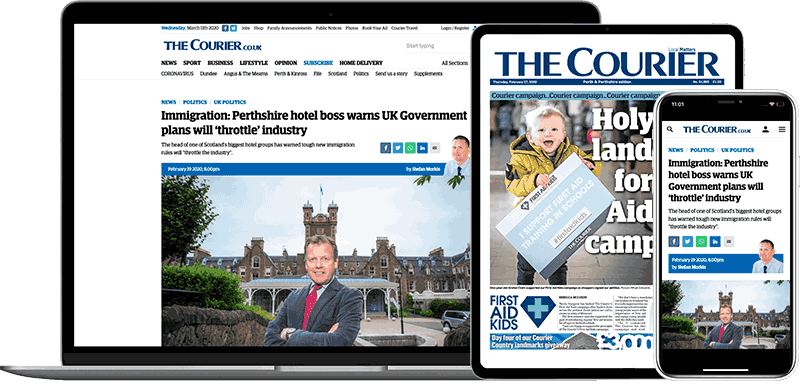 Help support quality local journalism … become a digital subscriber to The Courier
For as little as £5.99 a month you can access all of our content, including Premium articles.
Subscribe