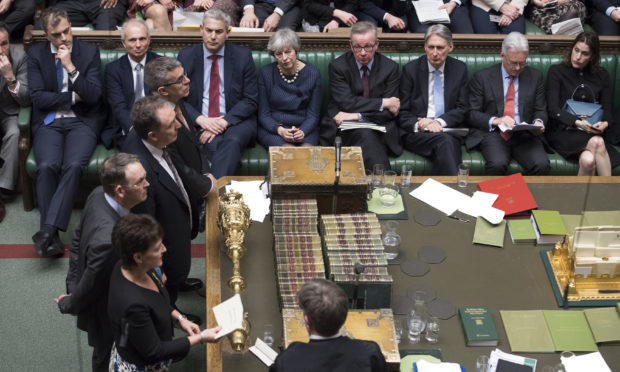 Madam, – Never have I witnessed a greater bunch of lily livered, self seeking, and egotistical parliamentarians.
Men and women of all parties who are blatantly prepared to place self interest before that of their constituents and the country as a whole.
They seem blissfully unaware that they have eradicated the "Great" from Great Britain and made us the laughing stock of the world.
The once acclaimed Mother of all Parliaments, envied and often modelled upon, has sunk to depths at one time unimaginable.
Throughout the Brexit debacle the will of the British people has been ignored.
Democracy has been the casualty with ever decreasing chances of recovery. It is advancing towards a terminal state.
Should Brexit ever be rescinded then I believe we will be punished for our audacity and closely locked into a European Union which will stealthily impinge on any sovereignty we may have left, even to the point of pressure to join the faltering Eurozone.
It is clearly time for a concerted and adult approach from our politicians to gain some integrity and to rescue democracy before it reaches the terminal state, deliver the will of the people, and regain our sovereignty.
David L Thomson,
24 Laurence Park,
Kinglassie,
Fife.
Let millions have their say
Madam, – Over the last two years I've kept hearing the statement "the will of the people".
The UK electoral roll at the time of the EU referendum stood at 46.1 million, 17.4m of which voted to leave (37%), while 13m decided not to vote
Now knowing the debacle we find ourselves in, would it not be democratic to allow the 13m a chance to have their say in a second referendum?
Jim Perrett,
Newton of Pitcairns,
Dunning.
Those in glass houses…
Madam, – I am pleased to respond to Derek Farmer's invitation to give him the answers he seeks (Please answer the critics, Courier, March 14).
He has asked me to comment on the incentive, as he puts it, given to Ryanair by the Scottish Government as part of a move to keep Prestwick airport open.
He also raises the issue of what he describes as "jollies" spent on the First Minister's diplomatic visits, which many would expect national leaders to undertake from time to time.
Once again I would suggest the cost involved here pales into insignificance with the expenditure from the public purse used to fund the multiple channel hopping trips by the UK leadership in connection with Brexit, especially after it had been made clear by the EU that it would not consent to any amendments whatsoever to an already signed divorce agreement.
The maxim about glass houses and stones springs readily to mind here, Mr Farmer.
Allan MacDougall,
37 Forth Park,
Bridge of Allan.
Do the job they are paid to do
Madam, – Politicians are voted by the public and must remember they are there to serve the public.
When we voted on the referendum in 2016 it was informing the politicians that we wished to leave the EU.
It is not for them to decide to change our vote.
If politicians cannot do the job they are paid to do then they should leave and we should get someone else who can.
Stuart Henderson,
28 Brownhill Road,
Dundee.
Universal parking rules
Madam, – I read with interest the response from the usual anonymous council spokesperson in your article about the rise in revenue from parking fines(Council income from car parking fines rises by 74% in two years, Courier, March 11).
It states if someone is caught parking where they shouldn't be or overstaying their time then they will receive a penalty charge notice.
I wonder if the spokesperson can reconcile the following with that statement.
Firstly, how a Police Scotland Land Rover can sit in a metered parking bay in Blairgowrie, without displaying a ticket, for at least two weeks yet receive no penalty charge notice.
This happens regularly despite the fact the police have a large enclosed yard, four garages and two designated parking spaces. Perhaps Police Scotland could also explain this?
Second, why the said parking attendants are also able to park their vehicles in metered car parks in Blairgowrie and do not display a ticket yet receive no penalty charge notice.
This appears to be common among council vehicles.
It appears to me that Police Scotland and Perth and Kinross Council consider themselves above the law whilst the ordinary public are fair game to be hit with a large penalty if they commit a minor infringement.
I look forward to their response but I won't hold my breath.
Robin Rodger,
24 Honeyberry Drive,
Rattray,
Blairgowrie.
Bloody Sunday prosecution
Madam, – How can it be just to prosecute a British soldier over the deaths on Bloody Sunday, when the British Government has effectively via "the letters of comfort" extended an amnesty to the war criminals of the IRA and the other terrorist groups?
If the Good Friday agreement can protect men such as the late Martin McGuiness, how can't it prevent the prosecution of an old soldier who might have made fatal misjudgments on a single day 47 years ago?
Furthermore, who will volunteer to fight for Britain and how can they possibly be effective soldiers if their every decision is to be repeatedly re-evaluated by civilian lawyers for the rest of their natural lives?
This decision reminds us that the British establishment has neither any sense of justice nor common sense, but rather a contempt for those who guard us while we sleep.
Otto Inglis,
6 Inveralmond Grove,
Edinburgh.
Access problem for exhibition
Madam, – There is to be an exhibition on the HMS Unicorn of the boys' rehabilitation ship, The Mars, moored on the river Tay.
I feel it is such a shame that it isn't in either the McManus or the V&A as the elderly and disabled cannot possibly visit an exhibition of such great interest and importance to the people of Dundee if it is on the Unicorn.
Jan Strickland,
12 Ballumbie Braes,
Dundee.
Fast work on brightness claim
Madam, – P.G. Wodehouse's dictum, "It has never been difficult to distinguish between a Scotsman with a grievance and a ray of sunshine", has never been truer than in the age of SNP ascendancy.
What is evident now is that if a Scottish nationalist cannot identify a genuine grievance, he or she will invent one.
Thus it is with Michael Russell MSP's claims that, at a meeting in Downing Street, Nicola Sturgeon was told she "simply wasn't bright enough" to understand the Prime Minister's ill-starred Brexit deal.
A spokesman for No. 10 Downing Street said the claim was "ridiculous".
But an unverified claim can be half way round the newsrooms before a rebuttal has time to get its boots on.
Jill Stephenson,
Glenlockhart Valley,
Edinburgh.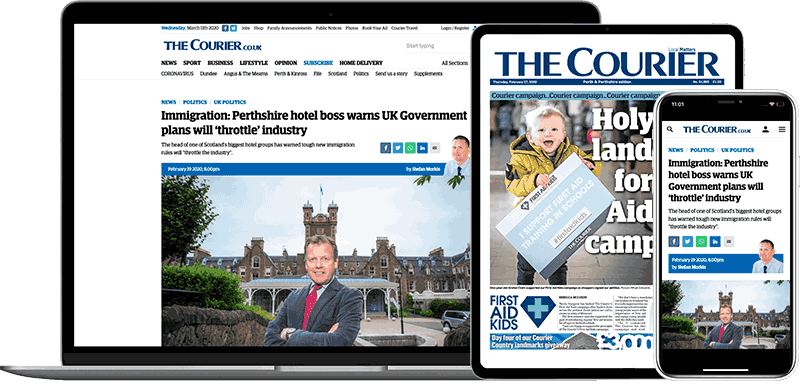 Help support quality local journalism … become a digital subscriber to The Courier
For as little as £5.99 a month you can access all of our content, including Premium articles.
Subscribe