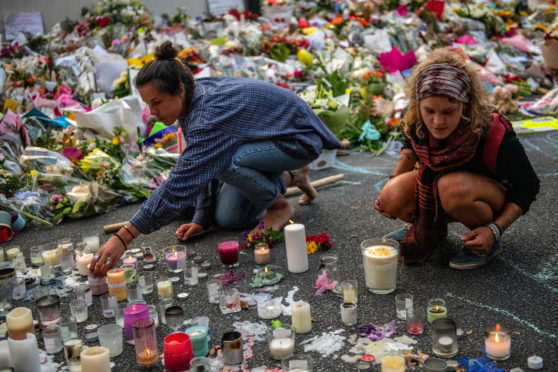 Madam, – We at Fife Islamic Centre have no adequate words to describe how devastated we are by the well coordinated attacks on the mosques in Christchurch, New Zealand (Attacks shake New Zealand on darkest day, Courier, March 16.).
We condemn in the strongest terms this senseless act of terror on innocent civilians – these were men, women and children who had simply gone to the mosque for prayer.
We hope that those responsible for this barbaric crime, which killed 50 people and injured many more, are brought to justice and we extend our deepest condolences to the families of the victims.
We at the Islamic Centre believe in working better and gathering globally to counter Islamophobia and eliminate intolerance and violent extremism in all forms.
At the same time we at the centre are very disappointed to see no action whatsoever from our local police force.
People at the centre are very concerned about this.
Mohammad Mukhtar.
Chairman,
Fife Islamic Centre (Methil).
Democracy in name alone
Madam, – When the Tory Party are in power they have their own definition of democracy.
They can hold an advisory referendum purely to satisfy their own party interests.
They then choose to believe that same referendum is binding.
Their view of democracy means they can totally ignore the massive will of the Scottish and Northern Irish people.
Even when it is blindingly obvious that Brexit will seriously damage the UK economy for years to come they push ahead regardless.
You would not trust the central players in this Tory government to run a sweet shop.
To rub salt into the wounds their leader, Theresa May, formulates a plan for the future of our country that has been roundly rejected by the majority of MPs.
In true "democratic" style she ignores the result of the votes against her plan and is about to present them for a third time. The dreadful thing is that she will probably have the plan accepted.
That would not prove the value of her plan but it would prove that democracy does not apply in parliament.
If the UK really does have a democratic system, the people should decide whether May's plan is acceptable.
The only honourable thing to do is to have a second referendum to decide our future.
Harry Key.
20, Mid Street,
Largoward.
Re-run Brexit campaign
Madam, – The shenanigans in the House of Commons can't have escaped many.
This past week has been a stellar failure.
Parties and politicians failing to support amendments, which they had avowed support of moments before and, more ironically, after.
It has been a kind of pass the principle, where nobody wants to win.
Except the SNP.
Every single SNP MP has spoken with principle and consistency.
Mhairi Black MP was given three minutes but made her case in two minutes and forty nine electrifying seconds.
Abstentionists and those putting chances aside in hope of better to come, will surely be found out in future elections.
The one true way out of this bourach is surely to revoke Article 50.
Then let leavers re-run their campaign. This time funded properly and based on truth telling.
Brian Kelly.
16 Iona Road,
Dunfermline.
Will of people not expressed
Madam, – Further to Jim Perrett's reminder of voting demographics (Let millions have their say, Courier, March 16).
Nearly 29 million did not vote for Brexit.
While the 13m who didn't vote could be construed as agnostic at that time, their views would appear to have been assumed to be the same as the 17m who voted to Leave, thereby justifying (falsely) the concept of 'will of the people'.
There was no expressed will and, if that was the case every single one of Scotland's MPs should not be voting in favour of Brexit, as the substantial declared will of the people of Scotland was to Remain.
This so-called UK 'will' also assumes that the remaining 20m or so who were not allowed to vote were also in favour of the unknown nature of Brexit. The only way to resolve this issue on a UK wide basis is for a further referendum.
This whole debacle is really about the vested interests of whoever is in charge and thus dictating to everybody else what they have to put up with.
Nick Cole.
Balmacron Farmhouse,
Meigle.
Politicians talking hot air
Madam, – If we were all to switch off our radios and TVs at the mention of Brexit then we would reduce the threat of global warming from all that Westminster hot air.
Joan Crook.
7 Demarco Drive,
Glenrothes.
Work to do on immigration
Madam, – The SNP administration is blowing its own trumpet about 2,500 or so Syrian refugees coming to live in Scotland since 2015, and perhaps justifiably so. (UK Government attacked by SNP on Syrian refugees, Courier, March 16).
But let's not forget that under 9% of Scotland's population were born overseas compared to over 14% across the UK.
Hitherto Scotland's record of welcoming or successfully encouraging immigrants of whatever status is poor compared to elsewhere in the UK.
There's work to do, Ms Sturgeon, before your party wallows in self-congratulation.
Martin Redfern.
Woodcroft Road,
Edinburgh.
Following a dangerous path
Madam, – The climate is in the news again with children striking from school. In the 1970s the idea that eating fat was unhealthy began to grip the West.
This was based on studies, especially the Seven Countries Study led by Dr Ancel Keys.
Flaws with this study include omitting countries with high fat consumption but low rates of heart disease eg. Norway, and those with low fat consumption but high rates of heart disease eg. Chile.
The result today is catastrophic. The switch from fat to carbs has led to an obesity epidemic, and a looming health time bomb.
The global warming story has many parallels and uses similar tactics: reference to bad science, use of catchphrases (instead of low fat we have low carbon), scaring the population, vilifying anyone who disagrees.
This time the result will be even worse; power cuts and energy rationing.
Geoff Moore.
Alness,
Highland.
End warfare experiments
Madam, – I was shocked to learn that animals are still being used in warfare experiments in the UK.
Animal Aid recently launched a national campaign to highlight the terrible suffering of the animals involved and to seek a ban on their use.
Whilst researchers are not allowed to use animals to develop or test weapons they are allowed to use existing weapons on animals to see the effects of different remedial treatments and countermeasures.
Obviously, this can lead to severe and prolonged suffering.
I want to see an end to warfare experiments.
Sarah Lilburn.
Flat 6, 20 Albany Terrace,
Dundee.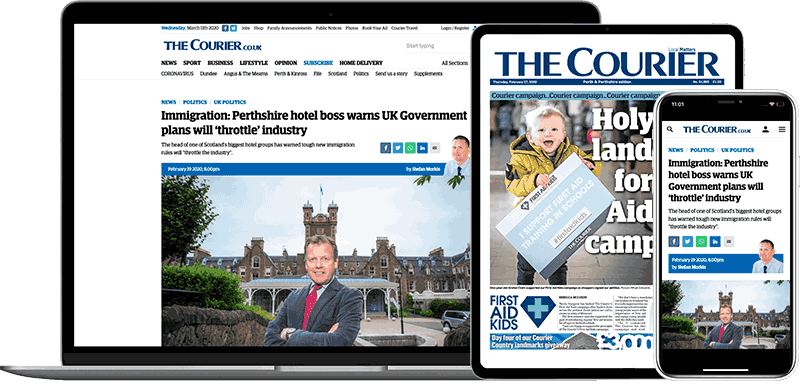 Help support quality local journalism … become a digital subscriber to The Courier
For as little as £5.99 a month you can access all of our content, including Premium articles.
Subscribe