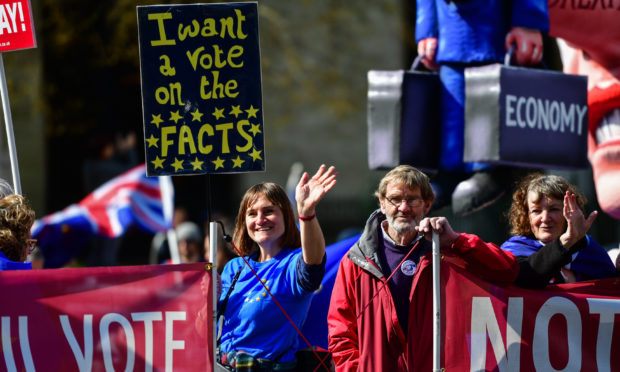 Madam, – Today we are fools, tomorrow we will be fools and in May we are fools in allowing ourselves and the UK to become the laughing stock of the world by our Westminster masters.
Hopefully, now, readers of all political persuasions and none must recognise that we are subject to the most archaic, outmoded method of government in the western world.
Are the day to day issues concerning over 60 million people being attended to? No.
The European Parliament seems to operate in an open and controlled manner.
The Scottish Parliament has had 20 years of civilised and constructive debate, although the current government is often criticised for not doing the day job in their quest for independence.
This may be true, but what has been happening in Westminster for the past three years?
Two major parties, badly led, not giving a hoot about the welfare of the electorate as they strive for power.
Surely change has to happen without delay.
We cannot allow our lives to be channeled by self-serving, non-caring politicians in their London cess-pit.
We must have a system that will enable a fairer society to give hope to the many and not the few.
Sandy Coghill,
Sligachan,
Isle of Skye.
SNP adding to Brexit chaos
Madam, – There is a strong suspicion that the SNP contingent at Westminster are committed to a "no deal" Brexit as this would create the best environment to launch a second independence referendum.
Why else would they abstain from the indicative vote to support a customs union, something they consistently have said is essential.
It is clear they are keen to avoid any option obtaining a majority and for a way forward to emerge. The SNP are always the first to describe Westminster as a shambles but it is now evident that they are one of the main perpetrators of its chaos.
One can only conclude that their ideological obsession with dismantling the UK is more important to them than the wellbeing of their constituents.
Gordon Adam,
Downiemill,
Newbigging.
Brexit deal onus should be on EU
Madam, – There is absolutely no point in having a second Brexit referendum because if Leave were to win again party politicians would just do what they are doing. That is they would do everything in their power for Leave not to happen regardless of what voters want.
If there is a general election I am only going to vote for a candidate who wants to pass a law making Brexit happen as soon as possible without a deal with the EU.
There is no way a great nation like the UK should have to crawl or beg for a deal with anyone.
I think the onus for a deal should be with the EU.
Kenneth Brannan,
42 Greenlee Drive,
Dundee.
If not the First Minister, who?
Madam, – Jill Stephenson, (Scrap future referendums, Courier, March 30) one of the tag team of Scotland in Union letter writers, complains of, "arrogance of the highest order" by our first minister.
She takes umbrage that Nicola Sturgeon, the head of, "a minority administration" should take it upon herself to decide the timing of a second Scottish independence referendum.
I would have thought Ms Stephenson would recognise that as the head of an independence supporting Scottish Parliament, elected by proportional representation, with a mandate from the sovereign people of Scotland, Ms Sturgeon has that right.
If not our first minister, then who?
Theresa May? David Mundell?
In response to her doubts as to whether a majority of Scots support another plebiscite, the most recent Survation poll puts that figure at 61%. Ms Stephenson's preference would be to allow London to set the question, timetable and demographics of any future Scottish referendum, assuming it would do so as an uninterested party in the proceedings.
However, she leaves her most favoured option till last.
Which is, "not to have another referendum on any subject of major constitutional importance ever again".
Whether this would apply to Scotland only is left unclear..
Ken Clark,
c/o 15 Thorter Way,
Dundee.
Taking the time to breathe
Madam, – Theresa May guaranteed her place in history by committing the two biggest prime ministerial blunders since 1914.
She triggered the Brexit process with no idea where she wanted to go and then used her backwoodsmen's "red lines" to paint herself into an intractable corner.
An extension still leaves us "under the clock", yet the 17 million didn't vote to leave on a specific day because a date wasn't on the ballot.
So if Article 50 was revoked, it wouldn't so much stop Brexit as curb its hysteria, giving our MPs and people the tranquillity to reflect.
Rev Dr John Cameron,
10 Howard Place,
St Andrews.
Customers pay the wages
Madam, – MPs would be fired in any other job and this also applies to councillors and senior council executives.
There is a problem, the collection of waste .
Taxpayers pay very good salaries to the above – their job is to find solutions which improve the lot of the taxpayer, not punish them.
Fly-tipping is already a serious problem.
Closing/restricting hours and saying what can or cannot be dumped at our waste recycling centres will surely make illegal tipping worse.
Surely the chief executives of the councils involved can get together and earn their salaries by coming up with a solution whereby we can all dump our waste at the nearest facility.
My first boss told me on my first day of work to remember the customer as he pays your salary.
That is something councillors and chief executives should bear in mind.
Gordon Taylor,
Hawthorn,
Backmuir of Liff.
Cash will remain king
Madam, – Many small businesses, old people and poor people still rely on cash, and are likely to do so for the foreseeable future.
Hence the SNP plans for 'a cashless Scotland' do not sound very wise to me – a vote loser in prospect!
William Ballantine,
47 The Quarryknowes,
Dean Road,
Bo'ness.
More climate change excuses
Madam, – Man-made global warming is in the news again with semi-naked protesters raiding the Commons, and 180 climate scientists flying from around the world to Edinburgh to plan their next move.
Yet more real data has recently emerged to challenge their beliefs.
Data from National Snow and Ice Data Center reveals that, in a list of lowest maximum Arctic sea ice extents, 2019 had more Arctic sea ice than 2007 or 2006.
This goes against many predictions.
For example, Professor Peter Wadhams, head of the Polar Ocean Physics Group at Cambridge University, in 2012 predicted a collapse of the Arctic ice sheet by 2015-16. I can't wait to hear their excuses.
Geoff Moore,
Alness,
Highland.