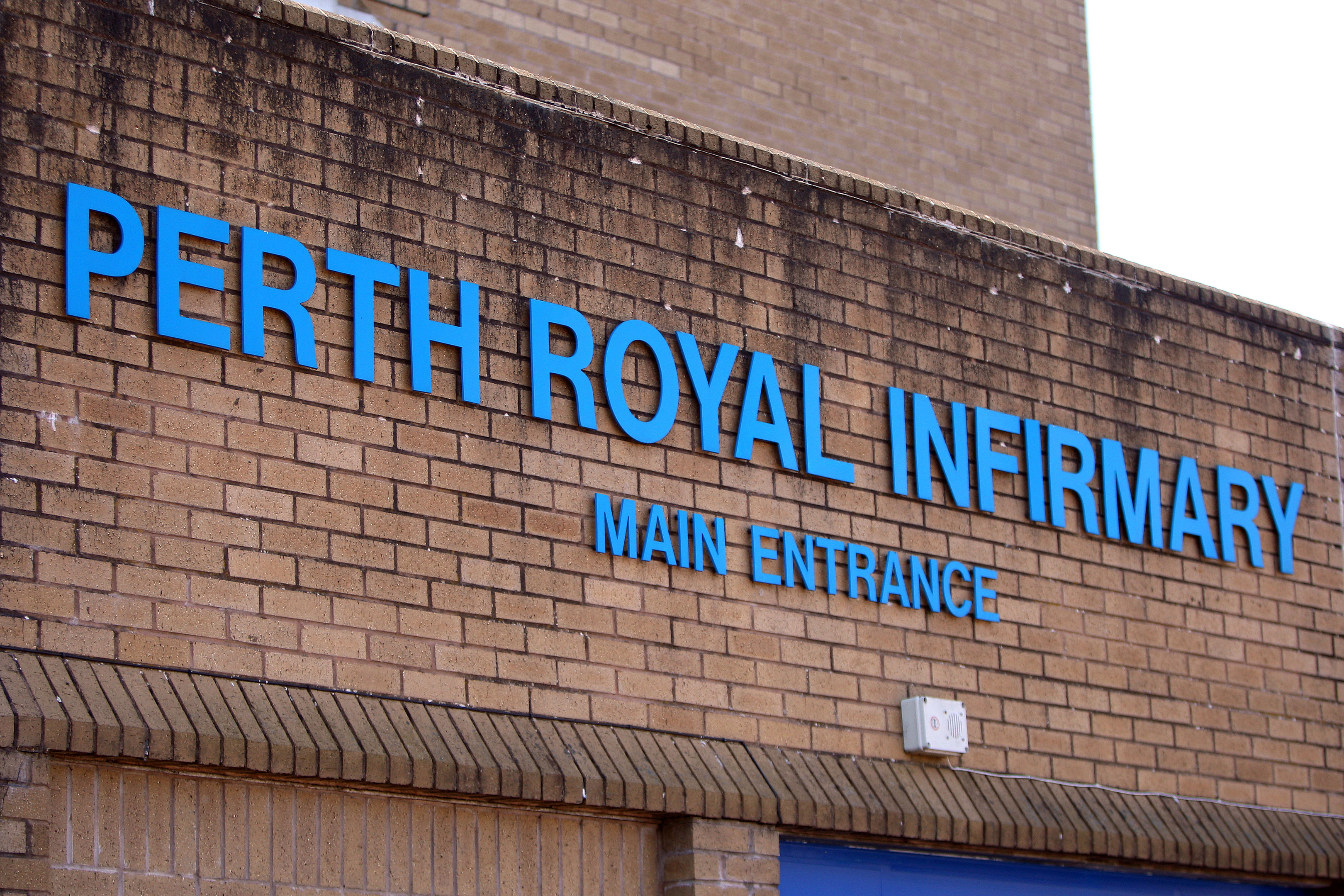 Madam, – My wife recently had an X-ray in Perth Royal Infirmary and asked for a report from her GP.
I was surprised to see it was from Medeco – a firm based in England – and reported on by a radiologist and not a radiographer.
Raigmore Hospital in Inverness is almost bereft of radiologists and uses a firm in India to report its X-rays and scans.
Even before Derek MacKay introduced higher tax rates in Scotland, there were, not infrequently, no applicants for posts in shortage specialties such as pathology, radiology and biochemistry.
He obviously believes that lower pay from higher taxes will make these jobs more attractive.
He is not alone in foolish actions. George Osborne put a cap on the size of pension pots which people could accumulate without incurring tax penalties.
This has led to senior hospital posts being penalised for working full time.
Hence senior consultants even in their 50s are working for three-and-a-half days per week.
These senior posts are invaluable for their expertise and for mentoring more junior consultants and junior staff.
Of the total number of medical students at Scottish universities, only one third are Scottish.
The Scottish Government does not fund more.
The consequences of this are obvious.
It is clear who is 'in charge of the asylum' on both sides of the border.
Ian Strachan.
Golf Course Road,
Blairgowrie.
Real transport alternatives
Madam, – In yet another potential blow to Levenmouth's already poor accessibility, Edinburgh City Council leaders are now considering radical plans to ban the most polluting vehicles from the whole of Edinburgh.
The Scottish Government has ordered 'low emission zones' (LEZ) to be established in Edinburgh city centre by the end of 2020, along with ones in Aberdeen and Dundee, and this move would extend it to the entire city.
Only half of the vehicles in Edinburgh are thought to meet these pollution standards and would face being banned in the city.
One expert commented that "restrictions on older cars will hit the poorest residents who often live in the peripheral estates."
He might have added poorer communities in the wider city region periphery such as Levenmouth, where car ownership of any type is considerably lower than the national average, will also be adversely affected.
Such a move might be acceptable to some Levenmouth residents since it could marginally improve bus journey times but we really need faster, clean mass public transit and only the rail-link offers this.
We all need to burn less fossil fuel, but disadvantaged communities need to be offered realistic alternatives.
Dr Allen Armstrong.
Secretary,
Levenmouth Rail Campaign.
Buckhaven.
An anaemic performance
Madam, – With oil bringing in relatively little revenue now, Ms Sturgeon's great claim for her 'independent Scotland' is that onshore revenues are growing at an increasingly fast rate.
The true story is the UK's onshore GDP (gross domestic product) per head has grown by 4.4% since 2007, whereas Scotland's has grown by 2.8%.
The Fraser of Allander Institute reports that the Scottish economy is now smaller in real terms than it was 10 years ago.
This anaemic performance, coupled with the intractable problems related to currency in a separate Scotland, should act as a warning to any who think that leaving the UK is the answer to Scotland's problems in any sector of the economy or society.
Jill Stephenson.
Glenlockhart Valley,
Edinburgh.
Indy vote for Scotland simple
Madam, – Politics in Scotland are simple, a vote for the SNP guarantees a second referendum for independence, whether or not the country is either in or out of the European Union, and regardless of any of the views of the Scottish people as expressed in opinion polls over the last five years.
I remember the time when the first minister waved a letter on national television saying it was confirmation of membership to the EEC for an independent Scotland.
Now we are being told there is a verbal agreement to allow an independent Scotland into the EEC, with the option to keep using the pound sterling until the establishment of the pound Scots in order to attract votes for independence.
Many of your readers will remember when a Scots pound was felt to be worth only nineteen shillings and sixpence within England.
Consider the effect when the Scots pound is worth only 85 pence in England similar to the Euro.
Simple politics: vote SNP and guarantee a referendum, but that is all you get. Nothing else.
Evil exists because good people do nothing, similarly bad government exists because good people do not vote – consider the turnout for the latest by-election in Dundee of 28%.
Alan Bell.
Roods,
Kirriemuir.
One door shuts, another opens
Madam, – Sadly I see from recent reports that drug deaths in Scotland continue to increase.
After the tragic deaths from drugs at T in the Park at Strathallan Castle three years ago I questioned a number of those present as to why there was so much substance abuse.
The answer was simple, as phrased by one individual: "Have you seen what they charge for drink. I can get 20 tabs for a tenner."
On the back of this, perhaps the Scottish Government should take a close look at their minimum pricing for alcohol.
It could be that in trying to close one door they have inadvertently opened the floodgates elsewhere.
Mark Liddiard.
North Mains,
Strathallan.
Silence is golden for TV dramas
Madam, – One reason why Line of Duty is such compelling viewing is that background music is kept to a minimum.
There are no sudden chords to shatter the concentration, or creepy, clichéd stuff to prepare the viewer how to react to what is about to happen.
And, best of all, there are no weepy, maudlin, sentimental songs to the accompaniment of a guitar or piano, sung in what I refer to as a greetin'-faced voice.
Other programme-makers please note – or rather, remove notes.
Gordon Cook.
Gowanlea,
Friockheim.
Uneasy bedfellows
Madam, – I am sympathetic towards funeral director Andrew Pennycook's opposition to a pub's application for outdoors seating just a short distance away from James McEwan and Sons' premises in Perth.
For want of a better word it would be insensitive to have people chatting and in good humour enjoying a drink while almost next door there are people mourning a loss and preparing for a funeral.
It is up to the powers-that-be to make a decision. But I suspect people sitting enjoying a quiet, sociable drink might find it uneasy.
Thomas Brown.
18 Garry Place,
Bankfoot.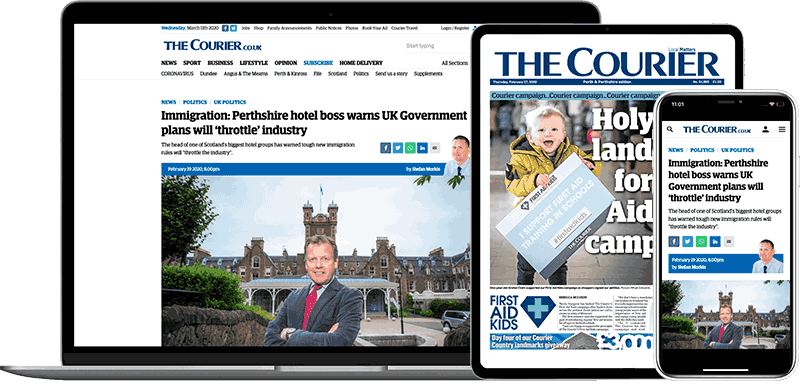 Help support quality local journalism … become a digital subscriber to The Courier
For as little as £5.99 a month you can access all of our content, including Premium articles.
Subscribe