Madam, – European elections in the past have had little interest for the electorate, with only about 30-35% turnout.
However, the coming EU elections promise to be unique and possibly dramatic as voters see an opportunity to make an electrifying statement on the conduct of our politicians and established political parties over their apparent cynical, dismal and dysfunctional handling of Brexit.
It is astonishing to realise, but perhaps in the circumstances not unsurprising, that the Brexit Party, with no manifesto and launched only six weeks ago, is on course to win 30% of the vote, which is more than the Conservatives and Labour combined.
This is an election where it is likely party loyalty will play only a small part in voting intention.
The electorate will seize this opportunity to send with impunity a warning shot across the bows of their political parties which have failed miserably to deliver the democratically expressed will of the people.
The Scottish electorate will also be free to send a similar message and Ms Sturgeon's complacency in her belief that Scots are totally in favour of being in the European Union will be shattered if her party fails to increase its vote or loses seats.
Her European election pitch that Scotland can be an "independent country in Europe" is simply pie in the sky when our justice system, trade tariffs, trade quotas, trade deals, oil and gas rights, fishing rights and control of borders and foreign policy would all be reserved to an unelected commission in Brussels.
It is to be hoped that the electorate will send an unambiguous message to our establishment to stop their nonsense and their political shenanigans.
They must get on with delivering Brexit or move over and let someone who actually believes in democracy carry out the will of the British people.
Iain G Richmond.
Guildy House,
Monikie.
Arithmetic does not add up
Madam, – Derek Farmer, (Scotland runs own economy, Courier, May 18) challenges the fact Scotland's economy is run from London, by asking what Derek Mackay's function as finance secretary is, if this is the case?
Mr Mackay manages a block grant apportioned to Scotland by Westminster and uses those funds to create a healthy economic environment.
He is not the chancellor of a Scottish exchequer, with the full range of fiscal powers available to Philip Hammond. Neither does he have access to Scotland's wealth.
Regardless, Mr Mackay, and Mr Swinney before him, have worked wonders within this London-fashioned straitjacket.
Mr Farmer claims taxation is devolved to Scotland. Some is indeed devolved, with the purpose, as admitted by David Mundell, of setting a "trap" for the SNP to fall in to. He then turns his attention to oil. Can he outline the, "strategic planning" behind Westminster's running of that industry and point us to the benefits of such.
An important question, as 5.25 million Norwegians now enjoy the financial security of a $1.1 trillion oil fund along with ownership of 1.3% of global stocks and shares and are at present winding down oil and gas investments in favour of green energy projects.
David Cameron claimed their economic health was due to the small size of Norway's population.
It has yet to be explained how such arithmetic works in their favour but not ours.
Ken Clark.
c/o 15 Thorter Way,
Dundee.
Measuring achievement
Madam, –Without a published manifesto, how can voters tell if Mr Farage's Brexit Party is willing to get rid of unwanted metrication and return to inches, pounds and Fahrenheit degrees?
At least with the Liberal Democrats you think you know what you're voting for even if it's probably not what you want.
John Eoin Douglas.
7 Spey Terrace,
Edinburgh.
Where will taxes come from?
Madam, – Spending on roads maintenance has fallen by £41 million over the last five years.
However, £16m for the same period from parking fines was spent on council pet projects instead of road maintenance.
The Scottish Government should insist parking fines are used on road maintenance.
Westminster is equally guilty since it rakes in huge amounts of taxes in fuel duty. When petrol and diesel cars are banned where will the Scottish and UK governments get their taxes?
Clark Cross.
138 Springfield Road,
Linlithgow.
USA no longer land of the free
Madam, – The Rev Dr John Cameron (Alabama's men vote on abortion, Courier, May 20) rightly criticises the action of Alabama senators.
Their arrogance, callousness and hypocrisy is appalling.
Despite the huge number of deaths from guns in the USA they oppose control.
Many thousands of children die of malnutrition and preventable diseases.
This could be reduced if a fraction of the money the US spends on "defence" was diverted to deal with the situation.
Anyone who is genuinely "pro-life" would campaign for this.
This law will not do much to reduce the number of abortions, but exacerbate inequality.
More affluent women can easily go elsewhere so it is the poor who will suffer.
The number of illegal dangerous abortions will increase greatly.
The USA is certainly not "the land of the free."
John Munro.
68 Buccleuch Street,
Glasgow.
Bridge bollards not required
Madam, – Regarding the aborted attempt to install bollards on Perth Bridge (Council unable to carry out work on bridge, Courier May 21).
I have lived in Scone for 30-plus years and travelled over Perth Bridge many times and have not been aware of vehicles having to mount the footpath on Perth Bridge.
A solution, if needed, would be to raise the kerb, which would prevent vehicles attempting to mount the footpath and would keep pedestrians safer.
This could be achieved by adding a second kerb on top of the existing kerb and using the holes cut for the new bollards to key the kerbs in.
Why was the attempt to install bollards not carried out overnight ?
The additional kerb work could be carried out overnight and would have a reduced impact on daily traffic movements.
Douglas Sutherland.
Abbey Road,
Scone.
Taking up the climate cudgels
Madam, – It was an uplifting sight to see a crowd of enthusiastic local schoolchildren making their climate protest along the rail line.
They seemed well behaved and had walked a good hour from Windygates to the Leven Swimming Pool.
Normally, you only expect to see these demonstrations taking place in the cities or on television, so it's nice to see something going on here. It is the younger generation that has to deal with the increasing distress caused by a warming planet.
The same generation will also be the ones who can make most use of a rail connection to travel greener and cause less climate damage.
Margaret Thomson.
Den Walk,
Methil.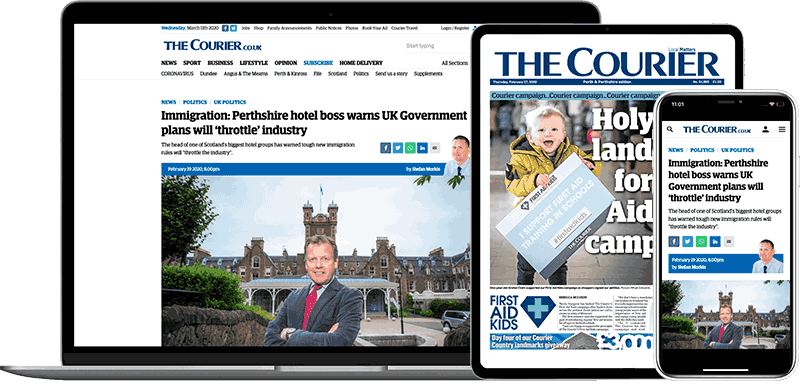 Help support quality local journalism … become a digital subscriber to The Courier
For as little as £5.99 a month you can access all of our content, including Premium articles.
Subscribe