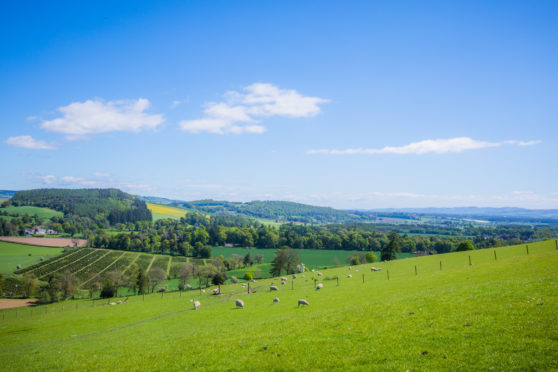 Madam, – I refer to Colin Ley's article on farm subsidies (Hall says new approach to farm subsidies is priority, Courier, May 25).
I agree with Andrea Leadsom and not a few others that these should be abolished, in particular for beef and lamb.
Cattle produce copious amounts of methane, a gas with a global warming potential 23 times that of carbon dioxide; while sheep are often exported for barbaric ritual slaughter, a practice which has no place in any civilised society.
The European Union budget is still largely devoted to farm subsidies, currently to the tune of 37%.
In other words every soul in the UK, whether vegan or not, is paying some £17 pounds a year to the sector.
And the beneficiaries are not tenant farmers, whose rents are usually raised to capture the subsidies.
A real Brexit would, if it ever arrived, give Her Majesty's Government scope for such abolition.
It would also allow UK fishing fleets a 200-mile Norway-style exclusion zone.
But rest assured, farmers. It is never going to happen.
George Morton.
Gauss Street 108,
Stuttgart, Germany.
Lose the indy obsession
Madam, – With the SNP bandwagon rumbling on, thankfully we have not been exposed to their fixation – independence – in practice yet.
There is little doubt that SNP grandees have only one political policy – the break-up of the UK.
And at no time has it beem more vulnerable than at present with the Brexit situation.
But surely what is paramount are the problems Scotland would face if it became independent.
How would a Scottish Exchequer cope with an economy funded by only two-and-a-half-million income taxpayers and somewhat limited corporation tax income. There will never be another oil bonanza.
An independent Scotland would require to establish a Central Bank, with gold reserves; a Foreign Office with foreign embassies and a diplomatic corps; a Defence Force with weaponry; seek membership of the UN; an immigration service; establish an energy policy; make provision for data protection; define human rights.
All of these government departments, plus all the functions of the administration which Holyrood has so far failed to take over from Westminster, would be required.
It must be taken into consideration that there are around 31 million income taxpayers in England and Wales and there is an infinitely larger intake of corporation tax.
Independence is simply not the answer for Scotland.
What is needed is a strong administration at Holyrood as envisaged by the late Donald Dewar – one which manages its devolved powers in a positive way with a view to enhancing life in Scotland.
We don't need one which is obsessed with independence, and will through its persistence to this end cause untold harm.
The SNP sees wrong in everything British.
The UK has been an entity for a long time, and it is in all our interests that it continues as such.
Robert I G Scott.
Northfield, Ceres,
Fife.
SNP MEPs voice will not be heard
Madam, – Euro-fanatic Alyn Smith MEP says the SNP vote cannot be ignored.
Why not? Sixty per cent of Scotland's electorate didn't vote in the EU election 2019.
The SNP polled 40% of 40% of the electorate.
Put another way the SNP polled 16% of Scots eligible to vote.
What influence will Scotland's three MEPs have in a parliament of 751 MEPs? None.
The EU election farce is yet another reason why we should leave this supra-national organisation on October 31 with or without a deal.
No ifs and no buts.
William Loneskie.
Amulree,
9 Justice Park,
Oxton, Lauder.
Only interested in themselves
Madam, – I have listened to the candidates for the leadership of the Tory Party and every one of them is full of their own selfish interest, which is typical of politicians.
They all claim that leaving the EU is their dominant aim with or without a deal.
People who know what they are talking about say that this would be a disaster for Britain's economy yet they are determined to leave without a deal.
How is this in the best interests of this country?
They are only interested in their own political futures, which hopefully will come to an end soon.
Alister Rankin,.
93, Whyterose Terrace,
Methil, Leven.
Staff a credit to exemplary NHS
Madam, – The NHS appears to be under constant attack.
Having benefited from the outstanding care of the staff at Ninewells Hospital, I feel obliged to publicise the other side of the story.
I recently had an accident and from the moment I was admitted to A&E, I had nothing but courtesy, kindness and understanding from all staff.
The waiting room was very busy but patients were being attended to as speedily as anyone could expect – I have had to wait for a bus as long as I waited in A&E – and from then on I was attended to and moved from one department to another as necessary by porters who were as sympathetic as the nursing staff.
The Acute Medical Unit was extremely busy but staff kept up with the care of all patients, even those who were difficult or verbally abusive, without ever losing their professional calm.
They quietly spoke with and comforted people who were upset or anxious, whether it was day or night.
I cannot think what else could have been done to make patients feel more comfortable or at ease either there or in the short stay ward.
I am extremely grateful for the work of the NHS and hope they get the appreciation and support of the public that they deserve.
C Fowlie.
21 Clepington Road,
Dundee.
Show data for education claim
Madam, – Councillor Stewart Hunter claims that introducing faculties will help raise attainment in Dundee (School faculties could see odd subject combinations, Courier, May 27)).
He goes on to say that local authorities with the faculty system are "doing better than us".
Correlation does not equal causation.
That is like saying pupils who cross their fingers for good luck do better in exams.
Can Councillor Hunter make available the data proving the introduction of faculties in secondary schools has contributed to raising attainment?
Susan McKenzie.
8 Richmond Terrace,
Dundee.
No cheap grade steel was used
Madam, – I refer to David L Thomson's letter (Nail in the coffin by preferring foreign steel, Courier, May 24).
Mr Thomson cannot get away with his claim that the new Forth crossing could have been built using steel produced in the UK.
It is factually inaccurate as no British steel producer put in a bid for supplying said steel as it was a prefabrication job and no one in the UK could do it.
And the bridge was not constructed using "cheap grade Chinese steel" as Mr Thomson claims.
Stephen Windsor.
The Holdings,
Kinfauns, Perth.