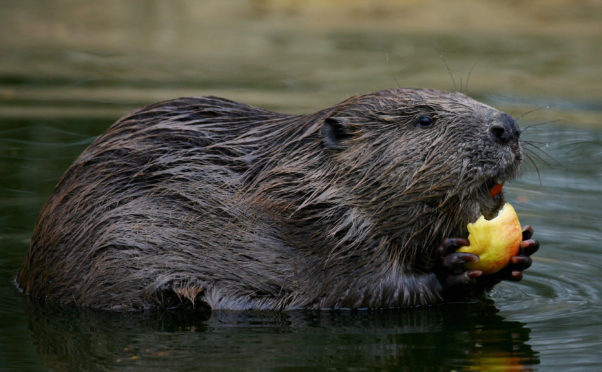 Madam, – In reply to Victor Clements' letter (Proportionate Response, May 27) I fear it simply represents the unsustainable short term sectional interests of the agricultural lobby.
The core problem with our land and soil reserves encompasses much more than a problematic relationship between farmers, conservationists, Scottish Natural Heritage and beavers.
The farmers' union has stated publicly that a limited number of harvests remain due to erosion of soil, the destruction of the mycelium, the constant pounding by large machinery and the annual soakings in both fertiliser and pesticides.
Current practices increase the frequency of flooding downstream while our wildlife – from mammals, birds, reptiles, amphibian and invertebrates – are forever decreasing from loss and corruption of both food and habitat.
At the lower end of our food chain, and vital to our soil health, lie worms and insects.
The worm population has dropped by up to 40% and invertebrates by 70%.
The presence of beavers helps remedy most of these issues and the idea their numbers should be left to an unaccountable demographic with short term economic interests is simply unworkable and wide open to abuse.
History instructs us that when commercial activities clash with the welfare of other living things, disaster follows.
Birds of prey, wildcats, pine martens and many other species stand testimony to that.
Indeed, beavers themselves were extirpated for that very reason.
It has taken many years and a lot of effort to try to both protect this array of creatures in the face of continuing persecution of the type beavers are now experiencing.
To once again open the door to laissez-faire-style culling would be a retrograde step.
What is required is a tightly-regulated body consisting of scientists, conservationists, farmers and government to implement and strictly police a system where the agricultural and the natural world co-exist for the general benefit of us all.
This can be done by regenerating the soil, developing new farming systems in line with today's hi-tech industries, protecting our biodiversity and providing a suitable income for farmers.
Any short to medium term subsidies can be directed accordingly with the focus realigned from production to the health of the environment and the sustainability of the soil on which the produce grows.
Self regulation and commercial interests make poor bedfellows.
George Murdoch.
4 Auchcairnie Cotts,
Laurencekirk.
Twinned toilets a Dundee first
Madam, – With reference to Helen Brown's column, Big Idea for Smallest Room (The Courier, May 24) I am disappointed Ms Brown is unaware Dundee is the first Toilet Twinned City in Scotland.
In 2015 Soroptimist International Dundee Club (of which I am a member) set about making Dundee the first Toilet Twinned City in Scotland. We had to follow the Toilet Twinning charity's criteria and also generate media coverage, which we got from local papers including The Courier, and STV news.
In keeping with Toilet Twinnings' purpose, we raised awareness of the many people who lack the privacy and safety of a toilet and sanitation.
We twinned the toilets of the lord provost in City Chambers, our MPs and MSPs and many businesses and private Dundonians.
Twinning toilets involves donating to the charity to continue its health and sanitation work in impoverished communities and we raised more than £10,000 towards their projects.
By 2016 we had met all of the criteria and as we twinned the toilets (known as the "Cuddies") on RRS Discovery, the lord provost was presented with a certificate from the Toilet Twinning Charity stating that Dundee was the first Toilet Twinned city in Scotland.
The RRS Discovery toilet is twinned with a household toilet in Malawi and we are hoping to twin a toilet in our wonderful V&A.
Elaine Ferrie.
6 Boniface Gardens,
Invergowrie.
Pollution not the fault of sheep
Madam, – In response to George Morton's allegation sheep cause pollution (Letters, The Courier, May 28).
No animal on it's own can cause pollution as the elements it exhausts were sourced from it's food, in this case mainly grass.
The methane produced will eventually be absorbed by plant life and beautifully recycled.
It should be noted that human's exhaust gases contain 7% methane.
What is changing is the burning of hydrocarbons which are sourced from under the Earth's crust and end up in the atmosphere.
To counter this we need more carbon released into the atmosphere.
The worst case scenario, if we deplete all hydrocarbons, will be the climate reverting to what it was before their creation.
But it'll not be the end of the world.
William Halley.
West Lochlane,
Crieff.
All governments borrow money
Madam, – Your correspondent Adrian Grant's claim (Letters, May 25) that the SNP's proposed use of borrowing powers in a future independent Scotland makes them unfit to be "trusted with the purse strings" rather misses the point.
If correct, this would apply to every government in the world, as other nations regularly borrow in order to grow their economy.
Apart from Norway, of course, disproving the "too wee, too poor, too stupid" argument levelled at Scotland at every opportunity.
Mr Grant, worrying for Scotland's grandchildren in an independent Scotland following normal practices, seems blithely unaware of London's disastrous record in this regard.
Blundering as it does from one crisis to another with depressing regularity.
The gentleman should also be made aware Scots are forced to pay a share of London's, "short term spendthrift" borrowing based on a UK AA (negative) credit rating, with no benefit to ourselves.
A burden which will no doubt increase in the aftermath of the full English Brexit being force-fed to Scots.
I assume Mr Grant, in his condemnation of the SNP, has a positive counter argument to put forward in favour of continued Westminster control, outlining its many successes for the people of Scotland.
If not, an explanation of why more than 300 years of union has resulted in a Scotland, replete with assets, being derided as an economic basket case by opponents of independence would itself be enlightening.
Ken Clark.
15 Thorter Way, Dundee.
Labour master of own demise
Madam, – The wipeout of "Scottish" Labour at the Euro election was entirely predictable. The blame lies squarely with branch manger Richard Leonard and his boss Jeremy Corbyn.
Despite his occasional rhetoric regarding the social crisis facing the working class, Richard Leonard and "Scottish" Labour offer no real alternative. Leonard, like Corbyn, faced all ways at once.
Corbyn tried to assume the pose of national saviour – and ended up a national joke instead. Thanks to him the Tories are still in government.
Alan Hinnrichs.
2 Gillespie Terrace, Dundee.