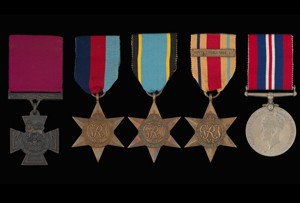 Madam, – Having read Jim Millar's article (Renewed calls for clampdown on fake veterans, Courier, June 18) about 'Walter Mitty' types who claim Second World War honours, I totally agree with him.
As the historian and archivist for 149 (East India) Squadron, RAF I have come across this strange phenomenon a few times.
When relatives or veterans contact me I assemble the history of their time with the squadron and donate it to them for their own use.
Occasionally a relative will contact me and ask about their person's squadron history.
A little investigation shows there is none, or a very different story from the initial information.
Although sad, this can often be explained by bedtime stories from grandad, or whoever, being a shade exaggerated.
There is no malice in these stories and the relatives are quietly told of the errors and all is forgotten.
Guys who served in Bomber Command, be they air or ground crew, are all heroes.
The wearing of medals or decorations by those not entitled to wear them is wrong.
The reasons for this 'glory plagiarism' elude me, but strike me as sad. Some times it is not intended.
The recipient of a medal or decoration is allowed to wear it on his or her left breast, whilst a relative of the recipient can wear the medals on the right side.
There is also a strict protocol which places all UK medals, etc before any foreign medals or honours – i.e. the UK medals belong closest to the centre of the body.
The order of wearing them is also covered by protocol.
Strictly speaking, the permission of the Sovereign is required before foreign medals can be worn by serving personnel.
All of those who took part in the war, in any capacity, have my undying gratitude and respect.
Wear your medals with pride and God Bless you all.
Alan Fraser.
149 (East India)
Squadron, Archivist and RAF Historian.
Arms sales to Saudi must end
Madam, – It was great to hear that the Court of Appeal has ruled the UK's continued arms sales to Saudi Arabia for use in Yemen's brutal war are unlawful.
The Campaign Against the Arms Trade argued that UK fighter jets and bombs are being used to kill civilians and violate international law.
The Court of Appeal concluded it was "irrational and therefore unlawful" for the international trade secretary to have licensed weapons exports without assessing whether past incidents broke international law and if there was a "clear risk" of future breaches.
Judges found that although the UK had "engaged closely" with Riyadh in attempt to minimise civilian casualties in Yemen, that fell short of the legal obligation to assess the risk of war crimes.
No matter what atrocities it has inflicted, the Saudi regime has been able to count on the UK's uncritical political and military support.
The bombing has created the worst humanitarian crisis in the world and thousands have been killed.
Many more have died as a result of an ongoing humanitarian catastrophe including a cholera outbreak and starvation.
UK arms companies have profited every step of the way and we must follow the lead of the likes of Germany, the Netherlands and Finland in ceasing arms sales.
The man who was the Foreign Secretary in the period considered by the judgment, who signed off the export licences and should therefore be held responsible, was none other than Tory leadership frontrunner, Boris Johnson.
Alex Orr.
Flat 3, 2 Marchmont Road, Edinburgh.
Onus on Scottish Water to act
Madam, – Nearly £100 million of council tax was uncollected last year taking the total amount unpaid to more than £1.3 billion.
I would suggest the collection rate is reasonable and is comparable with businesses.
Council tax is not "council tax" but is council tax plus water and sewerage and the councils have the unenviable task of collecting both, yet are not paid by Scottish Water.
They should be. Approximately 25% of the bill is the water and sewerage.
If a person's income is low then quite correctly the council tax bill is reduced but not the water and sewerage part.
Councils should declare how much of the outstanding money is due to Scottish Water and leave it to their well-paid directors to decide on a course of action.
Clark Cross.
138 Springfield Road,
Linlithgow.
VAR spoiled flow of the game
Madam, – It is easy to be critical of both the Scotland women's football team and the North Korean referee who officiated at the 3-3 draw with Argentina (Courier-20 June). To keep the whole thing in perspective you only have to think about Liverpool's recent magnificent comeback from three nil down against the mighty Barcelona in the men's game.
Even billionaire players like the soccer kings from the Nou Camp can be fallible.
Many football supporters over the years can think of games where 3-0 margins (sometimes even more) have been overturned, adding to the excitement, frustration and intrigue of games.
It has happened many times before and will happen again.
Shelley Kerr's team are entitled to feel despondent but they ought to be philosophical too.
Watching a recording of the full encounter later I was puzzled but not surprised at the controversy over the penalty.
Had the penalty been awarded straight away I doubt few people could have taken issue.
Perhaps Argentina would have scored straight away and we wouldn't have had the debacle that followed.
Video Assisted Refereeing on this occasion spoiled the flow of a game and left a very sour taste in the mouth for some.
We should still remember the incident as part of the history of the women's game which this World Cup has helped many to take really seriously.
Bob Taylor.
24 Shiel Court,
Glenrothes.
Don't ignore debt issues
Madam, – It is believed 7.9 million people in the UK are in debt.
Financial mismanagement puts a great strain on people and their family lives.
Being a debt counsellor in Wales, I have known a few people commit suicide because of the financial situation they are in.
In Scotland there is a website, moneyadvicescotland.org.uk, that people can look at for advice.
The most important thing that anyone experiencing financial hardship must not do is ignore it, as it will only get worse.
You must take action as soon as possible.
David S. Ball.
Sketty,
Swansea.
Don't give Brand the air time
Madam, – I quite agree that the comment by Jo Brand about throwing acid in politicians' faces is quite outrageous and downright dangerous.
Anything less humorous I cannot imagine but, having heard Jo Brand before, I am not surprised.
The woman should not be given air time.
Mrs M Wyse.
South Port,
Brechin.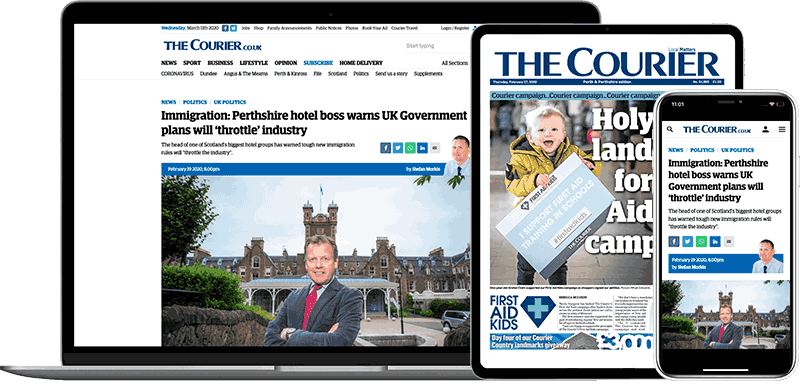 Help support quality local journalism … become a digital subscriber to The Courier
For as little as £5.99 a month you can access all of our content, including Premium articles.
Subscribe