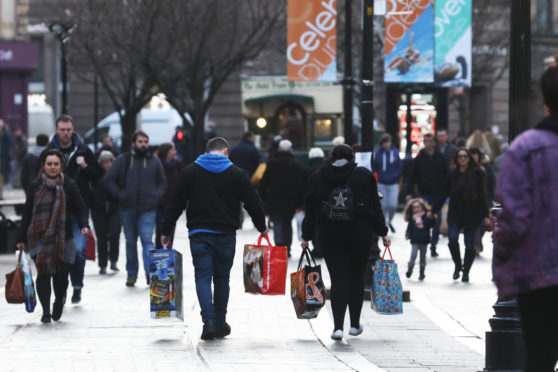 Madam, – Regards the article on the lack of sales in the High Street shops (Business hit by 'double whammy', Courier, July 10) it surely was obvious that this was going to happen and continue to worsen.
The recent boast by the council of more than three quarters of a million pounds of parking fines on the already overtaxed motorist is not exactly a welcome mat.
Angus Council, jumping on the bandwagon, thinking this was a surefire way of earning more cash from those nasty car drivers, have unfortunately destroyed most of the local High Street shops.
Unless you have the finances to buy an electric car for the sole purpose of town shopping, you are going to use the outlying supermarkets and shopping malls with no parking restrictions.
Add to this the ease of shopping online where goods can be delivered to your door within 24 hours at no extra cost and it is a no-brainer.
Another use for our town centres will have to be found and quickly before they become just more remnants of our fast diminishing industries.
W Duthie.
25 St Fillans Road,
Dundee.
Olympic level of 'noting' in Fife
Madam, – The report on Fife Council's refusal to lift its ban on double-axle trailers encapsulates the council's policy of doing nothing and deferring everything (Householder trailer ban to stay despite opposition, Courier, July 8).
No-one thinks this ban is sensible but the SNP-led coalition can't bring itself to do anything about it. That sums up its approach to practically everything.
Committees that used to meet every few weeks are down to five meetings per year.
Agendas are full of items for noting. If "noting" ever reaches the Olympics, Fife Council will be a medal prospect.
The only initiative just now is Café Inc, intended to address holiday hunger by, among other things, putting out packed lunches for anyone who cares to pick one up. After the summer, we'll be asking what percentage of the lunches went to those in genuine need.
There are third sector groups ready and waiting to do a far more focused job. So why this lackadaisical near-hibernation?
We know that it's SNP policy not to make great strides forward for fear that more voters will realise how unnecessary separation is.
What's harder to fathom is the Fife Labour Group, which used to be full of ideas but now just looks demoralised.
Perhaps someone can enlighten us.
Cllr Dave Dempsey.
Leader of the Opposition,
Fife Council.
Cold homes and sickness in store
Madam, – One thing caught my eye about the notice from Scottish Gas, which informed me the Climate Change Levy on my electricity bill had gone up: the levy is higher for electricity than for gas. For a single kilowatt hour of energy at the current rate, you pay a levy 0.339p for gas, but 0.847p for electricity.
The difference is just over half a pence before you add VAT at 20%.
Now public policy is to encourage us to switch from using fossil fuels such as gas to using only electricity, but the Climate Change Levy is telling us a unit of electrical energy causes more damage to the environment than a unit of energy from gas.
Odd as that is, the really bizarre thing is that Brussels, Westminster and Holyrood all support a policy which will create massive fuel poverty.
You see, it costs at least four times as much to produce a unit of electrical energy as it does to produce a unit of energy from gas, which means it will cost four times as much to heat your home electrically as it does using gas.
For many people that is a recipe for cold homes and ill health.
It is clearly time for a rethink of the policy of switching to expensive unreliable electrical energy from so-called renewable sources.
Otto Inglis.
6 Inveralmond Grove,
Edinburgh.
No anti-English sentiment
Madam, – What tosh from Scotland in Union letter writer Martin Redfern (Placards are not acceptable, Courier, July 9) suggesting Scottish people are racist against English people because he saw "England out of Scotland" placards at recent nationalist demonstrations.
I have been on several recent marches for independence, and, although I have met plenty of English people marching with us, and seen plenty of "English for Independence" banners, I have never seen any anti-English displays.
And I know that anybody exhibiting such items would not be welcome.
Contrast this with south of the border, where the English nationalist Brexit party made huge strides in the recent European elections, where the elected representatives of the Scottish people are regularly ignored, taunted and abused in their place of work, where the current Prime Minister has gloried in a "hostile environment for immigrants".
I don't believe at all, that the people of Scotland are in any way "morally superior", or "more liberally minded" than people elsewhere in the UK.
But I am quite sure the influence of our elected government in Scotland, who are absolutely opposed to racism, in any form, has led the people of Scotland in a different direction from that set by our Westminster rulers.
Les Mackay.
5 Carmichael Gardens,
Dundee.
Heads-up on treatment
Madam, – After reading the letter from Dr John Cameron (Countering gender norms, Courier, July 9) I would like to know where all these people are getting referred for treatment so quickly and easily.
My friends who have been trying to get a referral for years would find it incredibly useful.
Dr Philip McGavin.
Nicoll Street,
Dundee.
C02 reduction will be small
Madam, – Further to the letter from Clark Cross (Charging point call is a bit rich, Courier, July 10) criticising the subsidies for electric cars I should add the primary reason for their introduction was to cut carbon dioxide.
But how much CO2 will they actually cut?
Roberto Valvassori, head of the European Association of Auto Suppliers, has outlined just how small the impact of electrifying our car fleet on CO2 emissions would be – a cut of only 0.7% of global emissions.
And if the figure included the energy input of recharging EVs, much of which is supplied by fossil fuels, that would drop to 0.4%.
Furthermore, the demand for recharging so many vehicles could not be met by the grid, so why are we trying to speed up decarbonising the vehicle fleet?
William Loneskie.
9 Justice Park,
Oxton, Lauder.
Get out and enjoy nature
Madam, – I am delighted to report the powers-that-be have removed the beaver dams at Kinnordy.
I walked up the path to the loch and it was water-free and the mud was drying. The sun was shining, the birds were singing and all was well with the world.
I hope maintenance of the work done is carried out on a regular basis and I encourage the people of Kirrie to get out and enjoy all parts of the footpath network.
GA Milne.
69 Prosen Road,
Kirriemuir.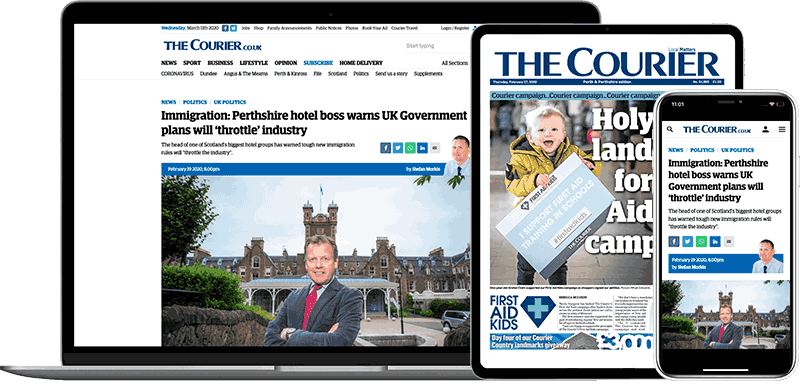 Help support quality local journalism … become a digital subscriber to The Courier
For as little as £5.99 a month you can access all of our content, including Premium articles.
Subscribe