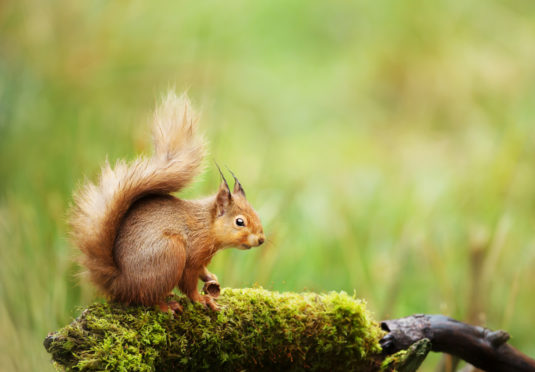 Madam, – The global environmental crisis regarding climate change and loss of biodiversity worries me.
What I've proposed to our city council is that a significant portion of our public parks, currently largely monoculture grass, be re-designated to wilder, woodland areas of native species to act as both carbon sink and promote an increase in local biodiversity.
Such wilder areas would remain accessible to the public to enjoy; there would still be the lion's share of the parks as open grassy areas for football, walkers etc.
The tree areas will require less mowing, saving burning fossil fuels whilst still needing to be managed to encourage wildflowers etc.
One can envisage local schools adopting such areas, contributing to the design and content and measuring the changes in biodiversity that will happen over the years.
Given the very difficult financial situation for the council, I would happily contribute to such a project.
I am certain, having talked to similar, older folks like myself, they too would wish to assist in a tangible way to address the problem we have all contributed to creating.
What's the view of other readers?
Peter Pope.
The Esplanade,
Broughty Ferry,
Dundee.
Policing our wild habitats
Madam, – Enough is enough.
With the recent never-ending persecution of raptors and now what looks like a serious cull of ravens, corvids etcetera – who have every right to a life as we have – isn't it about time we employed a lot more wildlife wardens or police for the countryside?
This would not only protect birds and animals but also be a permanent presence in our contryside to prevent the stealing of farm animals and give peace of mind to farmers, who are being increasingly targeted for the mere fact they are isolated from the towns.
We should also have a tangible presence on shooting estates, who seem to be a law unto themselves.
Do these people realise what kind of bereft future they are passing on to their children?
Mrs J Forrest.
26 Pettycur Road,
Kinghorn.
One festival is enough for Perth
Madam, – I was horrified to read that Perth and Kinross Council is looking for a replacement festival for T in the Park (Call to plug gap left by demise of T in the Park, Courier, July 13).
Has the council not learned its lesson?
As I have stressed before, the events seem always to be accompanied by a criminal element dealing drugs or being involved in theft and acts of violence.
There is also the massive disruption to people's lives in the vicinity of the venue, with road closures and the noise from the festival site. Not music, just amplified noise!
Is there not a Rewind Festival planned for Scone Palace?
So why do we need or want another one?
The council talks about losing £3 million without T in the Park.
Is this not a blessing in disguise given the disruption and trouble that event caused?
Alister Y Allan.
18 Castle View,
Letham,
Perth.
Will everyone get assistance?
Madam, – It was with interest that I read that Police Scotland provided an escort to performer Stormzy whose flight had been delayed, en route to TRNSMT festival (Stormzy gets police escort, Courier, July 13).
It appears from the accompanying photo that blue lights were used, with the police motorcyclist cutting a corner on the wrong side of the road.
Can I now assume if I am delayed by public transport for an urgent appointment I will be accorded the same assistance?
It is also of some concern that the rider is shown on the wrong side of the road with blue lights.
This after a pedestrian was seriously injured by a royal police escort recently in Richmond.
David Churchill.
Kirktonhill Road,
Kirriemuir.
Tennis shows sporting divide
Madam, – I am all in favour of women being paid the same as men for doing the same job.
But I am against female tennis players being paid the same as men.
This opinion was backed up by the performances in the two Wimbledon finals.
The ladies one only lasted just over an hour for two sets. The men's final took five hours in five sets. For all the effort the men put in and the excitement they gave the people who watched it, they deserved it, the women did not.
Alister Rankin.
93, Whyterose Terrace,
Methil,
Leven.
Independence is best for Scotland
Madam, – Having reached the fine age of 71, I write this not looking for betterment of my life, but that of my children and grandchildren.
Back in 1707 most people in Scotland were dragged kicking and screaming into a Union with England, Wales and Ireland.
The people did not want this, there were riots in most towns but the landed gentry and lords wanted it as they were all broke having lost their money on the failed Darien project.
They had no money, so, they sold the only thing they had left, Scotland.
There are those who might argue this was the best thing that happened to Scotland, but I fail to see it.
Three hundred years of being used for the benefit of the United Kingdom.
Then, on Christmas 1951, something happened that started a change in attitude.
Ian Hamilton, along with four other Scottish students, reclaimed the Stone of Destiny from Westminster Abbey.
A decade or so after that the famous Winnie Ewing SNP win happened, followed not long after by Margo McDonald and the growth of the SNP thereafter is, as they say, history.
Then of course we arrived at 2014 and a referendum won by the Remain campaign based on outright lies.
We could only remain in Europe while staying part of the of the UK, false.
Pensions would be destroyed, false.
Oil in the north sea was all but used up, false.
The list goes on.
As we arrive at the threshold of another Indyref, what will Remain spout out this time?
So please Scotland, this time around don't listen to their scare tactics, be brave, vote for the benefit of my and your children and grand- children and forge a path towards a better future within Europe.
We have the resources, that's for sure, far more than many other small nations who survive and prosper on their own.
Robert Donald.
Denhead Farm,
Ceres.
Peril for drivers on the A90
Madam, – Over the months there has been a habit of a political party using the flyover on the A90 at the Forfar/Kirriemuir junction as a place to promote their party.
It is of no relevance which party this is, as it is the height of irresponsible behaviour for anyone to attempt to distract drivers on one of the major arterial roads in Scotland.
I would like to think the police would be in a position to point out to these people the dangers of their behaviour and request they stop before an accident is caused.
R W H Hudson.
North Mains of Ballindarg,
Forfar.