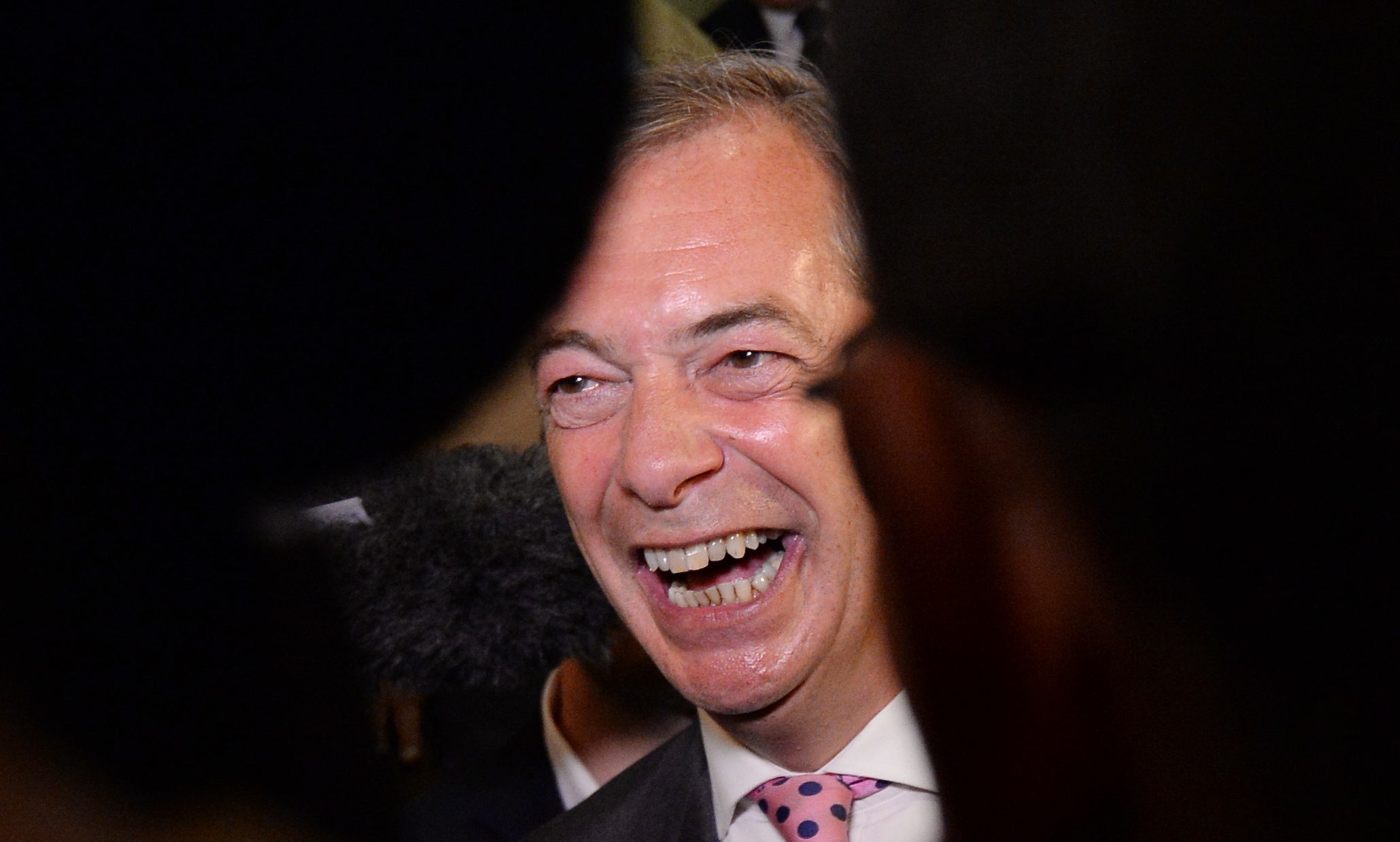 Madam, – What is Dundee City Council's Brexit working group chairman Will Dawson frightened of?
I'm sure the citizens of Dundee are broad-minded enough to cope with a visit from, and the rhetoric of, Brexit Party leader Nigel Farage in the Caird Hall (Bafflement at Farage's decision to visit Dundee, Courier, July 20).
What surprises me is that Councillor Dawson seems equivocal about the right to free speech.
Advocating that Mr Farage and his supporters should be sent 'homewards to think again' smacks of the sort of intolerance which some accuse President Trump of.
It also ignores the fact that in a nationwide poll in May enough Scots – including voters in the city – backed the Brexit party to get an MEP elected.
How would Mr Dawson feel if Nicola Sturgeon went to, for example, Cambridge, to put the SNP case on Brexit and was told to hotfoot it back across the border?
By September we should all have a good idea about whether the proposed October 31 exit date from the EU will be met.
There will be a good deal of interest in Scotland and elsewhere about what the Brexit Party strategy will be.
Let their supporters assemble in Dundee to outline their case.
Let those opposed to their position demonstrate peacefully outside one of the most famous buildings in the United Kingdom.
Let it all happen in a civilised manner without pandering to Mr Dawson's prejudices.
Everyone who is prepared to act within the law should be made welcome in the city, in line with its democratic traditions and reputation for hospitality.
Bob Taylor.
24 Shiel Court,
Glenrothes.
We need and deserve better
Madam, – Alex Bell's article (Courier, July 18) hits the Brexit nail on the head in one sentence: "This vandalism will continue while the English nationalists try to fathom what exactly England is."
Brexit is and always has been about the Conservative Party and England.
Scotland, having been told in 2014 that the only way to remain in the EU was to remain in the UK, voted Remain in the 2016 EU referendum.
Despite how we voted, our Tory MPs pursue their own political interests apparently blinded to our social and economic ones.
The main roles of a Member of Parliament is to review legislation and to represent local interests in Parliament at Westminster.
Instead we see a Tory Party intent on holding together an antiquated union with a fist stamped 'Made in England'.
I am glad the Tories were on the losing side of the recent vote to stop the next prime minister from dismissing Parliament and railroading a No-Deal Brexit through, and we need and deserve better.
Mrs Geva Blackett.
Balnellan House,
Braemar.
Farage has right to speak mind
Madam, – The attacks on Nigel Farage by a Dundee councillor and Courier writer Stefan Morkis (Courier, July 20) are entirely unjustified.
They obviously do not like him and his policies and they are entitled to their opinion, but this is supposed to be a free country with freedom of speech.
There should be no obstacle to Nigel speaking to a Dundee audience. He is not inciting to riot, violence or treason; he merely wants to see Britain leave the EU and has been successful in gaining support for his cause.
He makes more sense to me than the SNP, most Labour supporters, many Liberal Democrats and some Conservatives.
I was not misled over the EU referendum; I had been appalled by the corruption, waste, inefficiency and lack of democracy of the EU for many years and could do nothing about it.
Nigel Farage and the referendum gave me and thousands more the chance we had been waiting for.
Many of the EU's directives have been destructive of British trade, economy, agriculture, fishing, our legal system and our democratic institutions.
More power to Nigel Farage's arm, I say, and, if Boris Johnson and the Tories fail to take us out of the EU on October 31, we may well see the Brexit Party sweep to power.
George K McMillan.
5, Mount Tabor Avenue,
Perth.
Allegiance is not to Scotland
Madam, – After years and months of stating they will stand up for Scotland's place in Europe, the British Conservatives in Scotland swear fealty to Boris Johnson as their overlord and master.
Has this about turn ended any hopes they have of being treated as the people to look after Scottish interests?
With 63% of Tories quite happy to see Scotland an independent country in order to secure an English Brexit, you can see where their allegiance really lies – and it is abundantly clear it is not Scotland.
Ruth Davidson is now looking a very sad woman after the criticism she laid at Boris Johnson's door.
Bryan Auchterlonie.
Bluebell Cottage,
Perth.
Tidy gardens a haven for slugs
Madam, – We all dislike snails, especially when they appear in large numbers and eat our plants.
My neighbours and I have had hundreds of snails in our gardens this summer.
Hedgehogs and shrews love to eat snails and slugs.
They need somewhere safe to live and hide during the day, and then they will gobble up almost all the slugs and snails.
These little mammals cannot exist in weed free gardens with concrete patios and marble chip pathways.
If they eat slugs that have eaten poison pellets, the hedgehogs and shrews get sick, and probably die.
If we choose tidy gardens and kill weeds and little creatures, are we making a wise choice?
Do we really think about the consequences?
Leslie Martin.
22 Glenmarkie Terrace,
Dundee.
No clarity over care costs
Madam, – As a follow- on to David Balfour's letter (Care burden is a total disgrace, Courier, July 19), I call upon any politician from any political party at any level to tell the public what the situation is regarding the asset stripping that accompanies residential care.
The charging for this care was introduced through stealth many years ago and is only now edging slowly toward public knowledge.
We have learned that property will be sequestrated and bank accounts plundered to pay for care.
This applies not only to the mega-rich but to those who have worked and paid tax and National Insurance for probably upward of 50 years and scrimped and saved to pay their mortgage.
Bruce Robertson.
11 Marywell Village,
Arbroath.
Democracy at the BBC
Madam, – The BBC is owned by taxpayers. There is no individual owner or shareholders to whom the BBC board of directors is accountable. The director general is appointed by the board.
I do not know how anyone is appointed to the board of directors, however, it appears the BBC can ignore Westminster's proposal that the free licence to over 75s should be maintained .
Where does democracy come into this set up ?
A A Bullions.
6 Glencairn Crescent,
Leven.