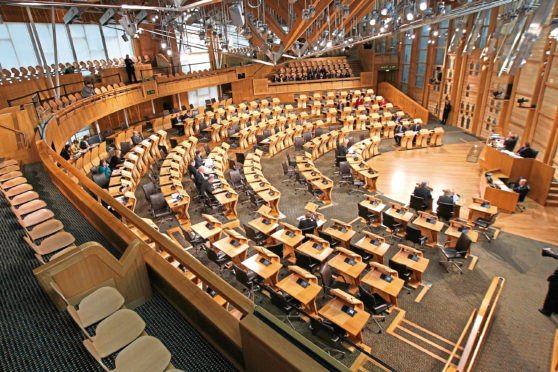 Madam, – It's an absolute tragedy that more people in Scotland lose their lives to substance misuse than anywhere else in the EU.
Even worse has been the defeatism surrounding it as much of the political discourse would suggest that these are deaths that we are powerless to stop.
It is true that drugs policy is reserved, but that doesn't mean there are not steps the Scottish Government can take to reduce drug related deaths alongside its calls for more devolved powers from Westminster.
For a start we can make sure that vital drugs and alcohol partnerships are adequately funded. The Scottish Government cut funding to these services by 20% in 2016- 17.
It is easy to see how such cuts can only exacerbate the crisis.
It's high time both our governments stop passing the buck and do all they can within each of their respective remits to prevent any more lives being needlessly wasted.
Councillor Ben Lawrie.
7 Craigton Gardens,
Monifieth.
Losing the moral high ground
Madam, – The European bien pensant is blind to the irony of President Trump playing the Democrats at their own race game, turning their obsession with identity politics against them.
He called out those who associate themselves with failed states abroad while endlessly attacking America, suggesting they go and fix such awful places before demanding radical "reform" in the US.
He faced down the self-righteous "squad", a far-left minority caucus made up of Alexandria Ocasio-Cortez, Ilhan Omar, Ayanna Pressley, Rashida Tlaib et al.
The Democratic Party is close to collapsing under the weight of the victimhood culture it has promoted.
It is not just losing the people's vote, it is losing the moral high ground to Trump – which really is a neat trick!
Rev Dr John Cameron.
10 Howard Place,
St Andrews.
Trump is their president
Madam, – People need to stop attacking Donald Trump and listen to what he said. Three of the women were born in the USA and the other is a naturalised citizen of the country.
That makes them all as American as the president himself as he is also the offspring of immigrants.
When Trump states that they come from a country whose government is a complete catastrophe, the worst, most corrupt and inept anywhere in the world he is telling the absolute truth.
As American citizens, Trump is their president.
Harry Key.
20, Mid Street,
Largoward.
Gordon to the rescue again
Madam, – The UK union is in trouble, so Gordon Brown steps in to sort out Scotland.
Just as he did in the final stages of the 2014 independence referendum (Brown fears Boris could be the last ever PM of UK, Courier, July 18).
'Scotland will be out of Europe if it votes for independence; Scotland will have the most powerful devolved parliament in the world if it doesn't'.
Aye, right. What happened there then Gordon?
And now, as the UK teeters on the edge of failed state status, and its economy heads for the third world, he's back trying to scare us into submission once again.
He has a new think tank, 'Our Scottish Future', which he claims will set out the progressive argument for Scotland 'taking pride of place' in the UK, rather than being 'told its place'. It is really ironic.
That's what he told us last time, and look at us now. Scotland voted overwhelmingly to remain in the EU, and were most certainly 'told our place'.
Mr Brown may know his place but in increasing numbers the people of Scotland don't share it.
Les Mackay.
5 Carmichael Gardens,
Dundee.
Task is beyond ex-PM Brown
Madam, – Benjamin Franklin once said: "I didn't fail the test, I just found 100 ways to do it wrong". This best describes Gordon Brown's repeated interventions to "make the case" for Scotland to remain within the UK.
Brown is fast turning into a real-life Wile E. Coyote.
It does not matter how many abysmal failures there is, he seems incapable of accepting the task is beyond him.
Alan Hinnrichs.
2 Gillespie Terrace,
Dundee.
Intervention of a 'wise old sage'
Madam, – Gordon Brown talks about independence driven hyper-austerity.
This is the same Mr Brown whose incompetence almost brought the country to bankruptcy, before the Tories inflicted austerity on the country for 10 years.
How can a PM who made such a mess of government consider himself a "wise old sage"a few years later?
Scotland would flourish under a Scottish Government free from Westminster's shackles.
James Last.
27 Stronsay Court,
Perth.
Lock 'em up attitude wrong
Madam, – The callous indifference of the Westminster government to the record drug deaths in Scotland once again shows the system of government in the UK is detrimental to the interests of Scotland.
The Tories do not wish to take any other approach to drug addiction than "lock em up and throw away the key".
Reality plays no part in this approach to drugs legislation.
Alan Hinnrichs.
2 Gillespie Terrace,
Dundee.
UK shoring up finances
Madam, – Once again, the Scottish Government has raised less in income tax – £941 million less – than was predicted.
Fortunately, this will be partially offset by an increase to the Scottish block grant of £737m. This means that there will be a shortfall of 'only' £204m in 2020-21 for expenditure on public services. And this is before we consider the annual fiscal transfer of £10 billion or more from the Treasury to the Scottish Government.
Thank goodness Scotland is part of a union where pooling and sharing within the UK safeguards expenditure on our public services.
The SNP finance minister, Derek Mackay, claims, of course, that he could do better if he had full income tax powers. There is nothing to suggest that that would be the case.
Jill Stephenson.
Glenlockhart Valley,
Edinburgh.
Restrict alcohol for air travel
Madam, – Airlines and airports need to do more to restrict the sale of alcohol pre-departure and on board.
This comes after a female passenger was fined £85,000 after being so disruptive due to alcohol that RAF typhoons had to escort the flight back to the airport.
Whilst everyone must take their responsibility for their actions, perhaps the time has come for airports and airlines to restrict people to a maximum of two drinks, so that responsible travellers who enjoy a drink don't suffer as a result of the irresponsible few and everyone can travel safely.
I see no need for anyone to get exceptionally intoxicated before boarding a flight.
It is time for action.
Gordon Kennedy.
117 Simpson Square,
Perth.