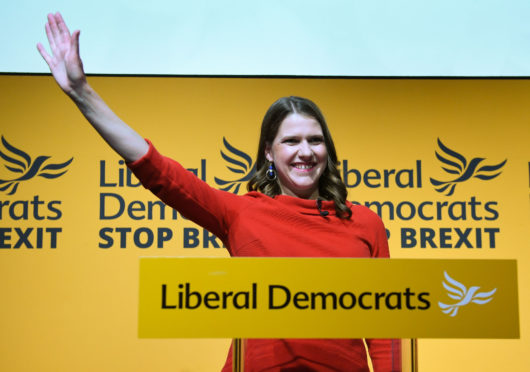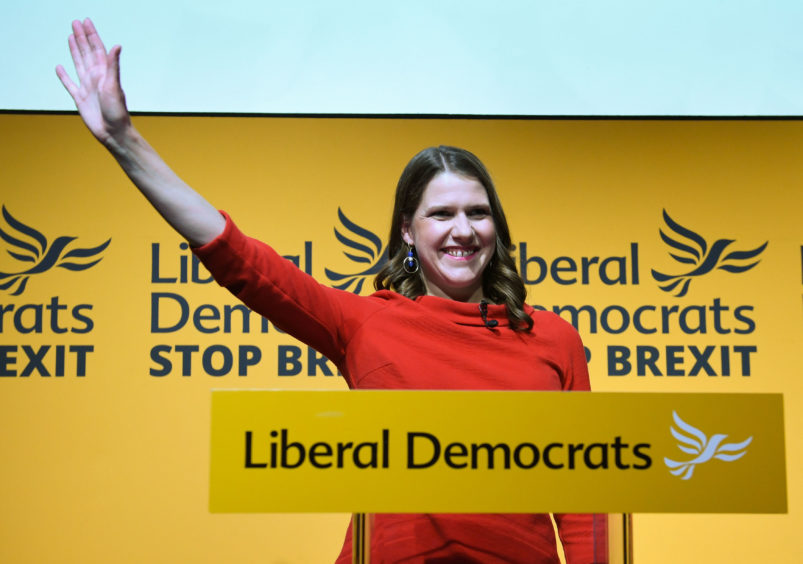 Madam, – Two days and two newly elected "Tory" Party leaders are elected.
"What?" I hear you say, incredulously.
Boris Johnson and Jo Swinson are both newly installed in post and worked hand in glove delivering austerity and misery to the people of Scotland, whilst in power between 2010 and 2015.
Those policies are still being enacted today and the effects of which are still being felt across our land.
Pledge on tuition fees broken? Check.
Bedroom tax imposed? Check.
Public sector pay cap introduced? Check.
Attacks on the disabled and poor? Check.
The legacy of Jo Swinson and her Liberal Democrat chums is one where organisations such as the Red Cross and United Nations are moved to criticise the continued austerity the Tories continue to promote.
This was only possible through the Liberal Democrats' desperation for ministerial limousines and peerages and folk won't forget that.
Until Jo Swinson apologises to the people of Scotland for her role in that, then I predict the Liberal Democrats will continue to languish in the polls in Scotland and indeed across these islands.
Henry Malcolm.
331 Clepington Road,
Dundee.
Growing flight connections
Madam, – By all means re-establish the link to London City Airport but nothing much will happen unless the runway is extended by about 100 to 250 metres to allow for slightly larger but much faster regional jets.
In the meantime, perhaps a joint route could be set up between Dundee and Carlisle as in the past.
I am no expert but could this stop-over allow these regional jets to use Dundee by not needing to take-off at full weight?
If this were possible then get a link to Amsterdam, Brussels or Frankfurt, with an early flight to make the connections with the rest of the world.
John Rigg.
Blackness Road,
Dundee.
Legalisation is not the answer
Madam, – Once again politicians are going to hold meetings to discuss how best to manage drug addiction, and professionals are holding seminars on managing addiction so as to prevent the soaring number of fatalities.
This is an exercise in managing defeat.
Is it not obvious that the number of fatalities is increasing in proportion to the increasing number of addicts, which is a timebomb waiting to explode?
The problem can only be cured by preventing further addiction.
There are five times as many drug-related fatalities as road deaths and this gap is increasing.
The reduction in deaths on the roads, despite a massive increase in car ownership, was achieved by rigorous application of the law.
The same result could be achieved with drugs if the law was applied with the same zeal, yet the nation stands appalled while governments refuse to tackle a scourge which is destroying present and future generations.
As for legalising drugs, legalising tobacco didn't prevent lung cancer, did it?
George Dobbie.
51 Airlie Street,
Alyth.
Normalising alcohol drinking
Madam, – Health officials are calling for a ban on the sale of alcohol at 'family events'.
Accordingly, the Scottish Government is considering refusing alcohol licences to events such as fairs and the Highland games.
Scots have a notorious relationship with alcohol.
Yet in a major wine-producing country like France, children are introduced to wine – usually diluted with water – at an early age.
This normalises the habit of taking wine with meals and does not encourage the kind of binge drinking that is in evidence in other countries like ours.
Trying to bring children up without exposure to alcohol prevents normalisation, and turns alcohol into a forbidden attraction.
I wouldn't say the same for drugs, whose consumption is not legal.
Although how long the consumption of alcohol by law-abiding adults in normal social settings will be tolerated remains to be seen.
Jill Stephenson.
Glenlockhart Valley,
Edinburgh.
Hydrogen is future of power
Madam, – It is understood that heating a house using electricity, rather than gas, will cost about four times more.
What is not understood is that using electricity for vehicle propulsion in place of diesel or petrol will have a high cost.
The major cost lies in the additional cables and transmission systems needed to get the electricity from source to the end-users vehicle.
The UK has 38 million vehicles and for every overhead power transmission system we now have in place, a further three lots of pylons with high tension wires will have to be erected to carry the electricity to replace our current fossil fuels.
The cost of that, however, pales into insignificance when set against the need to dig up every street to re-lay suitably-sized cables to electrify home-heating and to fuel personal electric vehicles.
Therefore, while electric vehicles are a possibility when owned by an affluent minority, they can never be viable as a means of family transport.
The only possible alternative to replace diesel and petrol is liquid hydrogen.
No additional cabling is required, the exhaust is merely moist air and the batteries required need not contain the ultra-scarce mineral, lithium.
Archibald A. Lawrie.
5 Church Wynd,
Kingskettle,
Fife.
Wind farms are blowing cash
Madam, – Dr Wardrop (Turbines are far from green, Courier, July 20) is correct to highlight the futility of wind turbines, particularly as money hungry developers are rushing to build ever more as we already have too many.
This can be demonstrated by reference to constraint payment data available via the Renewable Energy Foundation.
Since 2010 a total of over £550 million has been paid to developers asked by the grid to shut down their wind turbines when generation exceeds demand, with over £103m paid to one wind installation alone.
These payments have increased dramatically year on year.
In one month alone this year (March) £31m was paid to shut down wind turbines and it should be noted these costs are added to our electricity bills, in addition to the subsidies paid when the turbines are generating.
No wonder electricity prices are rising and fuel poverty increasing.
The data clearly demonstrates we cannot use the ever increasing amount of wind generated electricity when the wind is blowing favourably.
And, of course, we will continue to need nuclear and fossil generating backup when the wind is not blowing.
No matter how many more turbines are built, this back-up will still be required.
Despite this ever escalating cost, developers are still hurrying to build ever more turbines, aided and abetted by supine governments.
Why so, when all this does is to increase costs to the consumer and reduce grid stability with the increased potential for power cuts?
This nonsense simply cannot be allowed to continue.
GM Lindsay.
Whinfield Gardens,
Kinross.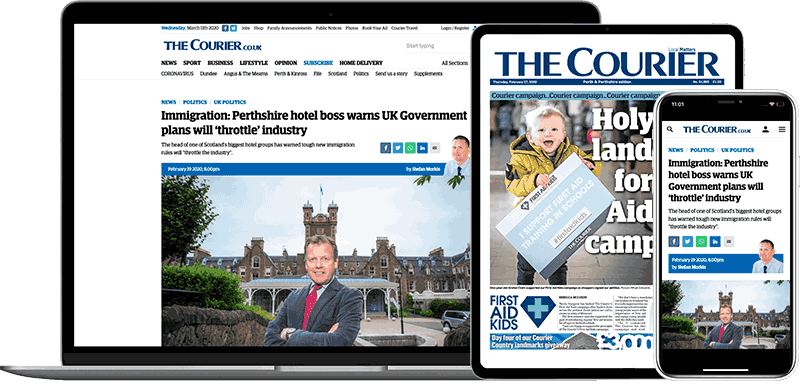 Help support quality local journalism … become a digital subscriber to The Courier
For as little as £5.99 a month you can access all of our content, including Premium articles.
Subscribe