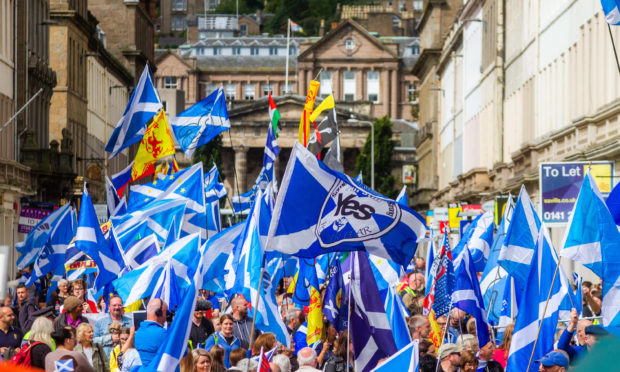 Madam, – It was refreshing to read Alex Bell's analysis of the Scottish Government's inaction when it comes to spelling out the realities of extricating Scotland from the Union ("Independence truth time", The Courier, August 1).
He is right in suggesting that it's not enough to repeat that "anything but Boris" will be better while leaving voters in the dark about what a newly sovereign Scotland in truth can and cannot pay for.
It is crucial that people know, for example, whether their pensions or benefits will be affected in the short or long term and whether or not they can expect payment without delay from the start.
They have a right to know how deeply and for how long all the services, on which they rely in the running of their everyday lives, will be affected.
So far, the SNP hasn't told us.
Alex Bell succinctly calls it the "guilty secret of the SNP" and argues for a detailed plan outlining the inevitable cuts and tax hikes – not a re-hash of the White Paper but a hard, sober, truthful look at the gains and losses we all would have to face should the SNP indeed lead us to another "leap of faith" and independence.
All this sounds fair enough and raises the question why the SNP hasn't done so.
Perhaps there is another guilty secret.
Maybe, like the Brexiteers, they are happy to lead us to a cliff edge but instead of showing us the real challenges beyond, they point to the pies in the sky. Or maybe they haven't yet plucked up the courage to take a look at these realities for themselves.
Regina Erich.
1 Willow Row,
Stonehaven.
As Johnson makes his way
Madam, – Prime Minister Johnson has now completed his regal progress around the nations of the UK, dispensing wisdom and truth to the leaders of the devolved administrations.
In Scotland he was greeted by a jeering crowd, a reluctant first minister, and a selection of bins, as he left by the rear exit for fear of being debagged by his hostile subjects.
On to Wales, normally quiescent, so far as I am aware, where his visit prompted demonstrations of Welsh nationalism such as had never been seen before.
Finishing in Northern Ireland where he was supposed to reassure the people of Ireland that there is no threat to the Good Friday Agreement, he displayed his statesmanship by dining the night before with the leader of the DUP.
This prompted an appearance on Newsnight later that evening by the main negotiator of the Good Friday Agreement, who assured us that it would not survive the prime minister's promised Brexit without the backstop.
Does any of this influence the Eton eejit? Not a jot.
Les Mackay.
5 Carmichael Gardens,
Dundee.
The Universal Credit pitfalls
Many people will recognise Tam Wilson's situation, having also not been informed that applying for Universal Credit before you receive your final pay cheque can mean no unemployed benefits for an extra long time ("Man's nine-week wait for benefits – because he applied too early", The Courier, July 30).
How much UC you get paid is calculated monthly in arrears, so unless you sign on after that pay cheque it will be included in your first month's calculation.
But you don't want to leave signing on any later than you have to, because there are no back payments.
However, it is much more complicated than that.
If you get a job that pays enough to get you off Universal Credit, but then have to sign on again within six months, your monthly assessment dates remain the same as before; so it is a lucky dip how your last pay cheque affects your benefits, and there can be another nine-week wait.
This is the benefit we were told would make it easier to go in and out of work.
Sarah Glynn.
Castle Terrace,
Broughty Ferry.
Most small firms are not prepared
Madam, – On his first visit to Scotland since taking office, Prime Minister Boris Johnson revealed details of a £300 million funding pot for communities in Scotland, Wales and Northern Ireland.
Smaller firms will welcome this support for their local economies.
This money must be spent with care and deliver tangible benefits to the neighbourhood firms that are so vital to the success of these areas.
As the prime minister reveals an ambitious programme of initiatives to boost UK productivity, his officials must work to ensure that they deliver for all firms, no matter where they're located.
New schemes must work in a devolved context and should not duplicate the efforts of the devolved governments.
But the larger threat to the prosperity of our local places is a no-deal, no-transition Brexit on October 31, for which the great bulk of smaller firms simply aren't prepared and, in some cases, cannot prepare.
While businesses must do what they can to prepare for all scenarios, UK ministers must stretch every sinew to avoid the circumstances which would put pressure on so many important local operators.
Andrew McRae.
Federation of Small Businesses,
Glasgow.
Find the causes of violence
Madam, – The announcement by Members of Parliament that they wish a stronger police presence in schools where increasing youth violence is evident is – yet again – another attempt to reduce the symptoms of evil behaviour, rather than the essential need to investigate the root cause of the problem.
The reasons behind childhood misbehaviour, physical violence and – most dangerously – the carrying of lethal weapons, has to be traced, first and foremost, to a) parental shortcomings in setting standards of behaviour and discipline for their children and b) the ease with which these young family members can be swayed to accept violence towards others as "normal".
In particular, the complete absence of censorship within television and film-making, plus the enormity of easily accessible, unbridled violence in countless TV channels (and video games) is deplorable.
Trying to cure this horrendous decline in the behaviour of young people will never be helped by putting police into schools. The damage has been done long before the perpetrators reach the school gates.
When will politicians and councillors recognise this?
They must get to the root of the problem by condemning the growing scourge of ever more television programmes, computer games or uncensored film distribution, all of which now feature serious physical violence?
Donald Ford.
14 Tayside Street,
Carnoustie.
A reminder to Scots Tories
Madam, – Listening to some Tories in Scotland you would be forgiven if you thought Scotland voted to leave the EU.
Can I remind the Loyalist 13 that Scotland has voted twice to remain part of the EU and these MPs are supposed to uphold the wishes of their constituents?
Scots and Irish people voted remain and expect their politicians to reflect this, and rule no deal with the EU out.
Bryan Auchterlonie.
Bluebell Cottage,
Perth.