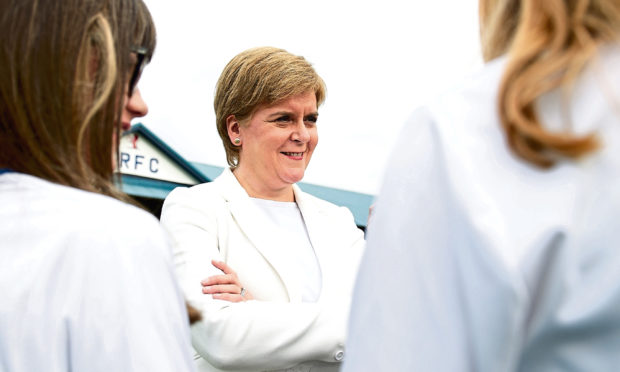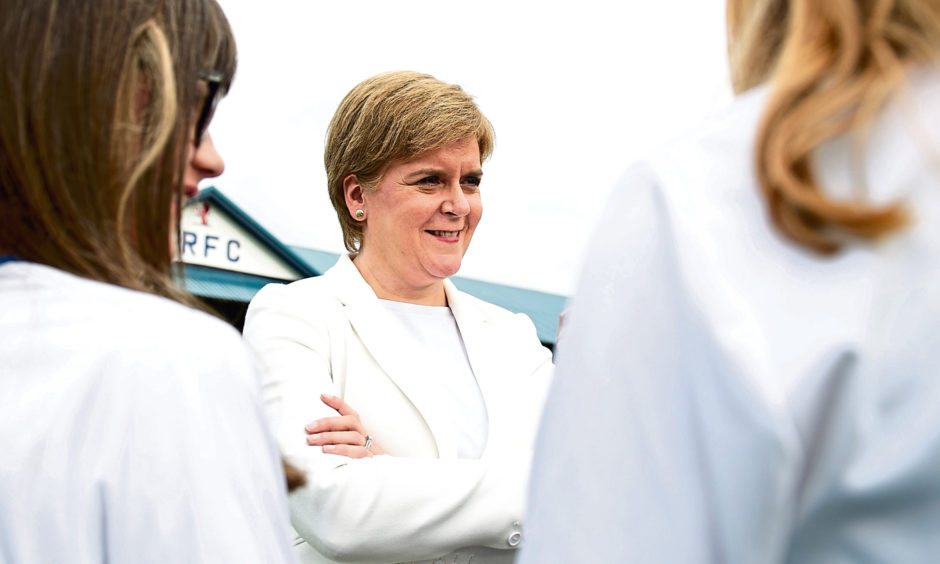 Madam, – First Minister Nicola Sturgeon claims it is a democratic outrage that Indyref2 is blocked.
How on earth can we make it clear to the First Minister that it is an absolute democratic outrage that she still denies the democratic result from 2014?
Why does she accuse the PM of the things she does herself?
It resembles the saying "the pot and the kettle".
The only thing we hear her talk about is Brexit and Indyref2.
When do the SNP and the people realise that independence means we are out of the EU anyway?
When will people start realising that the EU does not recognise Scotland as an independent country?
Scotland will have to apply for membership, which can take up to 10 years.
With all the financial consequences attached, it means years and years of austerity for Scotland.
When will the First Minister and the SNP be honest and clear about this?
When does the First Minister take action to reduce poverty, unemployment, the people that are homeless, failing NHS hospitals, the lack of police, the environmental catastrophe of filth and plastic everywhere?
In other words, when does she start to do the job she is supposed to do?
We are so fed up with her demanding about Indyref2.
She claims to speak on behalf of the people of Scotland, well she most certainly does not speak on my behalf, nor on behalf of a lot of people I know.
Mrs. Maaike Cook.
Cash Feus,
Strathmiglo.
Unionist fears after poll result
Madam, – After the release of Lord Ashcroft's bombshell poll I see the unionists have reached new levels of absurdity.
If one poll of this nature has sent unionists scurrying for their union jacks and sending them into hate, the independence movement into hysterics, goodness knows what will happen if other polls reveal the same.
I think many are now beginning to understand that blind obedience to the union isn't in their best interest.
Bryan Auchterlonie.
Bluebell Cottage,
Perth.
SNP will deflect hospital debacle
Madam, – The astonishing debacle surrounding the building of the new Edinburgh hospital for sick children and young people seems almost too bizarre to be true.
One would think that building a hospital, even a state of the art one, is not rocket science so to speak. Not only is there a problem with the ventilation system but now astonishingly there are reports of drainage problems which have resulted in flooding even before the building has been occupied.
There is, unbelievably, talk or rumours that the building may have to be demolished and rebuilt. You couldn't make it up!
It is also quite baffling that no one person or body appears to be taking responsibility for this shambles and the minister in charge of the project seems to be out of her depth dealing with the £150 million pound problem which may eventually end up costing almost £500 million.
The question now is who is going to pay to rectify these failures, how long is it going to take, how did the situation arise in the first place and what measures are to be taken to ensure that it never happens again.
Or will we get what has apparently become the standard response for all of the SNP Government's failures when they announce that if it wasn't for Westminster, Brexit, Boris, Tory austerity, refusal to have Indyref2 and climate change everything would have worked out perfectly well.
Iain G Richmond.
Guildy House,
Angus.
Bridge too far for government
Madam, – I refer to the article and editorial in Saturday's Courier and concur as a regular user of the "slow bridge" (Queensferry Crossing bad driving targeted, Courier, August 3).
Often I have queued travelling north, from three miles before the bridge and taken 10 minutes to arrive on the Queensferry Crossing bridge and that is at 6pm.
The Scottish Government and Transport Scotland now need to spend several more millions to re-engage the Forth Road Bridge and bring it back into use, certainly at peak times.
It is obvious that those who have the shout in such matters do not use this obstruction to daily life.
It is considered by many regular users of the Queensferry Crossing a gross waste of money and the feeble excuse that it remained open when conditions would have closed the Forth Road Bridge are absurd, as the times would have possibly been two days since it opened.
D Sutherland.
Abbey Road,
Scone.
Rethink over UK monarchy
Madam, – There is a very small demographic group of people in this country who have everything in their favour.
These few have the best houses, the best access to knowledge via books and state of the art computer access.
They are surrounded by highly educated people working on their development from birth.
They go to the "best" schools and universities and have free access to tutors and experts in any subject.
They marry people from families at the very echelons of all the professions.
They are replete with all the advantages of both nature and nurture.
There is one glaring anomaly however, which makes one doubt the efficacy of such benefits.
Most seem to believe in an anachronistic unjustifiable, antidemocratic, divisive institution called a monarchy.
None of this elite demographic has ever called for the abolition of it nor a return to a republic.
Their educational and intellectual loftiness should have induced at least some of them to be Republicans.
This is a paradox. The truth is that none of this group has ever admitted to seeing the light: that being the absurdity of royalty. Why?
Because they are those royals.
One got into a little local difficulty and abdicated, but what about the others?
William and Charles must see the truth that you are not superior nor inferior to your fellow humans but have been assumed so by this absurd system from the moment of birth.
Abdicate and stop the absurdity and gain intellectual respect and get a real life.
Robert Ferguson.
Viewforth,
19 New Gilston,
Leven.
Time to pray and reflect
Madam, – It was good to see mention of St Andrew's Parish Church in The Courier on August 3 for the reason the church is to be open on Tuesdays and Thursdays 11am-1pm throughout this month.
We should be delighted to welcome anyone wishing to look at the stained glass windows but the main reason behind the opening is to give both Church members and visitors the opportunity to enjoy some peace and quiet and a time for prayer and reflection.
This forms part of our Stewardship Season for 2019 during which we are thinking particularly about our use of time – for ourselves, for others, and for God.
Those wishing to talk rather than be silent are welcome to come in for a cuppa or sandwich lunch.
Rev. Caroline Taylor
Interim Moderator
St Andrew's Parish Church.
2 King Street,
Dundee.