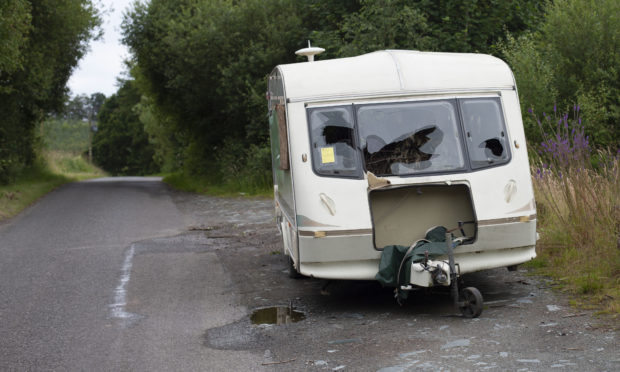 Madam, – With reference to your headline "Not one fly-tipping prosecution since 2010, says council", (Courier, August 6) I'm sure there are difficulties and frustrations experienced by the regulatory authorities in tackling this antisocial crime, including the fact that penalties imposed on the culprits if and when they are prosecuted are often not sufficient to act as a deterrent.
However, that is no reason not to investigate and pursue these criminal acts in order to raise the profile and encourage our legislators to take a stronger stance.
There are basically two types of fly-tipper, the first being the "businesses" who will charge householders and small businesses to remove their waste and then dump it at some quiet spot so avoiding any charges to use an authorised disposal route.
I believe that targeting the known hotspots will identify this small number of individuals making a profit from fly-tipping.
You only have to regularly pass the area at the end of Friarton Bridge Road directly under the bridge itself to see a hotspot.
The fly-tipping at this location has escalated over the last few years and is now falling into the River Tay.
Surely it is not outwith the regulator's ability to put covert cameras at hotspots like this so giving them the valuable evidence they need?
Householders and small businesses can also do their part by ensuring they only pass their waste to legitimate companies who abide by the law.
The second type of fly-tipper is the one who will dump a bed, an old sofa or some black bags on a quiet lane, usually belonging to themselves or a friend.
They are just lazy, unsociable individuals who can't be bothered to make the effort to take the items to the local Household Waste Disposal Site where they can dispose of it for free.
Similarly we often see abandoned campsites in some of our most picturesque locations, again due to laziness.
We are a throwaway society and there is unfortunately an element of us who regard waste disposal as someone else's problem.
However our waste legislation is based on the ethic of "producer pays" and our regulatory authorities and legislators need to do more to ensure this is enforced, particularly where a profit is being made from blighting our beautiful countryside and that ultimately the "polluter pays".
Paul Charters.
26 Jeanfield Road,
Perth.
Single poll not a case for indy
Madam, – That a single opinion poll shows a small majority in favour of Scottish independence is unsurprising.
Nicola Sturgeon has been on our screens saying how much she dislikes Boris Johnson's personality, even touching on his politics.
The UK is in the midst of a protracted constitutional crisis, with apparently no imminent prospect of resolution.
Time is Ms Sturgeon's enemy. It is possible but unlikely there will be a referendum before the 2021 Holyrood election, meaning a vote in maybe 2023/24.
By then Mr Johnson may be gone and Brexit a distant memory, as trade deals around the world emerge.
Plus, will a majority of us really vote for a Scotland outside of both the UK and EU single markets?
Martin Redfern.
Woodcroft Road,
Edinburgh.
Hjul should look at real failures
Madam, – Once again, Jenny Hjul is back to her favourite subject of SNP bashing (SNP making a hash of health, Courier, August 7).
She claims the latest poll showing a majority support Scottish independence is a protest vote.
She then goes on to highlight her biased opinion of the track record of the Scottish Government.
Point one was the new children's hospital in Edinburgh.
If Ms Hjul was having a house built and the builders made a complete mess of it, is it her fault or is it the builder?
And if her house was similarly infested by pigeons leaving their droppings which caused infections.
Who is at fault there?
Why then is it the fault of the SNP when their contractors fail to work to the standards which their own regulators insist upon?
She fails to mention that in Scotland we benefit from free bus travel, free prescriptions, no bridge tolls, not to mention student top up fees among the many benefits that our Scottish Government provide.
That is despite having their budget cut in real terms by a Westminster Government who force us to contribute to HS2, Trident, and the ludicrous Brexit bill, despite all the regions of Scotland voting to remain in the EU.
Perhaps Ms Hjul should look at the real failures in this disunited union, namely the Tory party.
Graham Smith.
Charles Avenue,
Arbroath.
Have lessons been learned?
Madam, – Another disaster for the taxpayer, a brand new hospital for sick kids in the Lothians is not fit for purpose.
Why should the taxpayer be paying for a building that is full of design problems and faults?
Just who among the politicians on the group assigned to oversee the construction were fit to have an input or have had any training or hands on experience in the construction industry?
Who signed off the plans?
Did the Scottish Government employ a highly-qualified engineering consultant and inspectors to check the work?
And are we going to be told the truth exactly what the building needs to come up to a 100% operating standard and the cost?
Have, as I suspect, our politicians learned nothing from the disaster of the wee Parliament.
John G Phimister.
63 St Clair St,
Kirkcaldy.
Councillors to get on the case
Madam, – Following ONFife's recent decision to deprive library users of the chance to read any newspapers at all, I have discovered that Dundee's Central Library stocks around 18, plus 122 periodicals while the Stirling Central library stocks 15 papers and at least 25 periodicals.
Are we Fifers so illiterate?
ONFife is depriving library users of, among other things, the chance to examine recent back numbers, sometimes for research purposes.
Fife's councillors really must get on the case.
George Morton.
29 Hudson Road,
Rosyth.
Residents' stress over walk
Madam, – I write on behalf of residents in Dunkeld and Birnam who feel distressed at the prospect of an Orange march on August 18.
Although apparently stated at the council licensing meeting that residents would welcome such an event, there are many who do not.
It appears there are no local members of this Orange Lodge, so they are using the commemoration of the 17th Century Battle of Dunkeld as an excuse to parade.
The event ignores the well-established tradition of collaboration and harmony between the churches and will potentially cause distress and offence to residents and disruption to the many visitors who come here at this time of year.
Such things are not needed and should surely be avoided in these days of political and economic polarisation and division.
Please could these occasions be avoided in future?
Rev William Hogg.
Dunkeld,
Perthshire.