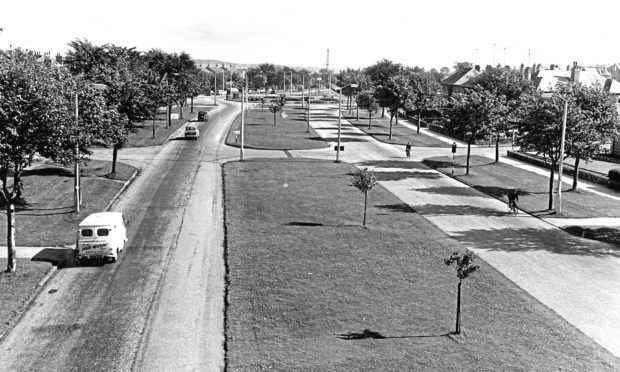 Madam, – The Monday Matters column by deputy editor Graham Huband is most interesting and timely (Is the Kingsway for another 100 years, Courier, July 22).
In it he refers to the proposal for a bypass from the A90 west of the Swallow roundabout to near Tealing in order to relieve congestion and air pollution on Kingsway, and to allow through traffic to have an easier and quicker route past Dundee.
Dundee Civic Trust fully supports such a proposal, which, of course, has been mooted for a couple of decades at least.
We would like to see it being given much higher priority in plans by Transport Scotland and in future strategic plans including the updated TayPlan and the next revision of the Local Development Plan.
The effects of congestion, delays and pollution on Kingsway itself are evident and may well have been measured.
The traffic impact also spreads to neighbouring communities due to traffic using quieter streets as rat runs.
Of course, there must also be significant impact on the local economy due to delays, and indeed on the economies of nearby regions as well.
There have been a few incremental 'improvements' using traffic lights and creating filter lanes at some junctions, but these largely cosmetic solutions can only at best slightly ameliorate the problems.
They remove no traffic and may even add to the delays, congestion and pollution.
The proper, long term solution is a northern/western relief road which would remove all A90 traffic heading west and south of the city, most notably traffic from the Aberdeen area and obviously, traffic which is travelling north towards those areas as well.
Traffic which moves smoothly causes less air pollution than when it is travelling slowly and, worse, stopped.
A new bypass for the city would allow Kingsway to be downgraded to a major local road and would reduce the significant barrier that exists between communities to the north and south of Kingsway.
It surely would also be widely welcomed by business and communities in the Aberdeen area and the rest of the north-east of Scotland.
I shall be glad to learn what steps Dundee City Council may be able to take which might allow this much needed improvement to come to pass.
Donald Gordon.
Chairman,
Dundee Civic Trust.
Why such fears over licensing?
Madam, – I read with amusement the claim that burly, gun totin` gamekeepers are being intimidated by activists. ( Gamekeepers working in fear amid hate abuse, Courier, August 10)
My aunt is an activist (well, rambler) and assures me that invariably her over 60s walking group are regularly approached by gamekeepers curious to know who, what, where etc.
Perhaps I should hide her walking boots til this blows over !
But I am puzzled by the paranoia over possible licensing?
Licensing of the shooting industry is accepted in many EU countries with regulations and accountability being the norm.
Why the reluctance here?
Could it be the slaughter of 26,000 mountain hares on grouse moors annually in Scotland because a tick they carry can cause disease in grouse and that slaughter might be challenged as unacceptable?
Or the burning of heather that ruins the carbon catching capabilities of the scorched peat layer underneath might be curtailed?
Or, perhaps the public disgust at spring traps and snares catching non- predatory species such as rabbits hedgehogs squirrels badgers and birds.
Licensing would bring a level of accountability to an industry that is a monoculture where grouse is king cossetted in an unnatural environment where all that threatens grouse can be eradicated with impunity.
The only thing being intimidated on Scottish sporting estates at present is wildlife that brings joy and pleasure to those who cherish our natural heritage and not those who wantonly destroy it for monetary gain .
David Mitchell.
6 Henry Street,
Kirriemuir.
Hands-free is not worst habit
Madam, – Regarding the recent government concerns about hands-free phones in cars. Although I agree that it is not ideal, there are far worse things distracting drivers these days.
The obvious ones are eating and drinking coffee, tea or soft drinks while driving.
There is also the problem of having animals unsecured in the car. I have even seen dogs hanging halfway out of the car window.
But the one obvious advantage of the hands-free phone is that while talking to the caller you are still looking at the road and not them.
Quite a few friends while driving and speaking to their passenger like to look at them, thereby taking their eyes off the road.
Surely this is far more dangerous than talking on a hands-free phone.
Les Horribine.
103 Kinghorne Street,
Arbroath.
New indy poll justified
Madam, – Up til now this government has totally ignored advice from experts about the consequencies of leaving the EU without a deal, and still pursues its blinkered approach.
Ministers are, however, looking after business by creating a fund to compensate them if there is a downturn in their profits.
This will, of course, be funded by the taxpayer who will suffer shortages in food and medicine supply.
A lot has changed since the referendum and it is justified having another one.
Alister Rankin.
93, Whyterose Terrace,
Methil, Leven.
Highly charged motoring debate
Madam, – While a few owners of electric cars will no doubt be excited that Fife Council is spending half a million pounds of taxpayers' money on 22 new charging points, we should remember "It takes as little as 30 minutes to charge such a car…and as much as 12 hours".
That means if someone pulls in before you at a charging point, you're going to have to hang around for quite some time.
With more than 38 million vehicles in the UK, it is difficult to see how enough charging points can ever become reality.
Cars driven on hydrogen take five minutes to refuel and only need to be topped-up after about 300 miles.
Let's get real on this electric car business.
Archibald A. Lawrie.
5 Church Wynd,
Kingskettle, Fife.
Dam-ming indictment
Madam, – Like the Toddbrook reservoir dam, dams do deteriorate over time.
The UK is obliged under EU agreements to continually upgrade its dams, a practice which will end after Brexit when the same standards of maintenance can't be guaranteed.
This could ring alarm bells in Highland Perthshire, which has an ageing hydro-electric network which was constructed about 75 years ago.
It is important local communities are aware and have their say on this matter.
Ian Seaton.
Greenacre, Grandtully,
Perthshire.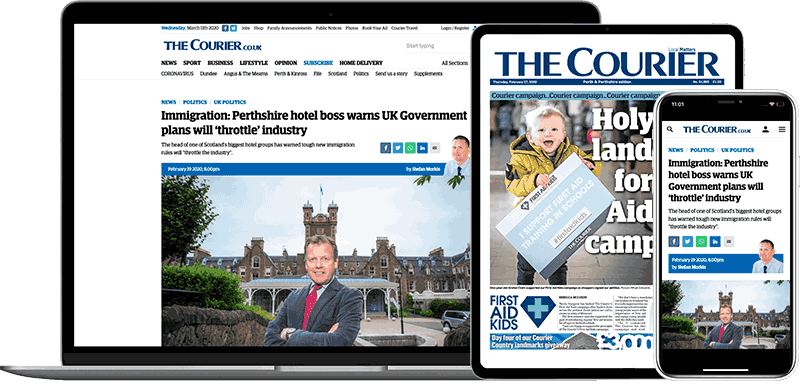 Help support quality local journalism … become a digital subscriber to The Courier
For as little as £5.99 a month you can access all of our content, including Premium articles.
Subscribe