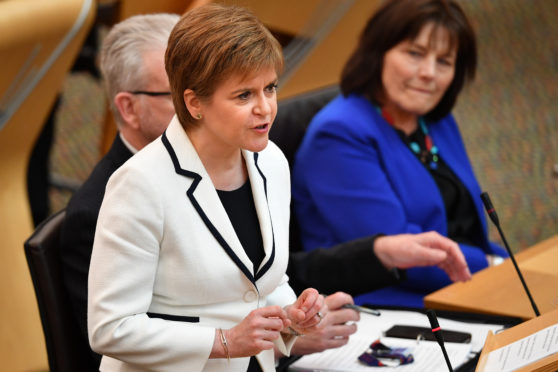 Madam, – Nicola Sturgeon has admitted that new legislation she intends to introduce next year will be targeted at drivers to force them out of their cars to tackle the "climate emergency" by reducing transport emissions.
As always she adds, "Scotland has to continue to lead by example," ignoring Scotland's miniscule 0.13 percent of global emissions.
There are 1.2 billion petrol and diesel vehicles in the world, with 38.4 million in the UK.
That equates to 0.0032 percent of the global total and for Scotland you could add another zero to give 0.00032 percent.
For Ms Sturgeon's "green dream" our taxes rise and rise.
Meanwhile she and her ministerial team make unnecessary foreign trips and unnecessary helicopter and limousine journeys.
What is wrong with public transport?
The climate emergency is being ignored by the rest of the world which continues to burn fossil fuels, build coal-fired power plants and drive 1.2 billion vehicles.
Clark Cross.
138 Springfield Road,
Linlithgow.
Importance of flying the flag
Madam, – On August 28, The Courier published a comprehensive supplement on the Second World War.
It contained an excellent feature covering the debt we owe to the efforts and sacrifices made by UK and Allied merchant seafarers down the years.
The day for remembering this debt is marked annually on September 3.
However, last year Montrose, as the major port in Angus, was initially overlooked as a place of remembrance for some reason by the civic administration.
Steps were subsequently taken to rectify this oversight.
Nevertheless, for some reason the Red Ensign did not appear above the Ball House as was agreed at a meeting of Angus Council in 2018.
This year it was around noon that it was belatedly hoisted to its position at the top of the flagpole.
Fortunately, Montrose Port Authority was much more organised and its Red Ensign was proudly raised much earlier in the day.
I gather several reasons were given verbally for the delay at the Ball House but next year may the citizens of Montrose, and especially former members of the Merchant Navy, have the flag flown for the full day?
Fortunately for all of us, serving members of Britain's fourth service were not found wanting in the nation's hour of need when they provided Britain's lifeline throughout major conflicts and other military campaigns.
John Aitken.
7 Graham Crescent,
Montrose.
Time to act to save lives
Madam, – The approach roads to Dunfermline have traffic lights on all major roundabouts.
So why do we put up with a free-for-all on the major main roads and roundabouts on the outskirts of Kirkcaldy?
Then there is the speed of the traffic. Am I the only driver who recognises we have a speed limit and speed restrictions on certain streets?
As my father used to say when I was learner: "Better to be a few minutes late in this world than 50 years early in the next."
It is time we had speed cameras on all the dual carriageways in the Kirkcaldy /Glenrothes area to save lives.
Are the council and the Kirkcaldy and Glenrothes councillors waiting until we have a serious road crash before they act?
Just what do they do?
Do they see no work needing done like cleaning the streets and looking after the carparks overgrown with weeds?
Maybe what is needed is a return to unpaid councillors and to our own town council.
Will they allow us a vote on this from our wee undemocratic parliament?
John G Phimister.
63 St Clair St,
Kirkcaldy.
Recognition for a man of calibre
Madam, – Among the Brexit furore it was pleasing to note the late Hamish Henderson's recognition in the Scottish Parliament as one of the "most brilliant Scots of his age".
A poet, academic, linguist, songwriter and ethnologist, his work was central to the Folk revival of the 1950s in Scotland.
He also had a distinguished war service in North Africa and Italy and helped Jewish people escape Nazi Germany.
Hamish was also heavily involved in the peace movement, anti-Apartheid campaign and the campaign for Scottish Home Rule.
His two great compositions Freedom Come All Ye, which was sung to mark the opening of the Scottish Parliament and Farewell to Sicily stand well the test of time.
A great internationalist, in this period of Brexit angst we could well do with a world with a few more individuals of the calibre of Hamish Henderson.
Alex Orr.
Flat 3,
2 Marchmont Road,
Edinburgh.
Standing for election
Madam, – That the Archbishop of Canterbury has agreed to chair a "citizens forum" on Brexit has created debate about the extent to which Christian leaders should involve themselves in politics.
Steve Carell, the Bishop of Chelmsford, made the strangely cyclical argument that his unelected seat in the House of Lords licensed the further privilege of a wider public platform not extended to anyone else, nor indeed any other religious group.
Faith leaders are of course entitled to political opinions but if they want a bigger microphone they should stand for election, and we would fight for their right to do so,
Neil Barber.
Edinburgh Secular Society.
Concerns of parents ignored
Madam, – Safety in single-sex spaces is important, but it's not the most concerning aspect of the trans agenda that is sweeping Scotland.
The more pressing issue is the promotion of transgenderism as a healthy, normal, natural and good choice for children.
The Gender Recognition Act will give further official sanction to this harmful ideology of gender fluidity.
The SNP, unopposed in Holyrood, are ignoring parents concerns as they hand the reigns of education to radical activists.
Richard Lucas.
Leader of The Scottish Family Party,
272 Bath Sreet.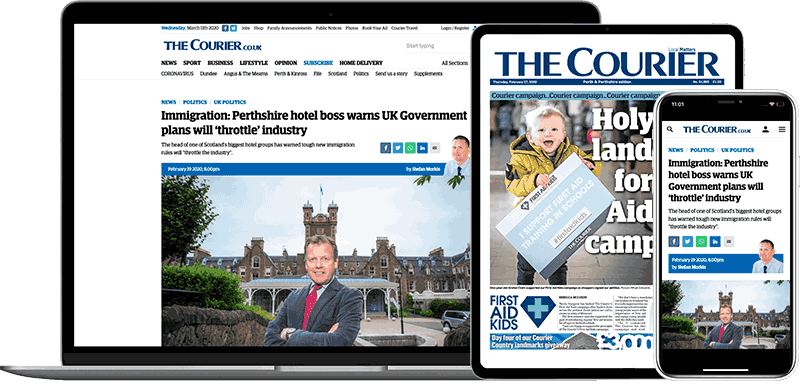 Help support quality local journalism … become a digital subscriber to The Courier
For as little as £5.99 a month you can access all of our content, including Premium articles.
Subscribe