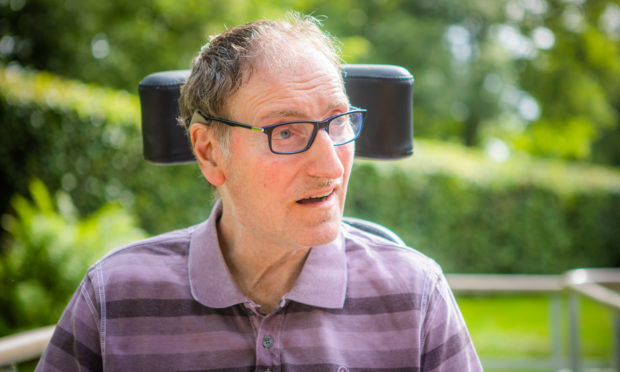 Madam, – Recent coverage in The Courier and other media of Richard Selley's campaign for the legalisation of assisted dying and of his own death on Friday (Final plea over assisted dying, Courier, September 6), must have made many people wonder what kind of democracy we live in.
Around 100 million people worldwide now have access to assisted dying, yet a supposedly forward-thinking country like Scotland makes some of its people either suffer a prolonged death or go abroad, perhaps months before they would otherwise have chosen to die, in order to legally get help to escape their suffering.
We expect to make choices about most things in life, including about what treatment to accept when we are ill.
Why then can't we choose when and how to die?
There is no likelihood that legalising assisted dying will suddenly lead to thousands of people every year asking for help to die, but for the small number whose suffering cannot be eased and who have reached the point where life has become unbearable, we have to allow them the choice.
Mr Selley was so brave and unselfish in using his final months to fight for the legalisation of assisted dying, knowing that it couldn't happen in time to help him.
How sad it is that he couldn't spend his final weeks relaxing in the company of those close to him, safe in the knowledge that he could eventually get help to die in his own home at a time of his choosing.
We need our elected representatives to reflect the view of the majority of people in this country and legalise assisted dying, so that there is no more need for trips abroad to take advantage of kinder laws.
If this were already in place, Mr Selley could have had more time with his family, knowing that he would eventually be helped to die at home.
Most people want to survive as long as possible and even those who would consider assisted dying hope never to need it. We just want it to be there if and when absolutely necessary.
This is not about palliative care versus assisted dying as two opposing services.
We need well-funded and effective palliative care with the option of an assisted death as the end point for the small minority who will actually want it.
Sadly, it is too late now for Mr Selley, but wouldn't it be wonderful if his courage in speaking out could tip the balance of argument in the Scottish Parliament, so that the law is changed?
Moira Symons.
Tayside Group co-ordinator,
Friends at the End,
Dundee.
Letting nature take its course
Madam, – the process of dying has been complicated by medical advances, leading doctors to debate the point at which a patient is truly dead.
Yet as modern medicine changes the experience of death, religious leaders have failed to clarify their end-of-life teachings.
As happens, lay members come to their own conclusions and most now believe it's the right of every human being to determine in advance the course of action to be taken in the event they are left dying in extremis with no expectation of recovery.
Margo McDonald told me that in spite of implacable opposition from the hierarchy, her most constant supporters were the parish clergy of the Kirk and Catholic church who daily witness the nightmare of 21st Century medicine getting in the way of nature's merciful release.
Rev Dr John Cameron.
10 Howard Place,
St Andrews.
Calm down, first minister
Madam, – Yet again we are all having to tolerate a plethora of comments from Nicola Sturgeon in the media. She really does get far more publicity than her status actually warrants.
But her war-cry remains the same.
Boris Johnson's comment on the independence for Scotland campaign is quite apt: "Why anyone would want to tear the Cross of St Andrew out of the Union flag beggars belief?"
Also I note that even John McDonald of the Labour Party has rejected Sturgeon's plea for another Scottish independence referendum.
Sturgeon's latest argument is that since a small majority of Scottish voters chose to remain in the EU, while at the same time the UK electorate's decision overall was to leave, now circumstances must warrant another Scottish independence referendum.
This argument can only be labelled as "absolute tosh".
Indeed Yorkshire has roughly the same number of voters as Scotland and voted to leave the EU; but I suppose in Sturgeon's eyes that is of no consequence.
I would emphasise that the most relevant point is 55% of the electorate of Scotland chose, in the 2014 "Scottish independence referendum", to remain in the UK.
I would suggest it is high time that Sturgeon gave more credence to that fact.
The referendum on the UK leaving the EU was based on the overall vote of the electorate – not on the views of its regions.
So thus I must contend, in such matters, Nicola Sturgeon's arguments are totally irrelevant.
And to quote Michael Winner, I would say to her: "Calm down dear".
Robert I G Scott.
Northfield,
Ceres.
Electorate knows best
Madam, – Does your regular contributor Mike Donachie understand irony or democracy?
I doubt it after reading his latest contribution where, like so many others, he opines that he is right so anyone who disagrees is wrong ('Upper class twit of the year show' undermines democracy and must stop, Courier, September 9)
That is exactly what causes division and vitriol.
Respect for others' view is also an essential part of democracy, as is accepting the result of a simple "yes" or "no" referendum whether you agree or disagree with the outcome.
Again, those who think that they know better and traduce a fair result, cause division and vitriol, the prime example being elected politicians knowing better than "the plebs" who voted for them.
Mike Diack.
14 Biggin Wa's,
Kirkcaldy.
Simple majority not enough
Madam, – Along with many others I have endured the endless Brexit shenanigans and concluded the vote was far too close.
It does not matter what side of the divide you fall, the result will cause unhappiness.
I am mindful of this, particularly in regard to a possible further Scottish independence referendum and would suggest in such cases where there is such a massive impact it would be better to require a vote of two-thirds of those registered to vote.
AG Walker.
Puddledub Cottage,
Guthrie.
Tay Bridge play worth seeing
Madam, – Anybody who has not been to the Dundee Rep to see their production of Tay Bridge should do so before the end of its run (Much anticipated Tay Bridge is world-class theatre writ large, Courier, August 31).
The Rep ensemble have another smash hit on their hands.
It is superb.
I couldn't pick out any one of the group for praise because every single one merited this.
Mrs June Reid.
12 Findhorn Street,
Dundee.