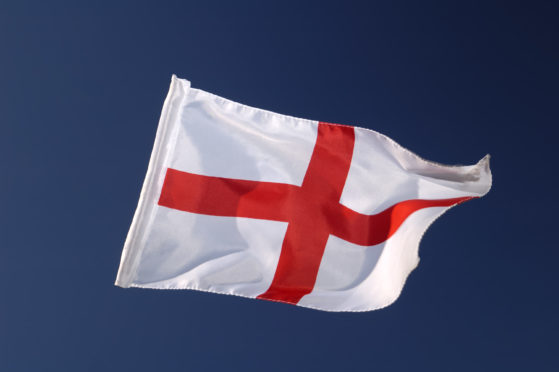 Madam, – I am sick fed up of these whinging jocks trying to save the UK from disaster!
It's none of their business if the people of England want to ruin their country, just because there might be a little bit of collateral damage in Scotland.
Have they forgotten how dependent they are on the generosity of their UK neighbours, who have uncomplainingly funded their bloated socialist paradise for decades?
How selfish they are.
We have a Prime Minister eminently suitable for this high office; he has been to Eton, and Oxford, he was democratically elected in a secret ballot by 160,000 rich people: he couldn't be more suitable, and he needs to be allowed to get on with his job.
He has shut down parliament to allow him to do this, but now the Scots have got a judgement in their "Mickey Mouse" court saying that the closing down of our parliament to allow time for Mr Johnson to prepare a Queen's speech is not legal.
It is ridiculous that our glorious leader might not be allowed the time to carry out his duties in the rigorous and scrupulous manner for which he is renowned, just because a few North Britons with a chip on both shoulders say so.
It is a democratic outrage.
It is long past the time for democratic niceties.
I think that these revolting Scots should be told to sling their hook, sod off back to their black houses, playing Jimmy Shand, smoking peat, eating their blessed Stornoway black pudding, washed down with bagpipe effluent, and defacing pictures of our glorious leader.
Independence for England, and the sooner the better!
Les Mackay.
5 Carmichael Gardens,
Dundee.
Schools estate clarity needed
Madam, – It hasn't taken long for a dispute between Holyrood and Fife House to break out over the financing of a new Woodmill High School in Dunfermline(The Courier, September 11).
Most people find it difficult to navigate their way through the maze of financial models, and probably don't care whether the money comes from central or local government.
They do care about the importance of schools in their communities. It is not just uncertainty about the state of Inverkeithing High School, next down the line in the queue for refurbishment.
The two schools in the west of Glenrothes, scheduled for replacement by the middle of the next decade, may be at risk too.
This is a community which has already lost a primary school and a library in quick succession in the last few years.
The people there need to be offered some reassurance that the existing buildings will not just be allowed to decline.
When fire destroys an important facility, the need for action is paramount. That action needs to be backed up not just by clarity from public agencies.
There needs to be a clear strategy about the future of the schools estate.
Although council elections are still nearly three years away I think voters would like to know that Fife Council and Education Secretary John Swinney are not just simply reacting to tragic events.
With the technologies available, education in the future will be less reliant on physical buildings.
Their role in providing a focus for community development should still not be underestimated.
Bob Taylor.
24 Shiel Court,
Glenrothes.
MPs acting like rebellious teens
Madam, – To anyone watching the circus in the House of Commons in the early hours of September 10, the thought must have occurred that the outrageous behaviour was being enacted by a large bunch of rebellious teenagers, instead of our elected MPs.
What on earth has happened to the essential gravitas of politics in our country?
It has been transmogrified into a truly distasteful exhibitionism and selfish personal and party scheming that no-one can pretend is in the best interests of the UK.
It is the job of governments to govern, and those politically selfish groups that seek to obstruct governance have no place in our parliament.
I hope the constituents who elected such self-opinionated and selfish individuals have a chance to reflect on their actions come the next general election.
How illuminating it is, to understand that Speaker John Bercow has resigned and can now retire on a £1 million pound pension fund after 10 years in the job.
The old adage of "power corrupts" seems to be increasing applicable to out taxpayer-funded politicians.
Derek Farmer.
Knightsward Farm,
Anstruther.
Time for Queen to intervene?
Madam, – I never thought I would support the leader of the Conservative Party in his efforts to implement the people's wish to leave the European Union.
We have MPs who have shown us what they think of democracy and the will of the people.
They don't like being called fascist but they walk, talk and act like fascist politicians from a Banana Republic.
For three-and-a-half years they have prevaricated talking endlessly and saying nothing of any meaning.
Mrs Thatcher, no friend of the working class, said it: "One vote is enough."
Her disciples in all parties – were they not listening? The people are fed up with their nonsense.
For two years they talked about nothing else but a general election. Now they are offered it and they vote it down.
They have had long enough and they have failed the British people.
Time we had a say on them and their parties. What next? Will the Queen be forced to intervene for the good of the country, dismiss parliament and pick a person to form a caretaker government and to organise a general election? I see no alternative.
John G Phimister.
63 St Clair St,
Kirkcaldy.
Fife Pride a waste of money?
Madam, – I am shocked to see that staff cuts in Fife schools may put the life of a disabled girl at risk after her pupils support assistant was taken away (The Courier, September 11, "Staff cuts blamed as pupils life at risk in the classroom").
Earlier this year I did a Freedom of Information request through Councillor Dave Dempsey. It would appear that Fife Council spend at least £10,000 a year on the Fife Pride event held at the town house in Kirkcaldy. Surely this sort of money would be better spent on employing a few more classroom assistants to help the little girl in question in your article?
I certainly have nothing against the people whom Fife Pride may help but I certainly do care about how taxpayers' money is spent or otherwise.
Alastair Macintyre.
18 Webster Place,
Rosyth.
'Terrific' concert at Gardyne
Madam, – A few weeks ago in a Courier competition I was lucky enough to win two tickets to a concert in the Gardyne Theatre where young Tayside singer Finlay McGillop was one of the performers. He was terrific, what a powerful voice he has.
I will certainly be buying his single.
Kathleen Henderson.
34 Soutar Crescent,
Perth.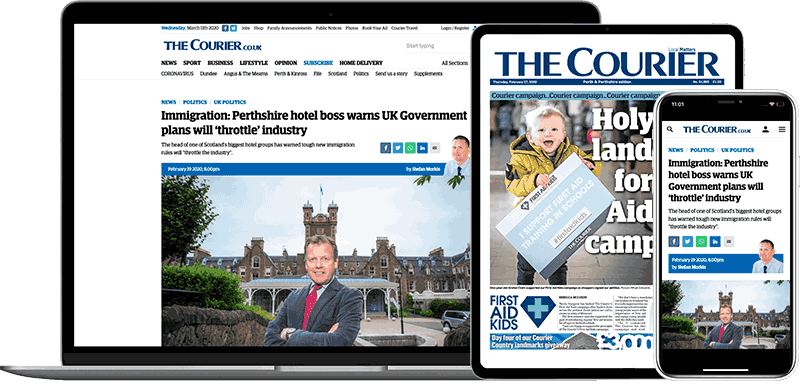 Help support quality local journalism … become a digital subscriber to The Courier
For as little as £5.99 a month you can access all of our content, including Premium articles.
Subscribe