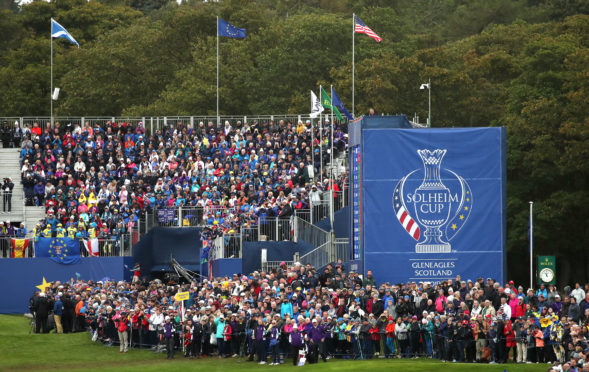 Madam, – I note the appropriate euphoria regarding Europe's success in the Solheim Cup, and Perth and Kinross Council's spokesperson's enthusiasm for more major events at Gleneagles (Solheim Cup to have lasting legacy, Courier, September 16).
My wife and I attended the Solheim Cup on the Friday and wish to record our experiences which marred an otherwise wonderful day.
The traffic arrangements to and from Perth were bizarre to say the least, doubling the distance between Perth and Gleneagles by unbelievable circuitous routes which included Crieff and Muthil.
On several occasions at the event we overheard other visitors lamenting the traffic arrangements in place from other directions. In Monday's Courier, Councillor Tom Gray stated that "traffic issues thrown up by the Ryder Cup had been ironed out for the Solheim Cup."
I think not; we need to look at this again.
The provision of on course grandstands was also woefully inadequate for such a major golfing event.
Finally the portable toilets adjacent to the 16th fairway were totally inadequate in number and, we believe, represented a serious public health hazard due to their appalling and disgusting condition.
My wife and I have attended many major golfing events and do not recall any of the above issues.
Andrew Lang.
Drumhaven Golf Course Road,
Blairgowrie.
Rising death toll is what matters
Madam, – Now the Scottish Parliament and other forums are debating as to who has the authority to declare the current drugs epidemic a public health emergency, not what they are going to do about it.
In the meantime, Scottish drug addicts are dying at the rate of a hundred a month and rising.
Perhaps our debaters should realise that whether it is called an epidemic, a public health emergency or a scourge, it all comes to the same thing – death.
If the worthy politicians and activists were to leave their cosy debating chambers and patrol the streets of our towns and cities looking for the suppliers of drugs and reporting them to the police, they could then tell themselves they were taking practical steps to stop the epidemic/public health emergency.
Then again, politicians don't do.
They just speak.
George Dobbie.
51 Airlie Street,
Alyth.
Underhand tactics of SNP
Madam, – The question of the prerogation of Parliament seems to have attracted a lot of legal attention.
The High Court in England apparently agreed with the Government's actions taken to seek the Queen's approval for this action, presumably in the National interest.
But remarkably that did not satisfy the SNP minority administration at Holyrood.
They took the matter to the Court of Session in Edinburgh where apparently the judges issued a ruling that the prerogation at Westminster was unlawful.
It does seem odd that a Civil Court in Edinburgh has jurisdiction over matters agreed in London.
Of course it should be said that the actions taken by the SNP Administration seldom reflect the thoughts or aspirations of Scotland's electorate.
Its policies are mainly political and party-related which in its case are inevitably of a separatist nature.
The UK Government is justifiably challenging this ruling from a court in Edinburgh, the jurisdiction of which might indeed be questionable.
The highest Court in the UK, the Supreme Court, will rule on the matter.
Hopefully that will be an end to this whole business.
In my view this is just yet another case of the SNP trying to undermine the UK Government.
Their methods are usually quite underhand, and very costly to us the taxpayers.
Robert I G Scott.
Northfield,
Ceres, Fife.
Representatives not pawns
Madam, – I refer to Derek Farmer's letter today (MPs acting like rebellious teens, Courier, September 13).
He is incorrectly conflating government with parliament.
Government are the executive carrying out governing functions.
But "our" government is not a dictatorship, instead it is overseen by a board of elected Members of Parliament whose role is to oversee their actions, supporting or controlling where necessary including directing any policy that is being implemented.
The elected members are there on our behalf as our representatives and not mere pawns to be controlled by whichever dictator or prime minister is in post.
Nick Cole.
Balmacron Farmhouse,
Meigle.
Declaration was Dominic's doing
Madam, – It is very easy to see the hand of the prime minister's special adviser Dominic Cummings guiding Kwasi Kwarteng to make such a rash statement as "many people" believe the Court of Session is biased in relation to Brexit.
There is no way a person of Kwasi Kwarteng's education was not aware he was deliberately sowing the seeds of doubt in the impartiality of judges.
Getting someone willing enough to try to discredit the courts in the eye of the population was undoubtedly the order of the day.
Ian Auchterlonie.
93 Denoon Terrace,
Dundee.
Refusal to admit they are wrong
Madam, – When appointed education secretary, some considered John Swinney a safe pair of hands for this critical role. Instead he has proven to be the minister least likely to listen to the concerns of parents or teachers, whether for example on the controversial Named Person Scheme or on the implementation of the Curriculum for Excellence.
Yes of course he has announced all manner of inquiries and investigations, but these invariably are mere time wasters, as when their results are reported back Mr Swinney finds a way to get round any suggestion that the SNP's 'we know best' approach should be changed.
Now we have Holyrood's education committee raising serious concerns over the reduced subject choice available in practice to many of our secondary school pupils in S4 to S6.
Once again the response from the education secretary is to announce yet another inquiry, but questioned on the likely outcome he admitted it is perfectly possible there will be no changes required.
When it comes to the understandable anxieties of parents and teachers on these matters, it seems the education secretary prioritises the SNP leadership's determination to never admit they are wrong.
Keith Howell.
West Linton,
Peeblesshire.
MPs to resign if switching sides
Madam, – The public should expect more from their MPs.
Those jumping ship from one party to another should not be allowed to remain as an MP. If an individual is not happy with their party and wishes to join another then they should resign their seat.
After all they were elected by the people who voted for a party.
John G Phimister.
63 St Clair St,
Kirkcaldy.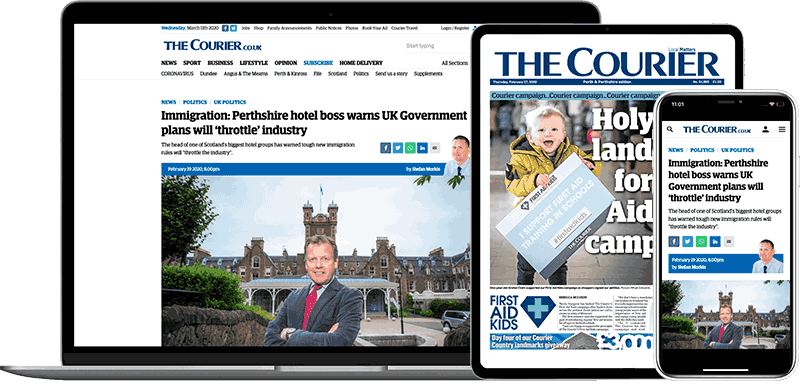 Help support quality local journalism … become a digital subscriber to The Courier
For as little as £5.99 a month you can access all of our content, including Premium articles.
Subscribe