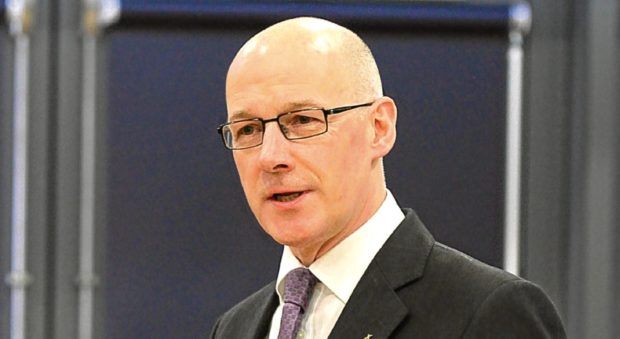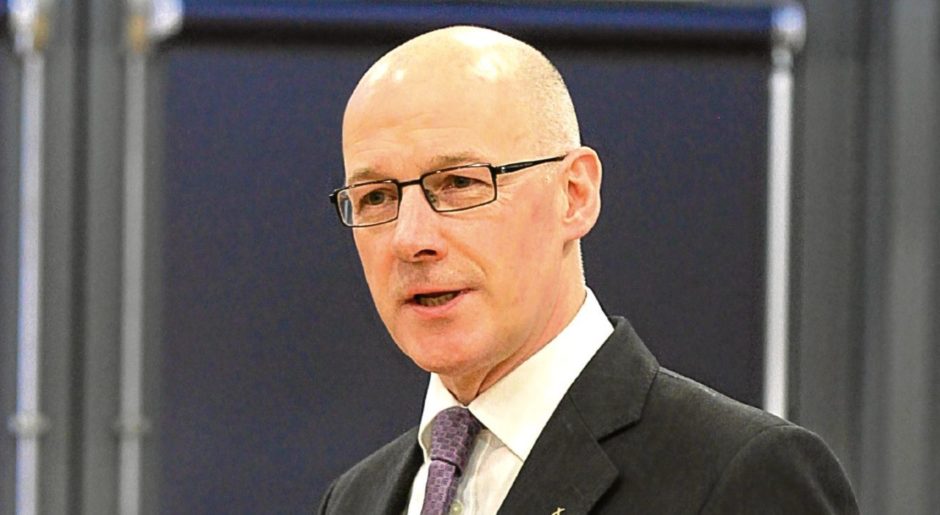 Madam, – Jenny Hjul is right to say the education secretary has been failing Scotland's schools (Courier, September 18), but do we really appreciate the full extent of that failure?
Scotland has always had disproportionate influence in the world because of our traditional world class education system, based around our sense of self improvement and enlightenment.
We administered the Empire, and filled all sorts of roles in politics, education, science, engineering, philosophy and finance.
We were able to do this because even Scots of modest upbringing were able to achieve the standards required, where others where not.
In 2019 we have lost this edge, but there is a double whammy as well.
The new economy is a knowledge economy.
If we know less, we will fill fewer jobs in what is now a global marketplace in which young people of many other countries now aspire to being their best as well.
We are struggling to compete.
But there is something else as well.
The education you receive determines your chances in life more than any other single issue, and also that of your children and grandchildren.
So, if John Swinney is not getting it right, then the affects of that will not just be felt over the term of this Holyrood parliament, but for the rest of this century and beyond, affecting both individual Scottish families and the country as a whole.
That is quite a legacy to have, and it is time we woke up to that unfortunate and long lasting effect before any more Scots are subjected to a hundred years of operating below their true potential.
Victor Clements.
Mamie's Cottage,
Aberfeldy.
Government's ability to govern
Madam, – There has been an opportunistic flurry of hysterical condemnation of Boris Johnson for just about everything under the sun.
Concerning Brexit, may I remind several correspondents that the 2016 referendum focus was on the UK leaving the European Union, and not Scotland leaving the European Union?
If our politics are to be regionally recognised in the future instead of being nationally recognised, where does it all end?
There is far too much of self-interested party politics being seen these days, to the ultimate detriment of all of us in the UK.
Secondly the role of the judiciary in matters politic.
I have long thought the role of the courts is to opine, and apply, the letter of the law.
Since there was no letter of the law on UK statute books in relation to prorogation of Parliament, it follows the Supreme Court was providing opinion on constitutional matters that are beyond its responsibility.
Finally, may I say it is the responsibility of government to govern.
If political elites suborn the governance process, then Boris Johnson is correct in his condemnation.
The great majority of people in the UK are totally fed-up with the intransigence of politicians and their failure to implement the referendum decision of 2016.
What is the point of a referendum if its result is then ignored by the establishment whom we trust, and fund, to look after our wishes and interests?
It would be a great help to the process of finally agreeing Brexit, if political commentators such as the BBC, would be more objectively informative with facts, as opposed to suppositions and speculations that simply add to the confusion of the population.
Derek Farmer.
Knightsward Farm,
Anstruther.
Heading down a dangerous path
Madam, – Boris Johnson's performance on Wednesday was an exercise in political degradation.
It was a political pantomime of right-wing reaction and political filth.
Johnson showed all of the contempt for the rules that comes from an Eton education.
Johnson's use of inflammatory language such as "surrender", "betrayal", and "traitor" are not aberrations.
They are part of a deliberate strategy to whip up hostility towards the left, the EU, immigrants and anyone who is an impediment to the making of money for big business.
Johnson's rise is symbolic of the elevation of far-right all over the world.
Finance capital is turning once again to dictatorship and fascism in response to the intensification of the world economic crisis and the disintegration of the postwar international order. This will be how Britain will look if Boris Johnson and his clique are not removed from power.
Alan Hinnrichs.
2 Gillespie Terrace,
Dundee.
If they don't like the heat, get out
Madam, – Our MPs don't like getting flak from the public.
Is this the same MPs who, a few years ago, wanted the public to take more interest in politics?
When the public see our representatives betraying democracy and the public vote to leave Europe what do they expect to be called? Democrats?
It is time they all grew up and lived in the real world.
They are gutless.
They should try chairing a works meeting where they don't moderate their language – they call a spade a spade.
As the President of the United States of America said: "If they don't like the heat stay out the kitchen".
John G Phimister.
63 St Clair Street,
Kirkcaldy.
Depressingly slow progress
Madam, – Despite warnings about pollutant contamination of our seas by the eminent American marine biologist Rachael Carson 57 years ago, further research and curtailment action is depressingly slow.
This combined with plastic pollution of the oceans brings the threat of a "Silent Spring" much closer.
Ian Auchterlonie.
93 Denoon Terrace,
Dundee.
Jumping to the popular beat
Madam, – Since former US vice-president Al Gore's film, An Inconvenient Truth, climate alarmists have targeted politically active children such as Greta Thunberg of Sweden.
The meme that children by virtue of their innocence possess special insight or veracity, enhances their persuasiveness.
Auguries that wither under objective scrutiny thrive when that kind of analysis is taboo.
For example Greta takes climate catastrophe – the 'sacrifice of civilisation and the biosphere' – for granted, citing the Intergovernmental Panel on Climate Change as confirming this catastrophe even though it has never supported an imminent apocalypse.
The media may have lauded Greta Thunberg but responsible adults should refrain from over-reacting to messianic children.
Woke politicos, pedagogues and clerics wilt when faced with this child's uninformed demands for panic.
She wants the largest behavioural and infrastructure adaptation since the industrial revolution – if not since the start of farming – on a crash timescale.
But the last children's crusade eight centuries ago didn't end all that well.
Dr John Cameron.
10 Howard Place,
St Andrews.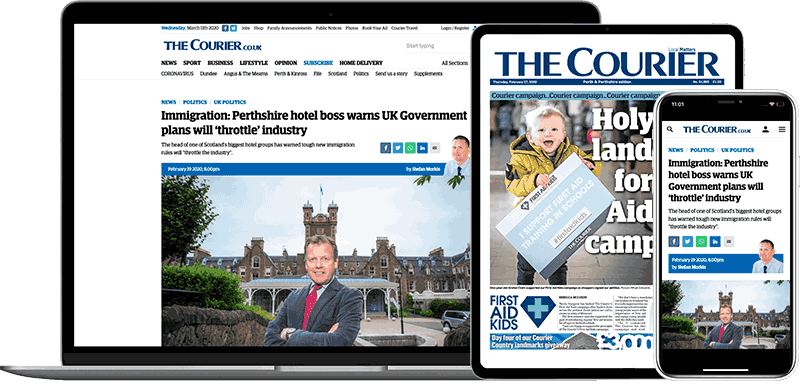 Help support quality local journalism … become a digital subscriber to The Courier
For as little as £5.99 a month you can access all of our content, including Premium articles.
Subscribe