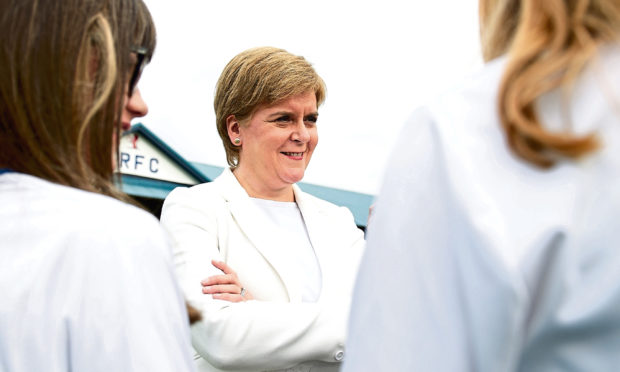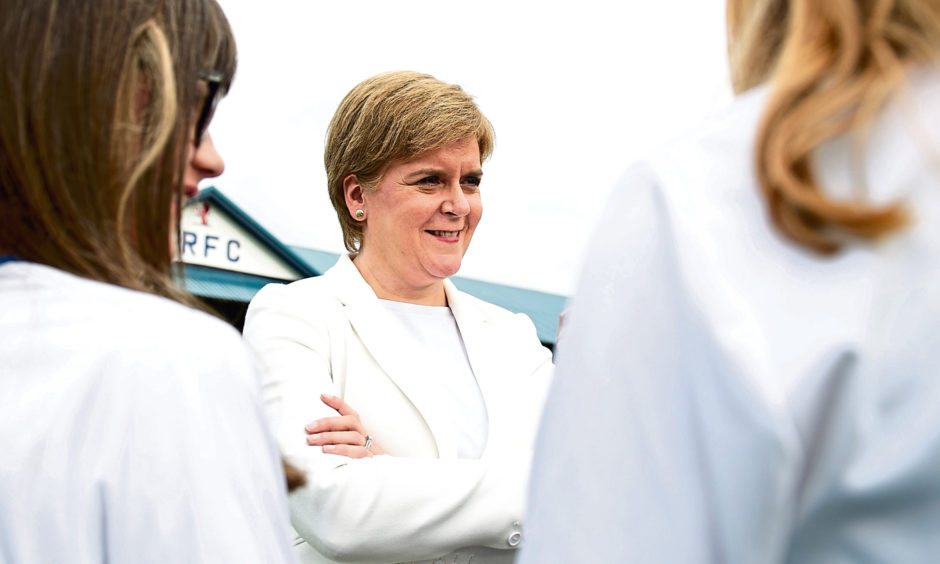 Madam, – Nicola Sturgeon's self confessed, unconditional love affair with the EU and Brussels bureaucracy must have taken a bit of a battering when she learned that the US was intending to impose a 25% tariff on imports of whisky, cashmere sweaters, dairy products, aircraft and aircraft parts in retaliation over EU subsidies given to the aviation giant Airbus (First minister condemns US plans to set 25% tariffs on Scotch whisky, Courier, October 4).
Any benefit Ms Sturgeon discerns in being tied to the European Union must have evaporated as she witnesses punitive tariffs being wielded against one of Scotland's biggest and most successful industries, directly employing about 11,000 Scots, as a result of decisions taken by faceless bureaucrats in Brussels.
It should now be abundantly clear that if Scotland was a fully paid up member of the EU not only would we lose the 111 separate powers that will be returned after Brexit, including control over fishing and agriculture, but we also lose the ability to negotiate trade deals independently.
Our influence on Brussels in foreign and trade affairs would be minimal and keep on being reduced with the policy of an "ever closer union", which is essentially what the Lisbon Treaty proposes.
Ms Sturgeon, the "Remainers" and nationalists may consider this loss of independence and sovereignty a price worth paying to be a fully integrated region of Europe rather than an independent nation state.
The Scots electorate may beg to differ.
Iain G Richmond.
Guildy House,
Monikie.
Leave parental discipline alone
Madam, – I am very far from impressed by the ban on smacking children, which the Scottish Parliament has just passed (Scotland the first country in UK to outlaw smacking, Courier, October 4).
If our MSPs were really motivated by the best interests of and best outcomes for Scotland's children then they would leave parental discipline alone and prioritise promoting marriage.
On average, children whose parents are married and remain so have better health, better results in school and are less likely to get in trouble with the law.
This better start in life feeds through to better mental health and greater success in adult life.
They are also less likely to be a burden on the taxpayer.
Evolutionary psychology confirms that it is generally in children's best interest to be raised by their natural parents, because the parents have a genetic interest in them.
One aspect of this is the Cinderella effect that children are much more at risk of abuse and murder by step-parents rather than natural parents.
It is truly remarkable that the one policy that would actually most benefit Scotland's children – promoting marriage – is the one policy that our politicians will simply not even mention.
Otto Inglis.
6 Inveralmond Grove,
Edinburgh.
Positive debate for Indyref
Madam, – Tory MP Kirstene Hair's opportunistic use of the current deplorable state of political discourse in England (Life in frontline a dangerous place, Courier, October 1) as a means of rewriting the history of Scotland's independence campaign will not stand.
The referendum she slights was covered by the world's media, who lauded the exercise as the gold standard for such a democratic undertaking.
There will be no such praise for a Brexit process poisoning the heart of our English neighbour's society.
Ms Hair should reflect on Police Scotland's condemnation of her own side during our own referendum and desist from using Better Together's behaviour as an excuse for denying a second.
Two examples illustrating the general conduct of Yes and No supporters are worthy of note. Labour's Jim Murphy's tour of Scotland during the campaign and the events in Glasgow's George Square once the result was known.
Mr Murphy rabble roused his way around our country.
In spite of his efforts, the only damage inflicted on him was a raw egg plopped on the back of his shirt by a disaffected Labour supporter, which he comically insisted on wearing in the manner of a Turin shroud.
The behaviour of Better Together supporters in George Square is available to see online.
It is ugly viewing. Ms Hair should watch them, especially in regard to the exemplary conduct of two sisters, Sarah and Sophie Johnson, who bravely faced down the abuse thrown at them by her Better Together supporters.
The world's attention will turn once again on Scottish independence aspirations in the near future.
If Ms Hair has a positive case for continuation of our union with England then let us, and the world, hear it.
Ken Clark.
c/o 15 Thorter Way,
Dundee.
No change under system
Madam, – There is probably going to be a vote of confidence in Her Majesty's Government soon along with a possible general election.
But I fail to see what either will achieve without a recognition that the first past the post system of election is broken beyond repair, House of Lords reform is long overdue and a recognition by the unionist parties that those who voted for Scottish independence are as much a part of the union as the most ardent unionist.
If we have a general election this year and Westminster actually understands what a five-year fixed term is, then my children have a realistic choice between the SNP and Conservative candidates in 2024. Wonderful, I'm sure they say sarcastically.
When will politicians realise that many people have simply switched off from both Brexit and the constitutional question?
Peter Ovenstone.
6 Orchard Grove,
Peterhead.
Brexit madness continues
Madam, – Will this Brexit foolishness never end?
We now have our prime minister proposing the solution to a hard border between North and South Ireland is to have two borders, one in the middle of the Irish Sea.
Then he issues an ultimatum to the EU and the British people that they have no choice but to accept this.
The madness continues.
Alister Rankin.
93, Whyterose Terrace,
Methil.
Charitable act from Hjul
Madam, – In her most recent column (Sex, lies and Johnson-gate, Courier, October 2) Jenny Hjul rightly shreds what is left of Boris Johnson's character, but, incredibly and inexplicably, does not hold Nicola Sturgeon and the SNP as a whole responsible for being at the root of the affair. Or indeed affairs.
Is the blessed Jenny going soft?
Has she forgotten her mission to blame the SNP for every mishap in the history of the world, from the Great Fire of London to the present state of the NHS in England?
Or will we be charitable and assume that was to be in the next paragraph, had she not expended her ration of well-aimed words?
Gordon Cook.
Gowanlea,
Gardyne Street, Friockheim.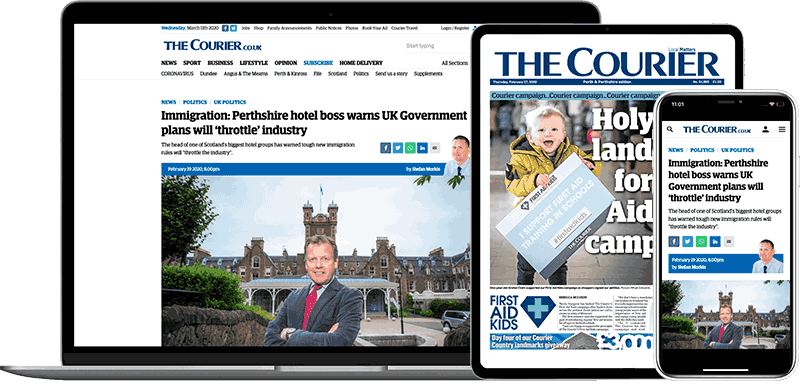 Help support quality local journalism … become a digital subscriber to The Courier
For as little as £5.99 a month you can access all of our content, including Premium articles.
Subscribe