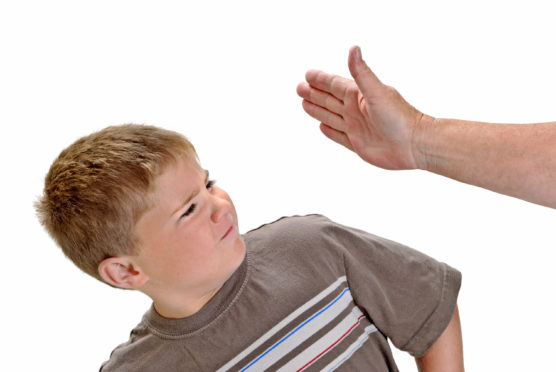 Madam, – The restrictiveness of the "nanny state" plods on relentlessly and impinges upon all walks of life (Scotland the first country in the UK to outlaw smacking, Courier, October 4).
Discipline in schools is at a low ebb, as it also is on the streets and it is an issue in the home.
Parents are now being banned from any physical punishment upon their children, however mild, and face criminal proceedings and a criminal record for simply trying to instil a sense of right and purpose into their offspring.
There already exists, without further tinkering, adequate laws to address any incident, or indeed parent, overstepping the mark in their chastisement.
My fear is that we will simply devolve further into a society in which sense, sensibility, courtesy, manners and controls have little place.
It is not outwith the possibility that attitudes, seeping into the classroom from youngsters who are less than controlled in the home, could be a decisive factor upon those contemplating a teaching career.
In essence that which often seems a good idea on paper does not always translate well into practice.
In summation we may see society entering into a tail wagging the dog scenario with all the possible consequences.
David L Thomson.
24 Laurence Park,
Kinglassie.
Cats strike their kittens after all
Madam, – I totally agree with Richard Lucas (No rights to punish misbehaving children, Courier, October 4).
Children should be punished.
After all cats strike their kittens when they misbehave!
I have four children and when they behaved badly they either got a slap on their arm leg or bottom .
If they were noisy or trying to get attention I would take no notice .
They soon stopped when I did not react.
We punish adults with a hefty fine or a spell in prison.
Why not badly behaved children?
I do not agree with corporal punishment in schools – a spot of detention or withdrawal of privileges would do the trick.
I used to get the belt – the Lochgelly tawse – on an almost daily basis, mostly for talking in class!
What about policing this law?
Police would be kept away from catching real criminals.
Take a leaf out of the animals " book" and chastise your offspring when they need it !
Isabel Wardrop.
111 Viewlands Rd West,
Perth.
Alternatives for chastisement
Madam, – Our SNP Government has proudly introduced legislation to prevent children being smacked.
It claims this brings us in line with most other countries who already have such rules.
There appears to be a worldwide dilemma on this subject.
Children along with adults are protected by common law where abuse, physical or mental, is a crime.I do not advocate smacking but the notion that bad or dangerous behaviour can be prevented by a quiet word in the ear seems inadequate.
Would the advocates of this legislation care to provide alternative methods of resolving the problem of errant children ?
A A Bullions.
6 Glencairn Crescent,
Leven.
On wrong track with Abellio
Madam, – How can our SNP Government possibly support the retention of the ScotRail franchise by Abellio?
Abellio spend as little as they can on the franchise.
Any profit is sent home to help to fund the Dutch State Railways.
Who suffers? we do, the unfortunate Scottish rail passengers. A terrible service, with huge fares.
I implore the Scottish Government not to take the service back in house. With their track record, they could only make things worse.
Transfer it to another efficient rail company, that operates within Scotland.
A final question, do the SNP support the public ownership of our rail transport system? If not, why not?
Apparently they used to, but that was before they were elected.
Bill Ledger.
43 Dreelside,
Anstruther.
Is independence affordable?
Madam, – As a long term resident of Australia but born in Scotland I noticed in the media a large march held in Edinburgh by the independent Scotland lobby.
I am not suggesting for one second that an independent Scotland would not be a good idea, but has anybody worked out the economics of such a move?
Lets us start with the medical profession, hospitals, surgeons, doctors, nurses, cleaners, cooks, carers, administration staff, ambulances and drivers to name but a few and not forgetting the cost of drugs and medication, what does this cost the taxpayer a week?
Then we have law and order. supreme and lower courts, judges, magistrates, lawyers, orderlies, police, prisons, guards, cooks, administration and so on, will this be cheap?
Obviously border security will need to be in place so we will need to have customs, immigration, Army, Navy and air force personnel plus equipment like ships, aircraft and guns.
What about people on the dole?
About 100,000 were claiming the basic rate last month plus many are on higher benefits. So let's say it's an average of £100 a week, that's £10 million!
The above are only a few examples but there are many more.
Until a set of audited figures is made known, I for one would be very frightened at going independent.
Colin Blair.
Darwin NT,
Australia.
Putting 'Scexit' on the map
Madam, – I am writing to claim authorship of the word "Scexit".
The first reference to it in print that I can find is my letter to The Courier on November 4, 2016, referring to Nicola Surgeon's complaint that David Davis didn't answer her phone calls, and suggesting Scexit will be the result of Brexit.
The first reference to it on Google is in the Irish Times website on March 13, 2017 under the headline "Everyone agrees the new Scottish referendum must not be called Scexit", with a list of possible alternative names including Joxit, IrnBrexit, Whiskit, Heroexit, Shortbrexit, ScOut and Scoot.
But irrespective of who invented the term, there is no doubt the need for it was created by Nicola Sturgeon on June 24, 2016, only hours after the EU referendum result.
Allan Sutherland.
1 Willow Row,
Stonehaven.
One small state among many
Madam, – Contrary to Iain Richmond's letter (US tariffs show danger of EU membership, Courier, October 5) what we are seeing is the dangers of leaving an existing trade deal with one of the largest collective economies to face the uncertainties of negotiating nation-by-nation.
Particularly, there is one which is ready to tear up all the rules and impose tariffs regardless.
Our influence in Europe is collectively one of many with a backstop that all 27 have the same rules.
Out of Europe we are just a small nation of 60 million or so among another 160 odd nations.
Nick Cole.
Balmacron Farmhouse,
Meigle, Perthshire.