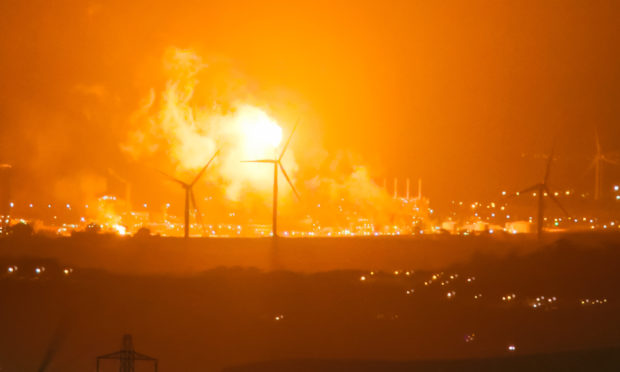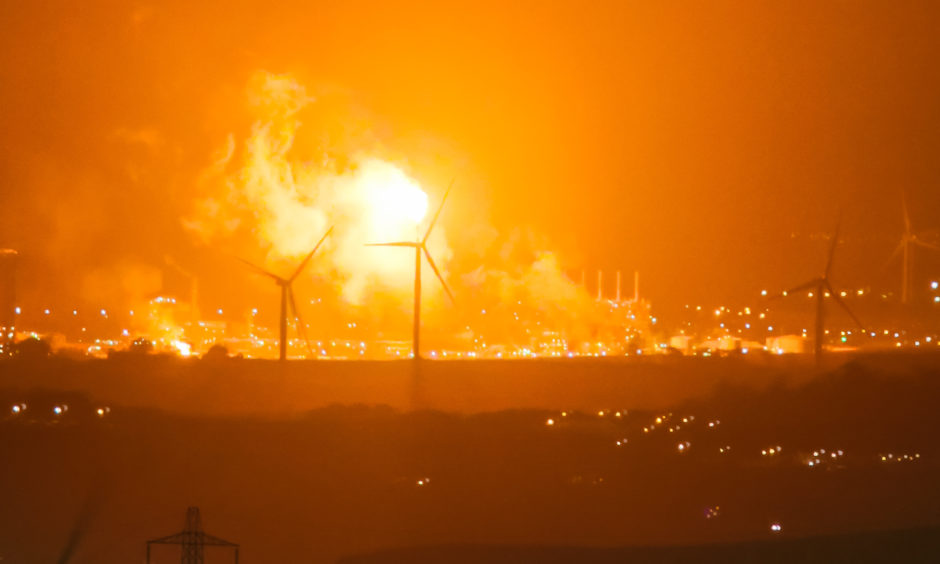 Madam, – Fife Council has declared a climate emergency (Climate emergencey sees carbon cut vow, Courier, September 30).
Councillor Ross Vettraino, convener of the environment and protective services committee then put out a statement "urging local people to take action where they can – whether it's reducing food waste, using your home energy more efficiently, cycling and walking instead of driving or rethinking public transport options".
Councillors must be having a laugh.
What about the Mossmorran complex in the middle of Fife?
In January it came third in a list of Scotland's biggest carbon-emitters for 2017, pumping nearly 900,000 tonnes of carbon dioxide into the atmosphere.
The figures for this year will be much, much worse thanks to major extended flaring incidents at Easter together with continuous flaring off of ethane since early August when ExxonMobil's ethylene plant at Mossmorran broke down.
The Scottish Government and Fife Council should be looking to shut down Mossmorran, one of Scotland's worst polluters, before they start lecturing people about using bicycles.
Bernard Davidson.
Cowdenbeath,
Fife.
No Scottish standalone figs
Madam, – Colin Blair (letters, October 8) asks, by listing services governments across the world deal with on a daily basis, if Scottish independence is affordable.
His concern is that Scotland would be unable to do as others do.
To allay Mr Blair's fears, I would encourage him to access the Business for Scotland website, which showcases our diverse and healthy economy.
He would be well served also to view former treasury official, John Jappy's, online article, On Our Own Two Feet and his YouTube film, Hiding The Truth, for an insight into Whitehall's creative accountancy.
If Mr Blair has time, he should also read the McCrone report, hidden from Scots as deliberate policy by various hues of London government.
As to the set of audited figures he requests, the gentleman will, alas, be disappointed.
Separate Scottish figures were made available until 1922.
However, since they embarrassingly revealed Scotland had, at times, as little as 17% of her revenues returned, the rest being spent by London on "imperial services", they were discontinued.
The question Mr Blair should therefore be asking is, "Can Scotland afford continuation of London rule?"
Ken Clark.
c/o 15 Thorter Way,
Dundee.
End profligate spending now
Madam, – Politicians have always been liberal with expending public monies but surely this has reached the realms of ridiculous in the case of the Glasgow Lady Lord Provost who has spent over £8,000 on clothes, some designer made, and sundry beauty products.
Were not this bad enough, she attempts to qualify this, claiming these purchases were necessary in the discharge of her role and made in good faith.
Surely it is about time a cap was placed on unnecessary spending including subsidised canteens, alcohol, gold plated pensions, overseas jaunts, etc, especially in the present financial climate where one witnesses everyday a deterioration in public services.
Apparently all these purchases were accountable within the rules.
That may well be the case at the moment but it poses the question that these rules must be subject to diligent scrutiny and indeed radical change.
Surely the time has come when enough is enough.
David L Thomson.
24 Laurence Park,
Kinglassie.
UK is holding back Scotland
Madam, – Colin Blair's letter (Is independence affordable?, Courier, October 8) cites among other concerns about affordability.
Poverty in Scotland is such that, with less than a tenth of the total UK population, current use of foodbanks is just under a third of the whole UK.
The same issue of The Courier reported the Scottish Government's establishment of a Social Justice and Fairness Commission to tackle poverty and a separate move to prepare for a possible no-deal Brexit.
The obstacles to these moves are in London.
Whether composed of actual Tories or of the Labour Party's imitators, the Westminster government deliberately creates poverty by replacing adequate wages and adequate pensions with means-tested top-ups, thus encouraging and subsidising low-paying employers.
The proposed gradual rise in the minimum wage to £10.50 by 2024 will by that time be eaten up by inflation.
And the government is currently making things worse with Universal Credit, which affects employed and unemployed people alike and has significantly increased foodbank use.
Then there is Brexit, which Scots rejected by a larger majority than they rejected independence, and which, according to the above-mentioned report, will have a "detrimental impact on the people and economy of Scotland" even if a deal is reached, but which independence would enable us to avoid.
Finally, even the limited moves the Scottish Government can make are under threat from Westminster's plans to reduce devolution and ultimately to abolish it.
Given these obstacles to tackling poverty in Scotland, the more apt question would be 'Is Scotland's continued membership of the UK affordable?'
Katherine Perlo.
Radical Independence Angus & Mearns,
66 South Street, Forfar.
Differences not one of race
Madam, – Having recently received the results of my DNA test (a birthday present !) and expecting, even hoping, for something exotic showing a degree of relationship to Gengis Khan or an Egyptian Pharaoh, I was rather disappointed to learn that my DNA ancestry is mainly of European origin.
Born in South Africa and brought-up in India caused certain family members to expect something more exciting about the old man.
However, anthropological science has it that we all share the DNA of a common ancestor originating from East Africa, somewhere near the shores of Lake Turkana, Kenya.
In this regard I am interested in a scientific explanation as to why "racism" has, seemingly, become such a political issue.
As regards theology, surely quite a different matter from DNA, the principle difference between people cannot therefore be one of race, but only in the way we think and act as individuals.
Kenneth Miln.
6 Swallow Apts,
Union St, Monifieth.
New ideas for discipline
Madam, – I have followed with interest the previous letters on the abolition of smacking and I agree this decision should rest with parents.
In this day and age it would appear that the rising problem of bad behaviour and vandalism is being ignored and the last deterrent is being removed.
Perhaps it's time for a rethink or does the government have a better solution to this escalating problem?
I for one would love to know what it is.
I. Liebermann.
MacDonald Smith Drive, Carnoustie.