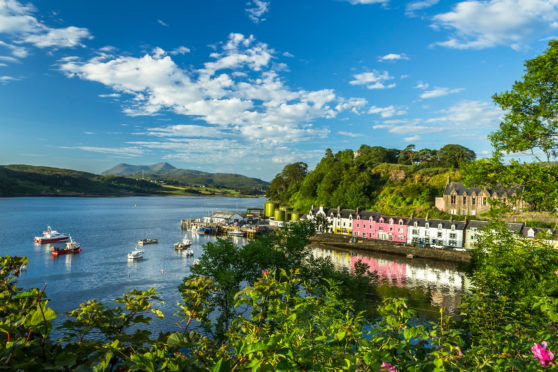 I have had the discombobulating experience of a flying object following me overhead and even zooming in on me.
The peculiar incident happened when I was taking a walk along the shore on Skye. It was a stunningly beautiful day, with sunshine glinting off a fairly heavy fall of snow.
Just before the end of my stretch of shore, where it is fenced off (easily negotiable) from the next bay, I heard a sound like a million angry bees. It was deeply disturbing, as I really thought it was a living thing or things.
It seemed to be coming from the direction of a particularly large tree, though that was just my imagination conjuring up the possibility of an Ent from The Lord of the Rings lifting its roots and walking towards me.
I looked all around and couldn't see anything. The sound seemed to recede then come back louder. Then I looked up and there it was: a drone, hovering high in the sky above me.
I gave it a cheery wave and it came down for a closer look, presumably controlled by someone watching what it was filming through a screen somewhere. I didn't really mind, though it felt a bit intrusive.
It also occurred to me that, perhaps, embarrassing footage of me would go viral on yon YouTube. I had come out on the spur of the moment, unwashed and wearing the most peculiar trousers (kind of cotton exercise things with red stripes down the side) tucked into my wellies.
But I guess it was just someone taking advantage of the lovely day to film the area from above. There's already at least one of these featuring this shore and beyond on YouTube. Marvellous things to watch.
In the one of this area, my friends' house can be seen off to the left – just. It's one of those eco-joints with a grass roof whose slope blends in with the hill, making it quite hard to spot.
But you can search for nearly any place and find a drone film of it. I spent a pleasant evening looking at towns or villages I'd visited in the past. Really brings back memories.
These days, it's also the nearest I get to flying, which I used to love but haven't done for at least a decade. In my teens, I was taken up in a glider once, over the Yorkshire Dales. It was like being a bird or, indeed, a drone.
I can't think how we would get on if there were lots of drones about. They do make that droning sound, for a start. Nor can I believe the stories about Amazon using them to deliver parcels. Certainly never seen it myself.
And I'm not sure I'd like to be followed every time I went out for a walk which is, admittedly, unlikely. But I'd still not like it to happen often.
I haven't had the courage to check YouTube yet but I'm sure that, one evening, in an unguarded moment (the way you always encounter bad news online), I'll type in a search for "Embarrassing trousers" and there I'll be, staggering along the rocky shore, then looking all around me in mystification and scratching my bewildered head, before turning my wee unwashed face heavenwards and waving like a poltroon.