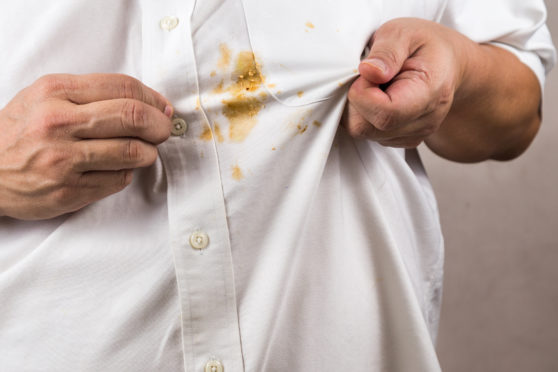 I've been spilling food down my front again. My front is hardly front-page news. Spillages down it are an everyday occurrence. Diary entry: "Got up. Spilled food down shirt. Watched telly. Went to bed."
But this time it was particularly irritating. I was in my favourite restaurant – my car – eating a wrap, if that is the term. It was a hot day, and the wrap contained mayonnaise, which melted and cascaded down my jacket.
It was a smart jacket, too, and I'd donned it in the hope that I could fool the host at the B&B, where I was about to spend a night, that I was respectable. No such luck.
As usual, my attempts to clean the mess came to naught, other than causing amusement to passers-by in the suburb where I'd parked up. In the end, I got round the problem by standing side-on when addressing mine host upon arrival.
Undoubtedly she thought it peculiar, but I think I got away with it. Also, unaware of the mess meant she was not tempted, at least immediately, to do that thing that all B&B landladies do: mother me. They are able to tell instinctively that I am helpless, a man-boy who still needs his hair combed and his face wiped.
Next morning, at the breakfast part of B&B, the spillages continued with jam and egg on the tablecloth. Restaurant owners see me coming and remove their lovely lace tablecloth, replacing mine with an easy-wipe affair that is really a massive bib.
B&B owners don't always have that foresight. At this one, the egg, being runny, was always going to decorate the furnishings. I'd higher hopes of the jam but, no, down fell a dollop, dripping from my knife. I'd also contrived to make a spectacular on my plate. Unsure how to get the jam from the buffet to my table, and with a delicious range of home-mades to choose from, I merely spooned several samples directly onto a small plate.
They ended up getting all swirled together, making a kind of psychedelic effect of reds and yellows and oranges, which I tried to wipe off with my napkin, creating a colourful mess of that too in the process. Ah well, such is life: out to get us. I know this because every time I get all dolled up for a wedding, job interview or court appearance, I spill something down my shirt just before leaving the house. It's uncanny.
It's the universe telling me: "You are not smart or respectable and we will not allow you to con people into thinking that you are." Recently, I've started to think it would save time and irritation if I just deliberately smeared food down my shirt before going out. I'm sure the mess would then magically disappear. It's like giving up waiting on the bus and starting to walk: that's when it comes, inevitably when you're half-way between stops.
I'm not saying that the universe is a malevolent place, just that it has a way of keeping us in our place. I think it likes to ridicule us. Next week: how is it that, when chatting to someone important or attractive, you always find later that you've had a large piece of sausage roll pastry stuck in your beard?