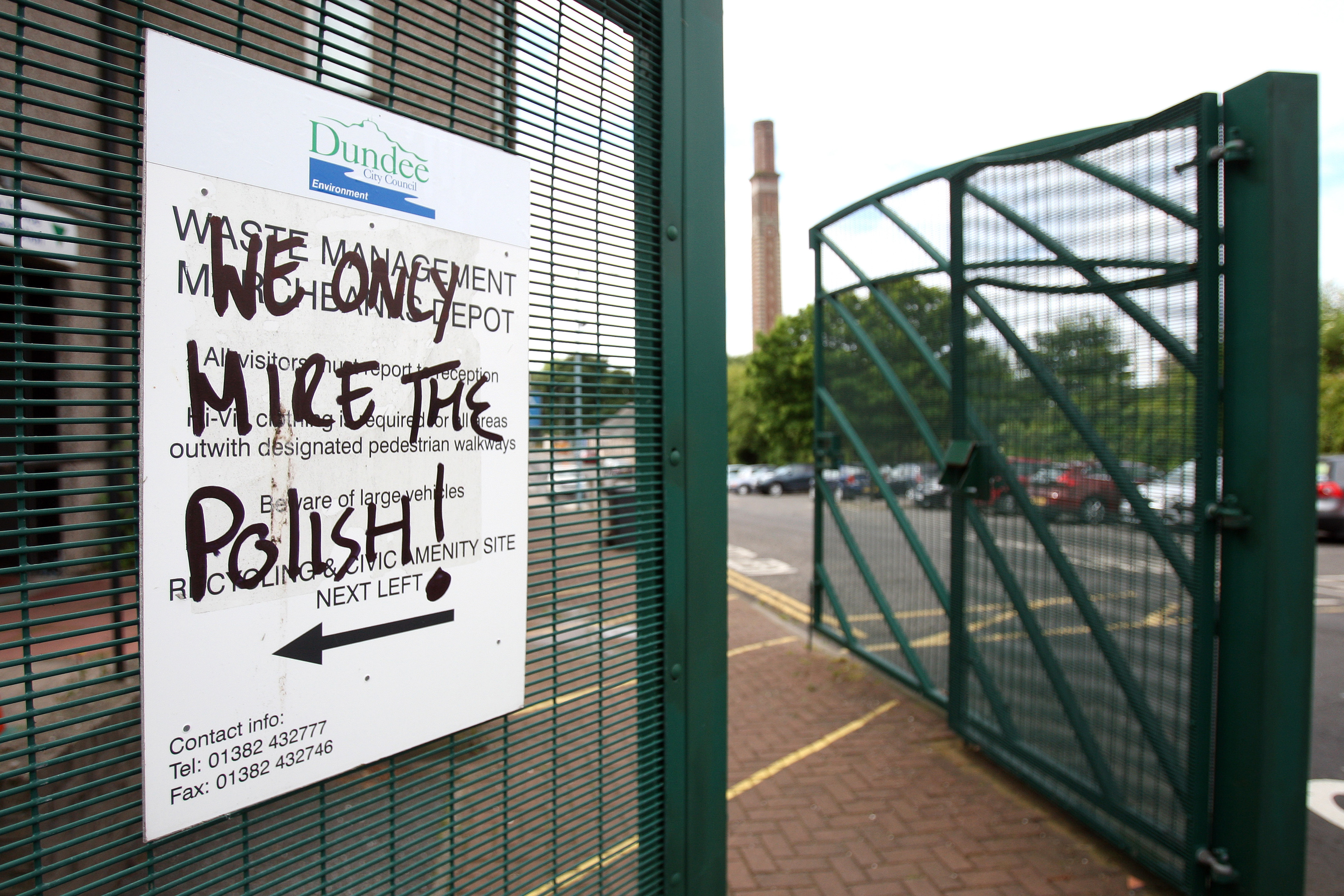 Politics is shades of grey, or at least it used to be.
The pros and cons of a policy were weighed up and a judgement on its merit was based on whether the benefits outweighed the drawbacks.
We do not need to look too closely to notice that the imagery of public discourse is shifting from subtle monochrome to stark and striking black and white.
Colour itself, often expressed through such binary viewpoints, was a crucial factor in the EU referendum last June.
There are fierce arguments about how large or small a part the leave campaign's immigration rhetoric played in its victory but it was certainly a central plank of its argument and a great many say it was crucial to the result.
We also know, from The Courier's revelations last week, that both the UK and Scottish governments are readying themselves for a second independence referendum.
So let's acknowledge the giant – grey, obviously – elephant in the room. Immigration could decide a second independence referendum.
At the very least it would become an important issue in a way it did not back in 2014. Why? The simple explanation is that an independent Scotland would have a choice to make on borders.
Apply to re-join the EU or Efta and accept free movement of people or, to borrow a phrase, "take back control".
Wrapped up in liberal, middle class cotton wool it is easy to say Scotland is "different" to the rest of the UK when it comes its attitude towards immigrants.
For anecdotal evidence to suggest that argument is tosh, take a trip to your local pub which doesn't sell craft beer on tap and open your ears.
This weekend also saw the arrival of some hard, empirical data to knock down the same proposition through a poll carried out by BMG Research on behalf of Labour.
Ten per cent of respondents ranked "immigration and asylum" as the "single most important issue facing society today". That made it the third from the top in the list of priorities.
Only Brexit and the NHS were ranked higher. The economy, independence, education, and crime and justice were all seen as lesser subjects.
Interestingly, those who voted for independence and to leave the EU identified immigration (30%) as the biggest issue.
That figure was lower, 19%, for people in the "No/Leave" camp and the fact there seems to be a small but potentially very significant proportion of the Yes-voting electorate who like the idea of hard borders has not gone unnoticed.
At least one person who was a senior player in the Better Together campaign is concerned and convinced in equal measure there would be an aggressive approach if Scotland was to go back to the polling stations on independence.
"The No side would definitely push on immigration," they said.
"That makes me very uncomfortable and I would find it very difficult to be part of a campaign which did that."
This person was not suggesting they would switch to support independence.
Instead they highlighted the potentially huge problem for any pro-Union campaign that, simply, there would likely be a vacuum of united leadership.
The success of political parties or campaigns are not united is well documented – although the fact Vote Leave and Leave.EU's relationship was fractious, at best, perhaps diminishes that somewhat- but a lack of directional discipline also opens spaces for people to pursue their own agendas.
Given another contest is likely to be much more bloody than the first, rhetoric has barely been toned down by either side since 2014 and it's not going to soften if or when a vote gets closer, nothing will be off limits.
Any move towards bringing up this thorny issue is that is runs the very real risk of quickly descending into disgusting racism.
Scotland needs immigration to help keep its population at a sustainable level and, besides that, more cultures have enriched our cities, towns and villages – our communities – as people integrate into them.
Yet real problems remain. Anti-Polish graffiti was daubed on Dundee buildings – including at least one church, a council sign and block of flats – back in 2014.
That led to the "trailblazing" Polish Community Project being set up to tackle hate crime aimed at Polish people in Dundee.
It is impossible to deny the fact that unpalatable views exist here.
Hate crime increased in Scotland in the week following the EU referendum, proving people can have their fears manipulated by big political decisions.
It is near-impossible to tell whether or foray into the murky world of political points scoring through othering people who have come to work and live in Scotland would be successful or not.
One thing is sure, though, it has the potential to leave Scotland much more dangerously divided country than it already is.