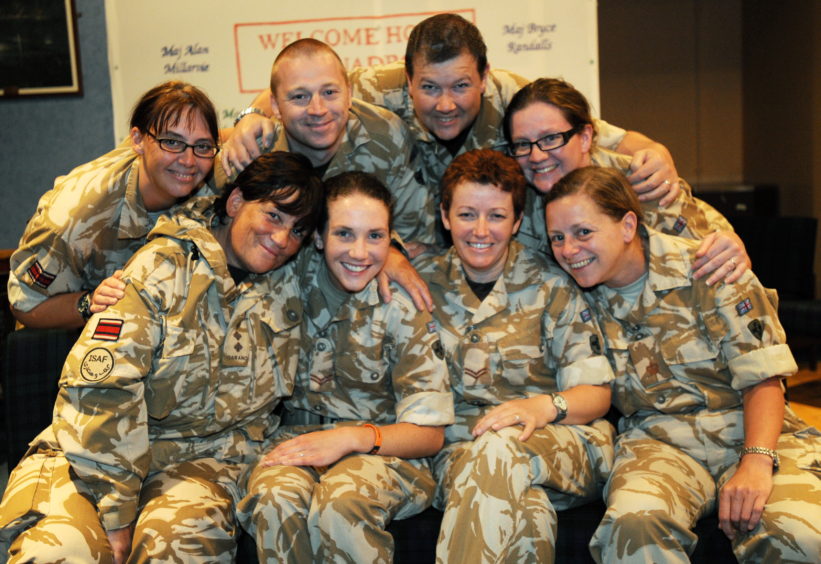 Our photo archives contain a goldmine of images recording events both great and small in Tayside, Fife and beyond.
In our new weekly series, Gayle Ritchie brings you 10 photos that were in the news exactly 10 years ago…
1.       Performers from the Verdant Works in Dundee donned 1940s outfits to launch the city's involvement in the 2010 Show Scotland festival. From left – Earl Scott (volunteer guide), Calum McKenzie (Havana Swing) and Brian Kelly (educational officer, Dundee Heritage Trust) at the launch
2.        The first ever competition at Dundee's Brae Riding School for the Disabled took place. The dressage competition attracted more than 20 riders, aged from four to 44. The picture shows Neil McAulay from Broughty Ferry on Candy taking part in the competition.
3.       A fund-raising Mad Hatter's tea party held at Perth hat shop Elegance raised more than £600 for Tayside Cancer Support. From left-Kayti Masson, Audrey Wallace, Pete Moran, Evelyn Goodwillie, Gail Rodge and Linda Wilson
4.       A team of Barnhill Primary P6 pupils were busy swotting as they prepared to take on schools from across Scotland in the final of Euroquiz 2010 in the Scottish Parliament. Picture shows (from left) Jodie Bolton, Lewis Scott, Charlene Suttie and Jamie Gibson with Europa the mascot
5.       Four-year-old Garrett Mullen watched three-day-old pinto stallion named Einstein frolicking around. The diminutive horse born in New Hampshire could lay claim to the world record for lightweight foal. Einstein weighed just six pounds and measured 14 inches in height when he was born. Those proportions fit a human baby just about right but are downright tiny for horse, even a miniature breed like Einstein. (AP Photo/Jim Cole)
6.       Princess Beatrice became the first royal to run the London marathon. The 21-year-old Princess finished the 26.2-mile course in five hours, 15 minutes and 57 seconds as part of a 34-man "human caterpillar" which set the Guinness World Record for the most number of runners tied together.
7.        Hollywood legend Dame Elizabeth Taylor presented the Prince of Wales with a bust of her former husband Richard Burton as they celebrated his memory at a Buckingham Palace gala evening.
8.       Spectacular fireworks exploded over the Huangpu River during the opening ceremony for the 2010 World Expo, Shanghai, China.
9.       U.S. Interior Secretary Ken Salazar fielded questions from reporters after announcing that the Obama administration had approved what would be the nation's first offshore wind farm, off Cape Cod, during a news conference at the Statehouse, in Boston. The decision cleared the way for a 130-turbine wind farm in Nantucket Sound off the coast of Massachusetts
10.   Members of Aberdeen's Territorial Army 205 A Squadron Field Hospital arrived back on Scots soil after having saved the lives of countless casualties in the war in Afghanistan. Their extraordinary actions earned them a heroes' welcome. Back from left: Capt Alison Legge, Cpl Malcolm Milne, Maj Alan Millarvie and Maj Nicola McCullough. Front from left; Capt Joan Molloy, Cpl Sharon Murray, Cpl Rebecca Dewis and Maj Morag Anderson. Pictures by Simon Walton.