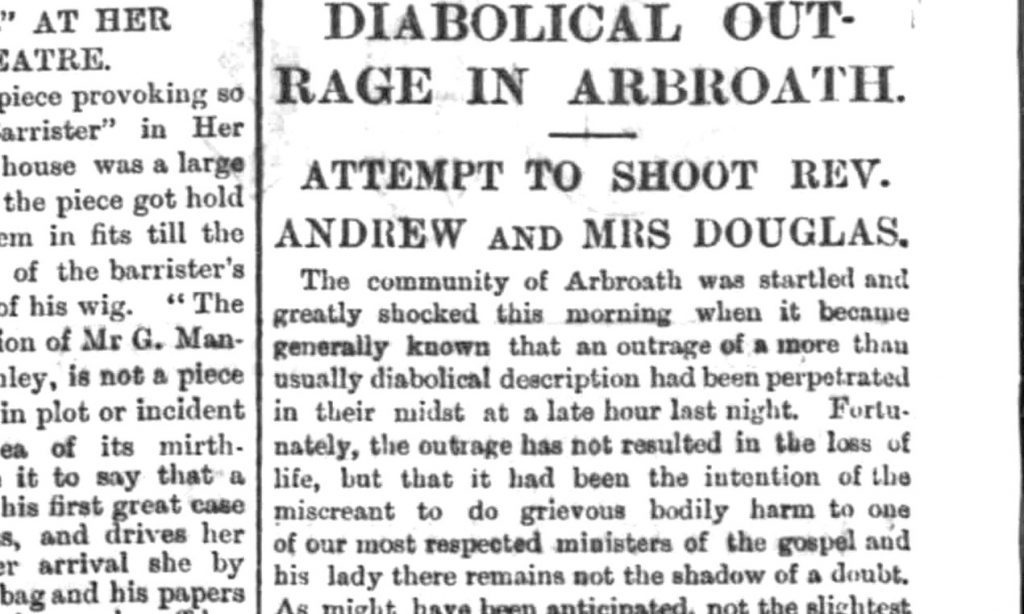 An attempt to gun down an outspoken minister and his wife cast suspicion on an entire tier of Arbroath society.
Andrew Douglas, minister at the Abbey Parish Church, had upset the merchant class by questioning the building of a new high school with ratepayers' cash.
The minister would only approve if poor boys were given access to the fee-paying school.
Mr Douglas was also known to be a little unsettled in the established Kirk.
The murder attempt on September 10 1888 caused uproar among the working class of Arbroath and it soon became known as the "diabolical outrage".
It happened when Mr and Mrs Douglas were reading in the study of their manse in Springfield Terrace around 10.25pm.
When the minister heard a bang, his immediate thought was a reading lamp had exploded.
However, when he heard a second bang and felt a missile whiz by him, he knew the couple's lives were in danger.
Before they could act to preserve their safety, another two shots rang out in the manse.
The couple showed stiff resolve. Mrs Douglas ran to the front door with her collie in pursuit of the gunman, while Mr Douglas ran to alert the police.
The collie took off over a field and became excited. Meanwhile, the police arrived but little evidence could be found in the dark.
Next day, though, they found a solitary footprint in the place where the dog had made a fuss. No other trace was found.
As days turned to weeks without an arrest, the minister sensed a conspiracy and wrote a letter to Arbroath Police Commission criticising officers for their inaction.
The police commission refused to disclose the contents of the minister's letter. It said it would be an "act of kindness" not to make the letter public.
Just after the shooting, the minister received a death threat from someone claiming to be Jack the Ripper. It turned out to have been sent by a 13-year-old boy in the East Neuk. The Pittenweem postmark gave the game away.
The gunman was never traced and Mr Douglas died peacefully at home in 1918.