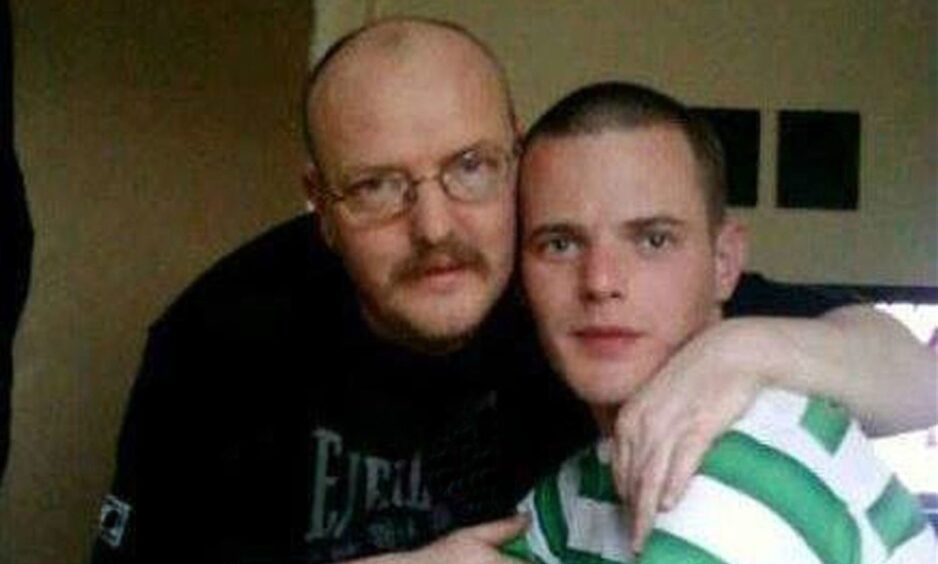 The disappearance of Glenrothes man Allan Bryant on November 3 2013 barely warranted more than a few paragraphs in the local newspapers.
More than eight calls to report a missing person are made to Fife police every day.
Most are usually found within days.
A decade on, Allan's disappearance remains a mystery.
On November 2 2013, Allan left the family home on Ednam Drive with some of his friends to go to an engagement party at Leslie Golf Club, on the outskirts of the town.
He asked his parents if he was looking all right before going out at 8.30pm.
They never saw him again.
Around midnight he travelled with his pals in a minibus to Styx nightclub on Caskieberran Road, situated less than a mile from his house.
Allan stayed at the club until it closed.
He briefly spoke to a door steward shortly after 2.02am before walking up a set of stairs and heading in the direction of his home, unsteady on his feet.
When he failed to arrive, his family reported him missing the following day.
On November 6 police in Fife issued a description of the 23-year-old and said they were becoming "increasingly concerned" for his wellbeing.
His father, also called Allan, described his disappearance as out of character and made an emotional appeal for his safe return.
He said: "We want to find out where he is because his family is worried about him.
"None of his friends know anything.
"He just vanished from Styx.
"He's not got a penny on him or any formal identification, nothing.
"He's a loveable guy who gets on with everyone."
Inspector Derek Paxton, who was leading the search, said police shared the family's concerns and urged residents in Glenrothes to search their sheds and outbuildings.
Communities rallied
Extensive police inquiries continued and a missing person poster was issued of Allan and the distinctive striped T-shirt he was wearing when he was last seen.
Officers spoke to clubbers at Styx.
An extensive police helicopter and ground search failed to find any trace of him.
Police divers were brought in to trawl ponds and the river, while Allan's family and friends distributed 50,000 missing posters across towns and communities in Fife.
Nothing.
Three weeks passed.
On the eve of Allan's 24th birthday, a media briefing was held at Glenrothes Police Station where his mum, Marie Degan, made it clear she now feared the worst.
She said: "There must be something stopping him from coming back.
"The only thing that would stop me
coming home is if I was dead or somebody was keeping me prisoner.
"Somebody must know something because Allan wouldn't do this.
"Everything is going through my head — was he tortured?
"Was he battered? Did he fall asleep?
"Has there been an accident and people are too scared to come forward?
"The things that are going through my head are unbelievable.
"From when I wake up in the morning to when I go to bed at night, I think: where is he?"
Chief Inspector Derek McEwan, local area commander, emphasised that an "unprecedented amount of police resources" had been thrown at the investigation.
He said: "It is a mystery we are determined to get to the bottom of."
November became December.
In heart-wrenching interviews, Allan's parents made an emotional plea to their son to return home as they faced up to spending Christmas Day without him.
His father said: "If you're out there and safe and well, then don't be embarrassed to get in touch or come back home.
"It will all be forgotten about."
However, stating his fear that his son may no longer be alive, he added: "Maybe he's bumped into someone or got into a fight?
"The search parties have been amazing but if he has wandered into the woods then he would have been found."
Allan loved Christmas with his family
The pain of losing a loved one never really leaves you.
But in most cases there is at least a sense of closure.
When a relative goes missing, there is no such certainty.
"He's the sort of boy that always comes home," Allan Sr said.
"I think it's worse having no news."
Marie said her son enjoyed spending Christmas with his sisters, Amy and Sophie, who had both been left heartbroken by their brother's disappearance.
On December 25 there was an empty seat at the dinner table but the family tried to stay strong because they knew that Allan would want them to have a good Christmas.
On January 13 2014 Chief Inspector Derek McEwan said police were determined to end the anguish Allan's family continued to suffer by not knowing where he was.
Local residents had already raised £1,000 for a reward to boost the search for Allan and this was matched by £1,000 from Kingdom Credit Union.
Police then released a new missing person poster to mark three months since he was last seen and Allan Sr told The Courier he would "not give in until he is found".
"But this is a living nightmare for us day in, day out," he said.
"I am counting the days.
"Allan is the last thing I think about every time I go to sleep. I dream about my son every night, I think about him 24/7."
Allan Bryant theories – and psychic joins search
Central to the efforts to find Allan was a Facebook page established by the Bryant family, which attracted more than 72,000 followers from around the world.
Allan's parents purchased their own mobile billboard to keep the hunt for the Glenrothes man in the public eye and even turned to the spirit world for guidance.
CCTV footage of Allan's last known movements were released by police in June 2014, in an attempt to bring the fading investigation back into the public eye.
Things took a further twist.
Allan's father now stated his belief that foul play was involved.
Asked if he believed his son had been murdered, Mr Bryant told The Courier: "Without doubt.
"I've heard the rumours and some of the things that people have said you just can't begin to imagine.
"I've heard similar stories from about five people but I think that the people who do know things are frightened to go to the police."
The living nightmare continued.
In August 2015 skeletal remains were discovered in a shallow grave at Riverside Park in Glenrothes, which gave the Bryant family fresh hope of closure.
It brought another false dawn.
The investigation exploded to life again in June 2017 when officers swooped on a property in the Newcastle area of the town after "fresh intelligence" came to light.
A five-week search failed to uncover new leads and the homeowners claimed police were guilty of "racial victimisation" because of their gypsy Traveller background.
Allan Sr said afterwards that his family had experienced an emotional rollercoaster.
"I cannot even explain how we felt during the last month," he said.
"Angry, confused, traumatised, sad, desperate.
"I find 'hope' such a strange word to use.
"No family should have to hope that forensics find blood or DNA of a missing loved one.
"That is the life we now have and sadly we pray each day this will happen some day in the near future."
Criticism of the police investigation
Allan's parents expected that no stone would be left unturned in the investigation.
Sadly, they felt badly let down in this regard, insisting that vital opportunities were missed, especially during the initial weeks and months of the inquiry.
It later emerged that, in the first weeks of the investigation, officers attempted to collect CCTV from a boxing gym behind Styx twice but failed.
By the time they sent a "technical support officer" the footage had been overwritten.
The original officers also failed to notice that CCTV for the snooker hall attached to Styx was on a different system.
By the time the Major Investigation Team took over the case and tried to collect the footage it had also been overwritten.
Allan's family, over the past 10 years, have made 12 complaints to the Police Investigations & Review Commissioner (PIRC), of which four were upheld.
The Courier's Allan Bryant documentary, A Short Walk Home: The Disappearance of Allan Bryant Jnr, was released in 2022.
It took a fresh look at the case and the police investigation.
Speaking in the documentary, Allan's mum, Marie, said: "Everything goes through my head – we suffer now and we'll suffer until the end of our days."
Despite the largest missing person search ever conducted in Fife and numerous family appeals since 2013, no trace of Allan has ever been found.
The search goes on.
Allan's disappearance remains an open investigation.
Police will today hold a press conference in Glenrothes to mark the 10th anniversary of Allan's disappearance.
It will include a renewed appeal for information.
Might this finally provide a closing chapter to the mystery?