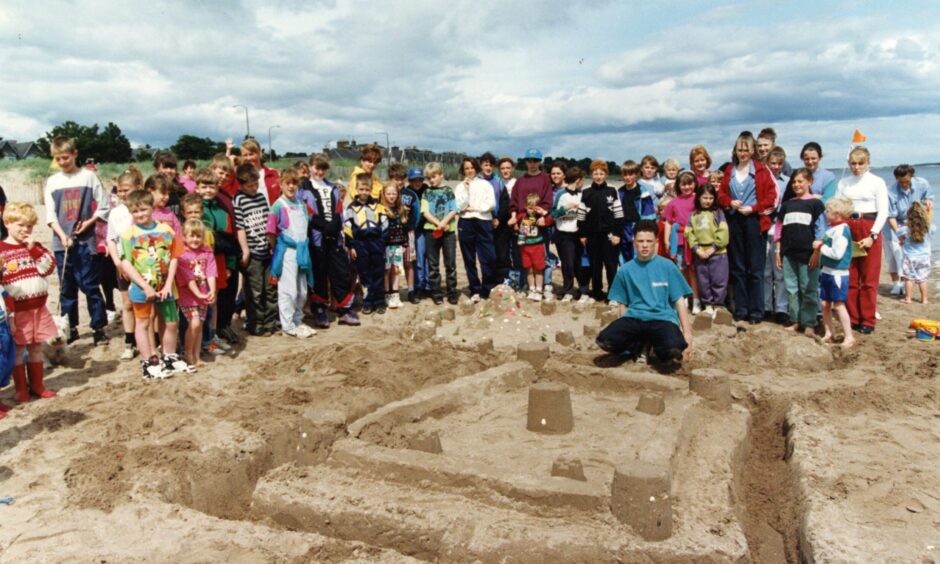 Can you remember how Broughty Ferry looked 30 years ago?
The DC Thomson archives team has dug out a selection of photographs of people and places which are sure to spark a memory or two.
Grab yourself a cuppa and enjoy having another browse back through the ages courtesy of The Dundonian, which appears in the Evening Telegraph every Wednesday.
Some of these photographs have not been seen for years.
Do these awaken any memories for you?
---
New Year's Dook
Ye Amphibious Ancients Bathing Association, more commonly known as the Phibbies, started hosting the somewhat barmy pastime at Broughty Ferry in 1891.
The annual test of sanity attracts dookers of all ages.
Broughty Ferry harbour
The snow which had made for a picturesque start to the New Year soon melted, resulting in region-wide blackouts and closures.
By January 17 the River Tay was recorded at its highest-ever level with a river flow of 2,268 cubic metres per hour.
Forthill Sports Club
An aerobics class in full swing at Forthill Sports Club in March 1993.
Can you spot anyone you know being put through their paces 30 years ago?
Observation platform
Broughty Ferry harbour observation platform in April 1993.
The platform was the perfect place for dolphin spotting and offered fantastic views across the harbour and Broughty Castle, which was built back in 1496.
The Gulistan
The Gulistan opened in 1979 and was a Ferry institution before closing its doors for the final time in October 2021, after making happy memories for 42 years.
During this time it built up a loyal customer base who would come back time and time again to enjoy a good meal in the restaurant's elegant surroundings.
The old Broughty Ferry post office
Developers Tayfield Investments Ltd took over the premises in 1993 when Post Office Counters put them on the market after their move to Brook Street.
The L-shaped listed building, which was built in 1907, would undergo a £400,000 transformation following purchase and opened in 1994 as the Post Office Bar.
Out on a shout at Broughty Ferry Lifeboat Gala Day
Hundreds of spectators crowded on to the pilot pier in July 1993 for Broughty Ferry Lifeboat Gala Day which included trips on the Arbroath RNLI vessel.
Another popular event during the fundraising event was a bath race where nine teams competed to navigate up and down the length of the pilot pier twice.
Gone fishing…
The famous tradition of the Gala Week has been bringing family fun to Broughty Ferry for over 100 years and is Tayside's longest-running summer festival.
The fishing competition has always been hugely popular with youngsters.
Raft race
Who needs Oxford versus Cambridge?
The Broughty Ferry Raft Race was a long-established part of Gala Week.
A work of art
Eduardo Alessandro Studios in Broughty Ferry has long had an enviable reputation as one of the leading independent art galleries in the east of Scotland.
The Gray Street premises, which first opened in the summer of 1978, have proved immensely popular with art lovers and gift buyers from all over Tayside and beyond.
Broughty Ferry Bowling Club
The scene at Broughty Ferry Bowling Club with members admiring the floral display.
The year 1993 was a big one for the club, as it welcomed champion bowler Richard Corsie.
He played against local players and gave a coaching session to delighted members.
Broughty Ferry Station
Broughty Ferry is said to be the oldest open railway station in Scotland.
Opening on October 6 1838, as part of the Dundee and Arbroath Railway, it retains its original twin-gabled station building with decorative timber bargeboards.
Level crossing
Have you told Cyril?
Broughty Ferry Traders' Association members were urging the public to write to ScotRail chief executive Cyril Bleasdale about the closure of the level crossing gates.
They were closed in 1991 following an accident and Bleasdale had caused uproar by suggesting there had been little impact on pedestrians or traffic.
Local traders disagreed and would fight to get the gates reopened.
They did.
It's the final photograph in our look back to 1993.
So did our pictorial trip back in time jog any memories for you?
Let us know.