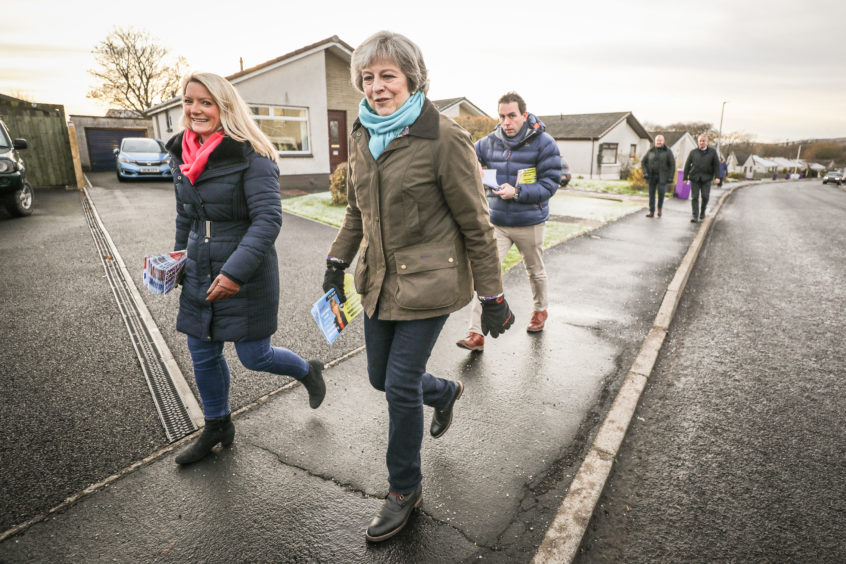 Former prime minister Theresa May was in Kirriemuir on Wednesday, where she denied the Scottish Conservatives have been left without a "recognisable face" since Ruth Davidson stepped down.
Mrs May spent Wednesday morning in Kinross, campaigning with Conservative candidate for Ochil and South Perthshire Luke Graham and visiting local businesses.
She then made the journey to Angus, where she chapped the doors of unsuspecting Kirrie residents, urging them to vote for candidate Kirstene Hair.
Speaking exclusively with The Courier, Mrs May responded to comments made by Nicola Sturgeon earlier this week, who suggested the Tories would struggle without the known "personality" and recognisable face of former leader Ruth Davidson.
She said: "I'm pleased to be up in Scotland campaigning on behalf of colleagues who have worked hard for their constituencies in Westminster and help them locally, doing really hard work."
When asked if the 13 MPs elected under her premiership in 2017 could be regarded as her legacy, she added: "I don't think of this in terms of legacy, I think of this as 13 good Conservative MPs being elected by the people of their constituencies in Scotland and those 13 MPs in Westminster have been a voice in Scotland.
"Kirstene worked hard here on behalf of the Armed Forces hit by the SNP's extra tax and bringing extra investment."
She also said she would support Boris Johnson's deal and would not be moved to say whether her deal was any different to Mr Johnson's.
Cabinet minister Michael Gove will take part in a similar campaign in Dumfries and Galloway today.
An SNP spokesperson said: "This is desperate stuff and regardless of which Tory greets voters at the doors, people across Scotland will not be fooled.
"At this election, only a vote for the SNP is a vote to escape Brexit, a decade of devastating Tory austerity and to put Scotland's future into Scotland's hands – not Boris Johnson's."