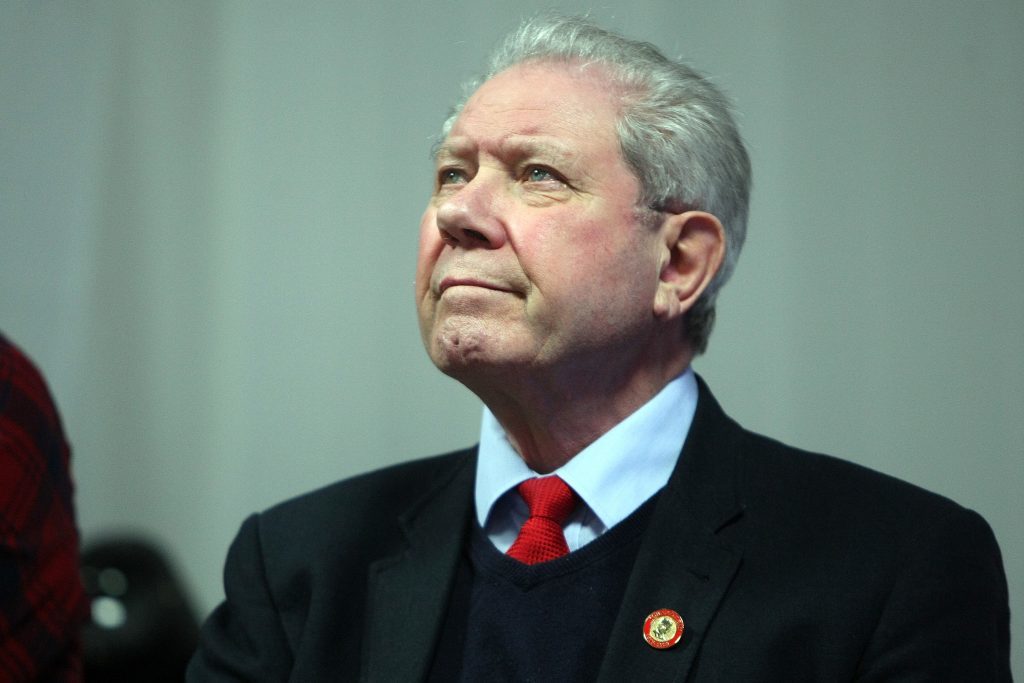 Former SNP deputy leader Jim Sillars has claimed there are no downsides to the UK leaving the European Union.
At an event in conjunction with the Leave.EU campaign, Mr Sillars also attacked Nicola Sturgeon's claims that a so-called Brexit would lead to Scotland being hammered by an extreme right wing Conservative Government.
He said: "I'm saying this as someone who has been a member of the Scottish National Party since 1980 and who has admired the way she has conducted herself as First Minister.
"I deeply regret that Nicola seems to have resorted to the tactic which she previously deplored and in doing so has fallen from her own high standard.
"In her statement yesterday, she has deployed the whiplash of fear to drive people to vote for Remain by implying that a Brexit will bring a reformed Tory government into power which would destroy workers' rights."
Mr Sillars said that holiday pay has been a statutory legal entitlement in the UK since 1938, maternity pay runs for 39 weeks here compared to the European 14, and paternity pay is for 52 weeks in Britain but 18 under EU directives.
He also claimed the EU was blocking SNP policies over minimum pricing for alcohol, making private firms who win public contracts pay the living wage to all staff and reversing the Common Fisheries Policy.
Asked what he thought the downside of a Leave vote would be, he replied: "I don't see any downside to Brexit."
He insisted a trading bloc without barriers could be maintained with the rest of the continent without the UK being part of the current single market.
Mr Sillars said he "deplored" a Leave.EU advert which used the slaughter of 49 people in a gay nightclub in Orlando to encourage people to back their campaign,  and pointed out he was not part of the campaign he shared a stage with in Edinburgh.
First Minister Ms Sturgeon warned on Wednesday that a vote to leave the European Union could see Scots at the mercy of the "most right-wing Tory government in modern history".
She branded the campaign for Britain to exit the EU, which has been led by figures such as Boris Johnson and Michael Gove, as being "a bid for a right-wing Tory takeover of the reins of power in the UK".
Any shift to the right by the Conservatives in the wake of a Brexit vote on June 23 would mean "Scottish workers and family budgets will be in the firing line", the SNP leader added.
Ms Sturgeon issued the warning as several UK-wide polls suggested a majority of people could vote in favour of leaving the EU in the referendum, which has been called by Prime Minister David Cameron.
As campaigners for the UK to remain stepped up their efforts, Ms Sturgeon said: "The time has come to brand the Brexit campaign for what it is – a bid for a right-wing Tory takeover of the reins of power in the UK.
"The people leading the case for a vote to leave the EU are on the right of the Conservative Party and will take an 'out' vote as their signal to make their power-grab complete.
"Make no mistake – a Leave win would be a victory for politicians who actually believe George Osborne and David Cameron are moderates, and it would leave Scotland at their mercy."
In these circumstances, she claimed the impact on Scotland would be severe, warning: "Outside the EU but within the UK, with most economic power still concentrated at Westminster, Scotland would be left vulnerable to the most right-wing Tory government in modern history.
"If we leave Europe, they will take it as a green light to scrap workers' rights and employment protection, slash public spending as part of their ideologically-driven austerity obsession – and would target Scotland for extra cuts.
"There should be no doubt in people's minds – if Leave wins then Scottish workers and family budgets will be in the firing line."