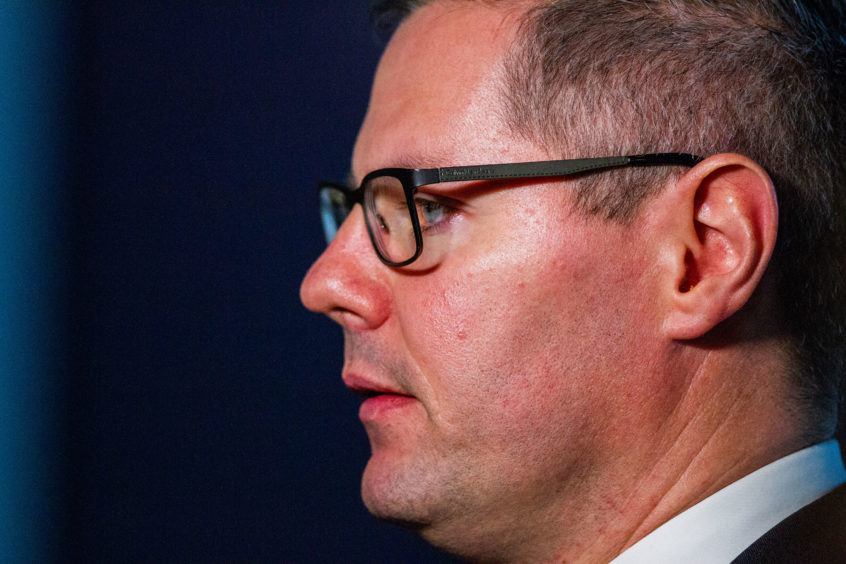 The Scottish Finance Secretary has insisted the country would be better off independent, despite latest statistics showing a deficit of £12.6 billion last year.
Derek Mackay was speaking following the publication of the annual Government Expenditure and Revenue Scotland (GERS) figures on Wednesday morning.
The deficit — the difference between the government's total revenue and how much it spends — accounted for 7% of the Scotland's Gross Domestic Product (GDP).
The Scottish Conservatives said the GERS figures were a "bombshell" to the SNP's plans for an independent country, while Scottish Labour said the nationalists would introduce "unprecedented levels of austerity" should Scotland separate from the UK.
The UK has a deficit of £23.5 billion, which accounts for around 1.1% of its GDP.
Tracy Black, CBI Scotland director, said it was welcome that Scotland's overall fiscal position had improved for a third year in a row, and that onshore revenues have increased by £3 billion, the fastest pace since 2010-11.
However, she added: "While things are moving in the right direction, there's absolutely no room for complacency, particularly as Scotland still lags way behind the rest of the UK when you look at the deficit as a percentage of GDP.
"The inescapable fact that Scotland spends more than it raises in taxation is a timely reminder of why a thriving and competitive private sector is essential for funding the kind of public services we all want to see."
Mr Mackay said: "The notional estimate is that the deficit is falling. On-shore revenue is increasing. It is the fastest growth since 2010/11 and we have very strong economic indicators which are being recognised including record low unemployment and record high employment.
"The Scottish Government's position is the greatest threat to the economy is Brexit, which should be averted and I of course believe independence would empower us and allow us to unlock our potential.
"These figures also show is all Scotland's revenue cover spending, plus pensions and social protections.
"We have an economic strategy which is working and for me GERS proves we could do so much more if we had independence but even under the current constitutional arrangement we are addressing some of the issues."
Scottish Conservative shadow finance secretary Murdo Fraser said: "These figures reveal an enormous gap between what Scotland spends and what it raises in tax.
"We can have much higher spending in Scotland on public services thanks only to fiscal transfers from the rest of the UK, now worth £2,000 for every man, woman and child in Scotland.
"These figures make it clear – had we followed Alex Salmond and Nicola Sturgeon's advice in 2014 and backed independence – Scotland would now be facing up to an unprecedented financial black hole.
"Thanks to this union dividend, we continue to dodge the SNP bullet.
"What is remarkable is that, despite today's clear evidence of the cost of independence, Nicola Sturgeon is still demanding we re-run the independence referendum as early as next year."
Scottish Labour leader Richard Leonard said:  "A stand-alone Scotland would have one of the biggest fiscal deficits in the developed world, and the SNP's shock treatment plan to close it is by dumping the pound and imposing unprecedented levels of austerity."