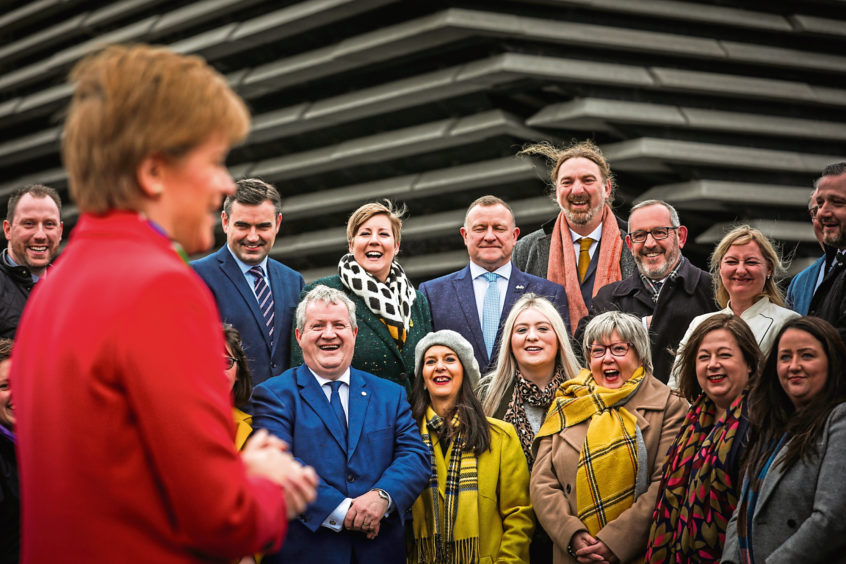 Nicola Sturgeon unveiled her 47 representatives during a special event at the V&A on Saturday.
Ms Sturgeon posed for photos outside Kengo Kuma's multi-million pound masterpiece and even recreated her celebration caught on camera after new East Dunbartonshire MP Amy Callaghan unseated Lib Dem leader Jo Swinson.
The SNP leader claimed Scotland was being "imprisoned" in the United Kingdom against "its will".
Speaking on the BBC's Andrew Marr Show, she said: "If he thinks – and I said this to him on Friday night on the telephone – that saying no is the end of the matter, he is going to find himself completely and utterly wrong.
"It's a fundamental point of democracy, you cannot hold Scotland in the Union against its will.
"You cannot just lock us in a cupboard and turn the key and hope that everything goes away.
"If the United Kingdom is to continue, it can only be by consent and if Boris Johnson is confident in the case for the Union he should be confident enough to make that case and allow people to decide."
"Scotland cannot be imprisoned in the United Kingdom against its will."
It comes as senior Scottish Labour members warned a second referendum on independence in Scotland should not be blocked by Westminster, a shift in party policy.
Health spokesperson Monica Lennon said the "future of Scotland must be decided by the Scottish people".
Ms Lennon stressed she is still opposed to separation, but added: "The SNP blueprint for independence is flawed and will disappoint many progressive Scots who are fed up with austerity.
"Nevertheless, the future of Scotland must be decided by the people of Scotland."
Prime Minister Boris Johnson is set to reshuffle his cabinet tomorrow, ahead of the opening of parliament on Thursday.
Cabinet minister Michael Gove said any request from Holyrood for a second vote on independence would be denied.