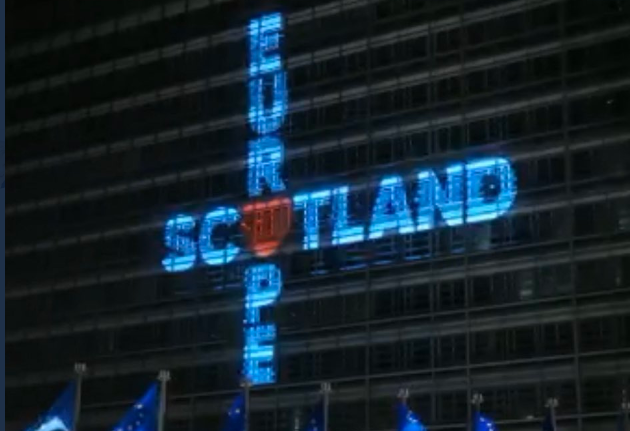 The European Commission investigated a "stunt" orchestrated by the SNP which involved a projection being beamed on to the side of the European Commission headquarters in Brussels.
As we previously reported, Scotland's largest political party was behind a light display proclaiming "Europe loves Scotland" on the day the UK left the EU.
Double Take Projections was responsible for projecting the image on to the Berlaymont building, which The Courier understands was shone from a private flat above the Old Hack pub in Brussels.
Because the projection came from beyond the building's "security perimeter", staff at the Berlaymont reported the projection to Brussels police for further investigation.
But no "further" action was taken by the authorities, due to the "short" nature of the project, a commission spokesperson said.
The commission itself has decided not to take any further action. Although it described the incident as "unauthorised", it was not considered a security threat.
A spokesperson added: "The commission has and will continue to contact authorities in the event of unauthorised projections to have them stopped.
"On a general note this particular incident was short-lived, so no actions were taken."
An earlier release by a commission spokesperson implied the matter had been picked up by Brussels police, but this turned out not to be the case.
Double Take Projections, which previously confirmed it had been commissioned to carry out the projection, has been approached for comment.
The SNP again refused to comment regarding the incident after being approached by The Courier.
Sturgeon in Brussels
The news of potential police involvement coincided with a visit First Minister Nicola Sturgeon made to the Belgian capital on Monday.
Ms Sturgeon spoke to delegates at the European Policy Centre, where she discussed Scotland's place in Europe following Brexit.
FM @NicolaSturgeon says "sovereignty of #Scotland will be amplified, diminished by membership, at her speech @epc_eu on the EU-Scottish relationship.

🏴󠁧󠁢󠁳󠁣󠁴󠁿🇪🇺 https://t.co/5UvExlynZS

— EuropeanPolicyCentre (@epc_eu) February 10, 2020
The UK left the EU on January 31, entering a transition period until December 31 2020.
Ms Sturgeon and the SNP were accused of intentionally spreading the impression that the light display showed Europe was "leaving a light on" for Scotland — when in fact it was the SNP who had organised the stunt.
What a strange thing to do for a European Commission that Labour and the Tories say doesn't want Scotland back in. https://t.co/lPGzy7uWrU

— Peter Grant MP (@PeterGrantMP) February 1, 2020
Lib Dem leader Willie Rennie criticised the move, calling it "sneaky".
On Monday, he said: "Instead of incurring the wrath of the European Commission and the local police, the First Minister should be focusing on getting the basics right back home."