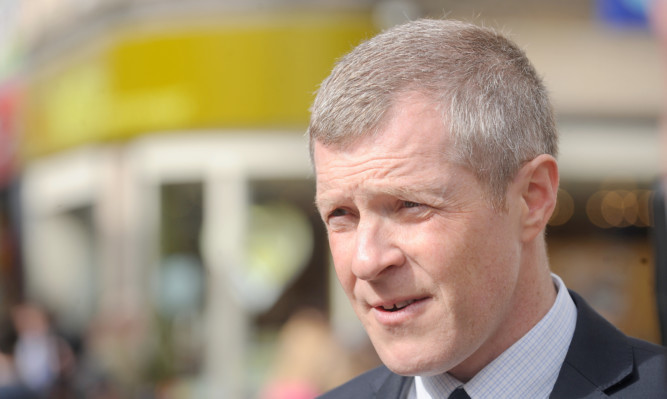 Willie Rennie claims he can turn North East Fife Liberal Democrat gold again because his party has finally shaken off the stigma of coalition government.
The Scottish party leader is standing in his home constituency, which was won by Rod Campbell in 2011 with a 17% swing towards the SNP.
Despite polls predicting further decimation for the Lib Dems, Mr Rennie was upbeat about his personal chances after driving a quad bike around Auchterhouse Country Sports near Dundee.
He said: "There are a lot of people who were Liberal Democrat but went SNP and they're moving back for a variety of different reasons.
"One, we are shed of the coalition. We don't have that issue any more. It has been important and people see that we got things wrong.
"There was also a post-referendum almost guilt where people who voted Yes voted for the SNP. That's waned.
"Independence is still a factor but it's not a massive factor like it was last year."
The Lib Dems were junior party to the Conservatives in the UK Government until last May.
Mr Rennie, a list MSP for Mid Scotland and Fife during the last Parliament, now claims: "Tories are falling over themselves to vote for us".
Conservative sources confirmed efforts were being made by the Liberals to woo their voters but did not fancy the party's chances locally because the SNP vote seems to be holding firm.
But Mr Rennie insisted boundary differences from the general election, which include Leven dropping out of the reckoning for the seat, help his cause.
And he argued the Nationalists have not stood up for local people during their five year stewardship of the area.
Mr Rennie said: "Rod has had a challenging time in the last few years and I think people are angry that he, for instance, campaigned to keep the sheriff court open then voted to close it.
"That kind of epitomised the SNP, and his, approach to North East Fife. It's party first rather than the community."
Mr Campbell responded: "The fact that the Lib Dems propped up an austerity-obsessed Tory government for five years is definitely still an issue for voters all across North East Fife. Voters have not forgotten and definitely agree that the Lib Dems got things wrong.
"While the LibDems spent the last five years in London standing up for the Tories, I've been in local communities standing up for people in North East Fife, and against Tory austerity."