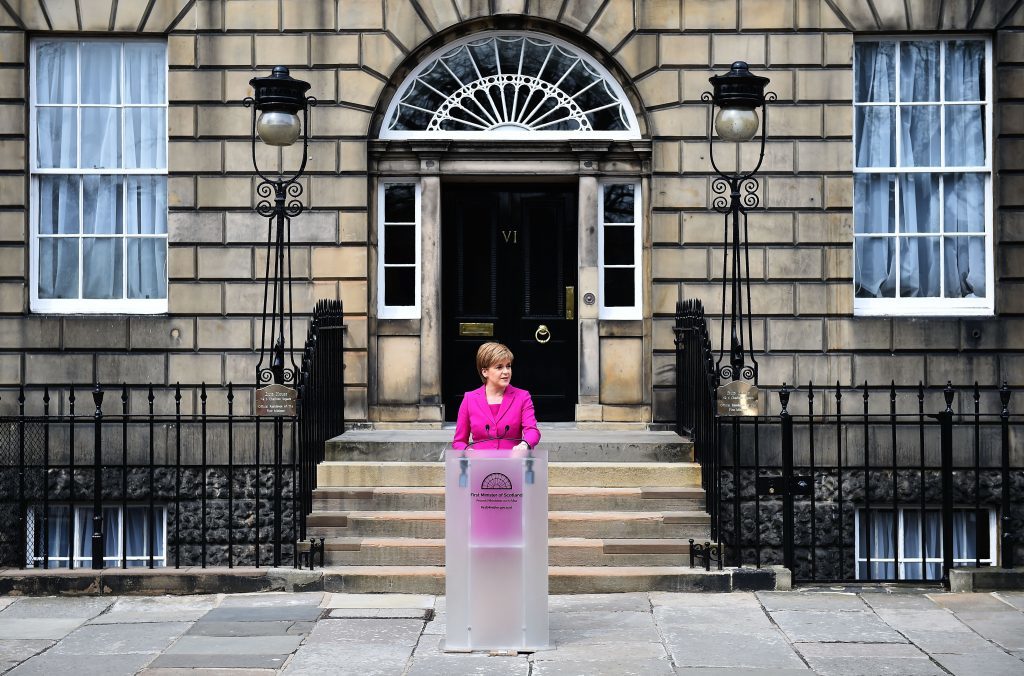 Nicola Sturgeon has announced she will lead a minority Scottish Government after securing a "clear and unequivocal mandate" in the elections.
The SNP leader will ask MSPs to re-elect her as First Minister after her party won 63 seats at Holyrood, two short of a majority.
Speaking on the steps of Bute House, Ms Sturgeon said: "We won a clear and unequivocal mandate, and I secured the personal mandate I sought to implement the bold and ambitious programme for government that I asked the country to vote for.
"So, I can confirm that when it reconvenes in the coming days, I will ask the Scottish Parliament to formally re-elect me as the First Minister of Scotland.
"It will then be my intention to lead an SNP government.
"With such a large group of MSPs elected, I don't intend to seek any formal arrangement with any other parties."
With no overall majority at Holyrood, Ms Sturgeon will need the support ofother parties to secure her place as First Minister and to pass legislation.
She added: "The government I lead will be an inclusive government.
"It will be firm on our determination to deliver on the commitments we made to the Scottish people, but it will also reach out and seek to work with others across the parliament to find common ground and build consensus."
She highlighted education as an area of priority for parties across the chamber, while on the issue of independence Ms Sturgeon said the SNP's aim was "to persuade, not to divide".
She said: "I made clear in this election that education will be the defining and driving priority of my tenure as First Minister – and that I expect to be judged on it. I reiterate that today.
"Education is my passion and priority, but I was heartened that all parties chose to put a clear focus on it.
"I hope we can put party differences aside and work together."
Complicated negotiations ahead
Sources close to the First Minister indicated she will consider different offers for each opposition party when it comes to persuading them to back SNP policy at Holyrood, writes Courier political editor Kieran Andrews.
The SNP have been far more cautious on tax than the Scottish Greens, who were seen by some as potential allies because both parties favour independence. The Greens are also against income tax hikes proposed by Labour and the Liberal Democrats.
When it comes to a budget, the Conservatives have made big play of being close to the Nationalists in some areas but any easy deal is unlikely between the Scottish Government and its official opposition.