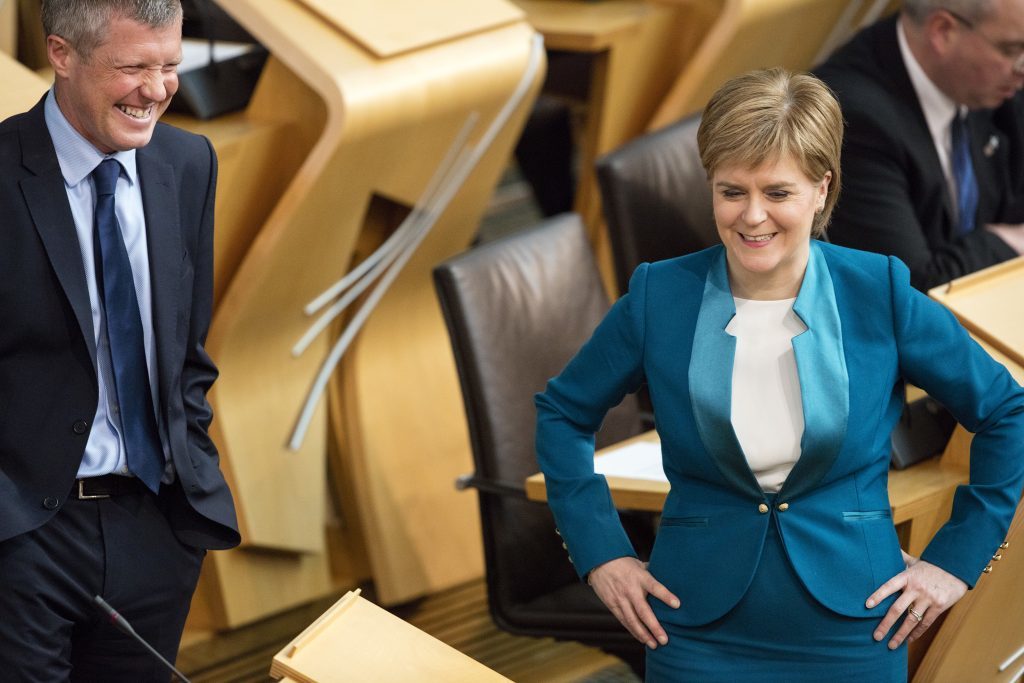 Nicola Sturgeon has been voted in as the First Minister of Scotland by MSPs at the Scottish Parliament.
The SNP leader will lead a minority government after her party won 63 of 129 seats in the Holyrood election on May 5, two short of an overall majority.
Ms Sturgeon will now be formally appointed by the Queen after her nomination by MSPs.
She became Scotland's first female first minister in 2014, succeeding Alex Salmond, who stood down following the No vote in the Scottish independence referendum.
Ms Sturgeon won the vote for nomination as First Minister with 63 votes from a total of 127.
A further five votes were cast for Scottish Liberal Democrat leader Willie Rennie, who also put himself forward for nomination, while there were 59 abstentions.
Ms Sturgeon said: "Parliament first elected me to this position back in 2014and I have worked hard to repay that support.
"Eighteen months on I am a little bit older and a lot wiser.
"The experience of being First Minister has made me more acutely aware of the challenges that our nation faces, but also even more aware of our vast potential.
"The challenge for me and for all of us is to harness that potential for the people of our country and those of us lucky enough to live here."
Mr Rennie revealed that his 12-year-old son was "unimpressed" at his bid to stand against Ms Sturgeon for First Minister.
He explained that he was "inspired by a woman nationalist leader who stood up against the odds", alluding to Plaid Cymru leader Leanne Wood's attempt to build an alliance with the Conservatives and Ukip to oust Labour from the Welsh Government – which was finally abandoned today after a week long deadlock.
He said: "Unlike Leanne Wood, I will not be relying on Ukip votes today."
Mr Rennie said he stood to make the point "that we are all minorities here" and remind Ms Sturgeon that she will have to build alliances to get her policies through.
He called on the SNP to support the Lib Dem's plan to put a penny on income tax to fund £500 million investment in education.
"The SNP may have to rely on the Conservatives for a majority from time-to-time," he said.
"We should use the next five years to make Scottish education the best in the world again."
He added: "We need to have a change of heart from the SNP on the use of tax powers so we can make that big investment, or will they look to the Conservatives to help block that investment."