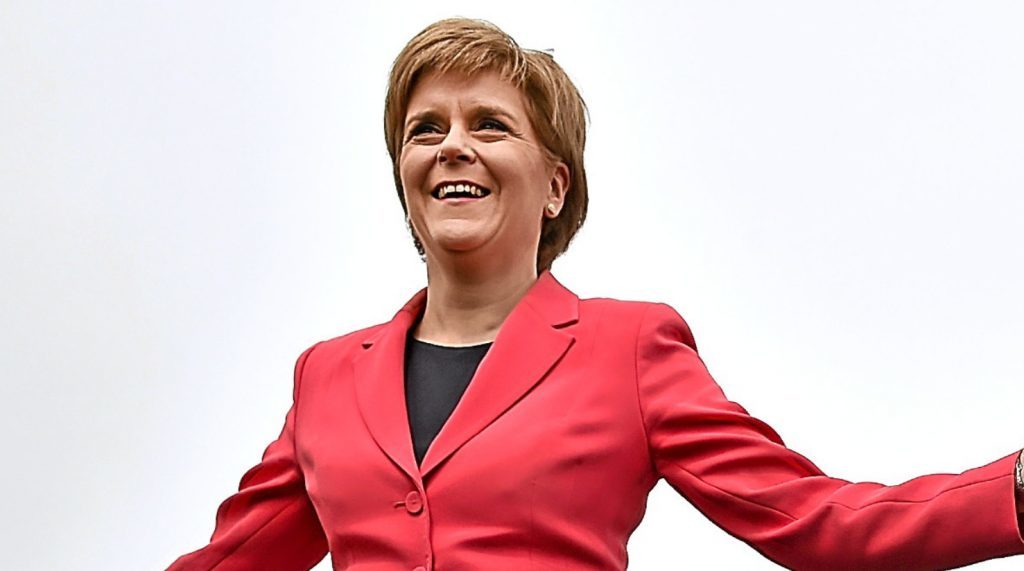 Nicola Sturgeon has warned Scotland's reputation on the world stage is at risk in the event of a vote to leave the European Union.
The First Minister made a last-ditch appeal to Scottish voters to back the UK's continuing membership of the EU as she campaigned for Remain at Edinburgh Airport.
Ms Sturgeon highlighted the estimated 300,000 jobs in Scotland associated with exports to the EU and said that while she is confident of a vote to stay north of the border, it is crucial for Scots to turn out to vote in large numbers.
She said: "My message to people across Scotland is let's get out tomorrow and vote to protect our place in the single market, the biggest in the world, and all the jobs and investment that depend on that.
"Let's get out to protect our freedom of movement. I'm here at Edinburgh Airport surrounded by people who are getting on planes to go to other European countries, that's a really important right we've got. And let's get out and protect our place in the world.
"What do we want the message that is sent to the world tomorrow to be? I hope it's one of a country that is outward looking and willing to co-operate and collaborate with other independent countries around the world.
"To people in Scotland who perhaps look at this and think it's all about an internal Tory disagreement, I'd say it's really important to us, it's our future, our place in the world that's on the ballot paper tomorrow, so let's get out and protect it."
Ms Sturgeon added: "Scotland can have a big impact on the final vote. We see polls across the UK that still look too close to call so if in Scotland you really want to protect our jobs and our investment, if you want to protect our right to live, travel, work, and study abroad, if you want to protect that reputation we've got as an outward looking country.
"I believe in independence for countries but I also believe independent countries must work together for the greater good. These are all things at stake tomorrow. If we vote Remain we protect them if we don't vote Remain then we put all of these things at risk."
Reflecting on the campaign, the First Minister said: "I hope it will be remembered for a positive result. A result to Remain an outward looking, inclusive, welcoming country that sees a responsibility to co-operate with others across the world.
"I hope it's not remembered for some of the rather distasteful aspects of it that have focused on immigration and exploiting people's fears of immigration.
"I hope that the result, by being a positive result to Remain, will cement the reputation of Scotland – and other parts of the UK – as a country that sees itself as having a big part to play in the world."
Commenting on David Cameron's plea to Scots to vote to stay in Europe to protect the union, she said: "Scotland will continue to debate whether or not we want to be an independent country regardless of what David Cameron might say but I've said before I don't want us to be in a position where the UK is coming out of the EU, so let's vote to stay in the EU and then Scotland can continue to have a vibrant, positive, dynamic debate about our own future."
David Coburn, leader of Ukip in Scotland, was on the streets of Edinburgh in a final push to persuade people to vote Leave.
He said he believed a majority of Scots will back a Brexit in Thursday's ballot despite polls suggesting Scotland will vote to Remain.
He said: "Contrary to what the opinion polls suggest, everyone is saying they are voting to Leave, and I find very few people who say they are voting Remain.
"I think there is a majority for Leave in Scotland or it is very close.
"People are not happy with what the SNP have been saying and a good deal of the SNP members themselves do not agree with their leadership and are going to vote Leave."
Mr Coburn also claimed the official Vote Leave campaign in Scotland has been "invisible", stating that if Brexit succeeds it will be because of Ukip's efforts.
If Remain does win, he added: "We will continue to fight because I believe very much that all the things the European Union has been hiding will suddenly come out of the attic.
"They will release all these mad grannies from the attic to do whatever they want – unacceptable (decisions) will suddenly be foisted on the British people and they will find Cameron has lied to them, and I would very much think you will see at the next general election a revulsion of that, and you will see that Mr Farage might be leading a coalition government."
The MEP also rejected claims the debate on immigration had become inflammatory or "racist".
He added: "That is absolute nonsense – the left are obsessed with it.
"It is simple economics: if you cannot judge how many people you have in the country, you don't know what to do about hospitals, you don't know what to do about housing, about pensions.
"If you can't do that, it is not fair to the people who live here."