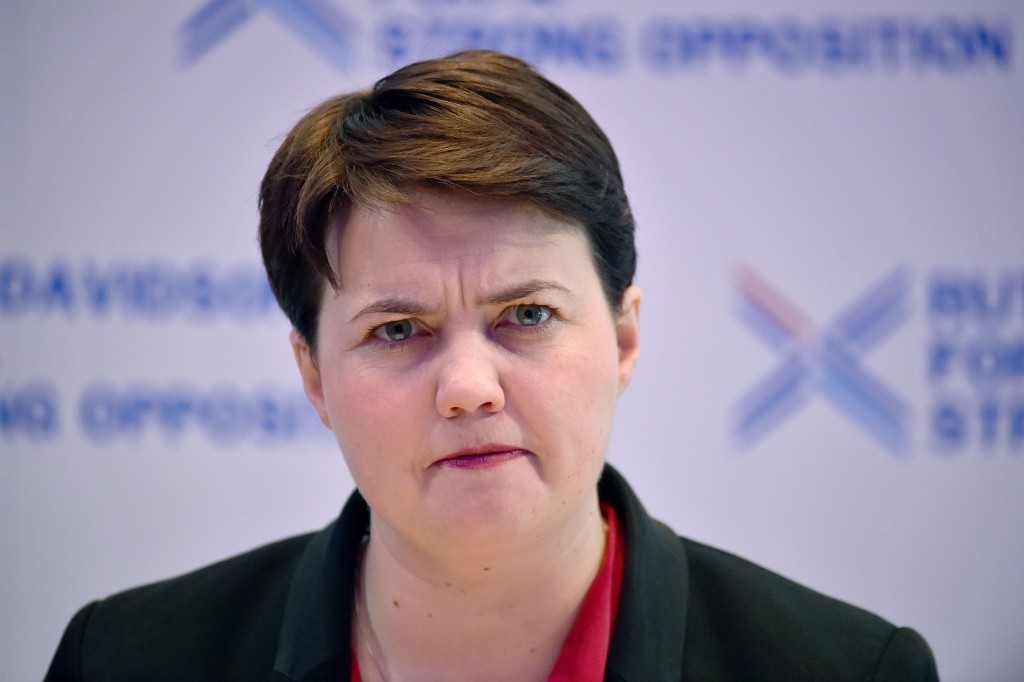 Scottish Conservative leader Ruth Davidson has called on the UK and Scottish governments to put "stability" first in the wake of the vote for Britain to leave the European Union (EU).
Ms Davidson said Prime Minister David Cameron had spoken to Scotland's First Minister Nicola Sturgeon on the negotiations to follow the Brexit vote.
Ms Sturgeon is due to make a statement on the result at Bute House in Edinburgh.
She is already facing calls for a second Scottish independence referendum following Scotland's "unequivocal" vote to stay in.
All 32 local authorities north of the border delivered a vote for Remain, with 62% of Scots voters backing staying in the EU and 38% opting for Brexit.
Ms Sturgeon said earlier: "Scotland has delivered a strong, unequivocal vote to remain in the EU and I welcome that endorsement of our European status.
"While the overall result remains to be declared, the vote here makes clear that the people of Scotland see their future as part of the European Union."
Mr Cameron has announced he will quit as Prime Minister by October following the UK-wide result.
Responding to the announcement, Ms Davidson said he had "served the office of Prime Minister honourably at all times".
She added: "He restored the UK economy from the depths of the financial crisis, he pushed ahead with a series of necessary social reforms and, in Scotland, delivered on devolution.
"I am proud to have served alongside him and, earlier this morning, thanked him for his service on behalf of the party in Scotland.
"His decision to remain in post over the short-term is the right one and will help ensure greater stability in the days ahead.
"It is right that he has already spoken to Nicola Sturgeon to ensure the Scottish Government is involved in the negotiations that will follow.
"Our two governments need to work together for the benefit of all people in Scotland, and they will. All of us need to take stock of this decision and put the stability of our country first."
Scottish Secretary David Mundell praised Mr Cameron as "a great leader of my party and of our country".
He added: "As the Prime Minister made clear this morning, the UK Government is absolutely committed to working closely with the Scottish Government to ensure they are fully involved in the negotiation process.
"The Prime Minister has already spoken to the First Minister and I have today offered to meet with the Scottish Government in Edinburgh to discuss next steps.
"The United Kingdom has fundamental strengths and this is a time for calmness and deliberation – not pushing other personal or political agendas."
The SNP manifesto for May's Scottish Parliament election said there should be another ballot if there was a "significant and material" change in circumstances from the 2014 vote, such as Scotland being taken out of the EU against its will.
Former first minister Alex Salmond told the BBC: "Scotland looks like it is going to vote solidly Remain.
"If there was a Leave vote in England, dragging us out the EU, I'm quite certain Nicola Sturgeon would implement the SNP manifesto."
Holyrood External Affairs Secretary Fiona Hylsop warned that a decision by the UK to quit Europe would have "consequences".
She told the BBC: "We're quite clear, the Scottish Government will protect Scotland's interests whatever the circumstances and we intend to do that."
She added: "The Scottish people have spoken. Their interests are about maintaining that membership, they are interested in maintaining our relations with Europe. We have to find the means with which we can do that."
While she said there is "some way to go in determining the mechanism of doing that", she said: "Decisions have consequences and if the United Kingdom has made a decision against the interests of the Scottish people that will have consequences."
The Scottish Greens launched an online petition calling on Holyrood to "examine and exhaust every option for continuing Scotland's close ties with Europe".
Co-convener Patrick Harvie said: "Scotland must keep open every option for protecting ourselves from this threat.
"The Scottish Parliament and Government must be represented in the negotiations about what comes next. A cross-party plan of action should be sought, so we can defend our rights as EU citizens."
Scottish Labour leader Kezia Dugdale said there would be "difficult times ahead".
She tweeted: "Tories took a huge gamble with our future and they've lost. Now they need to act to protect our economy.
"In Scotland, it's clear we want to work together. 1.6 million voted to remain in EU, two million voted to stay in UK just 18 months ago."
Scottish Liberal Democrat leader Willie Rennie said: "Now the Prime Minister should act with caution. He should not head towards the exit door with haste.
"The country needs stability and time to come to terms with this result before any steps are taken."
Harry Potter author JK Rowling, who previously came out in support of the Remain campaign, tweeted: "Scotland will seek independence now. (David) Cameron's legacy will be breaking up two unions. Neither needed to happen."
With voters in Northern Ireland and London also backing staying in Europe, the Electoral Reform Society (ERS) called for a constitutional convention to be set up to consider the next steps.