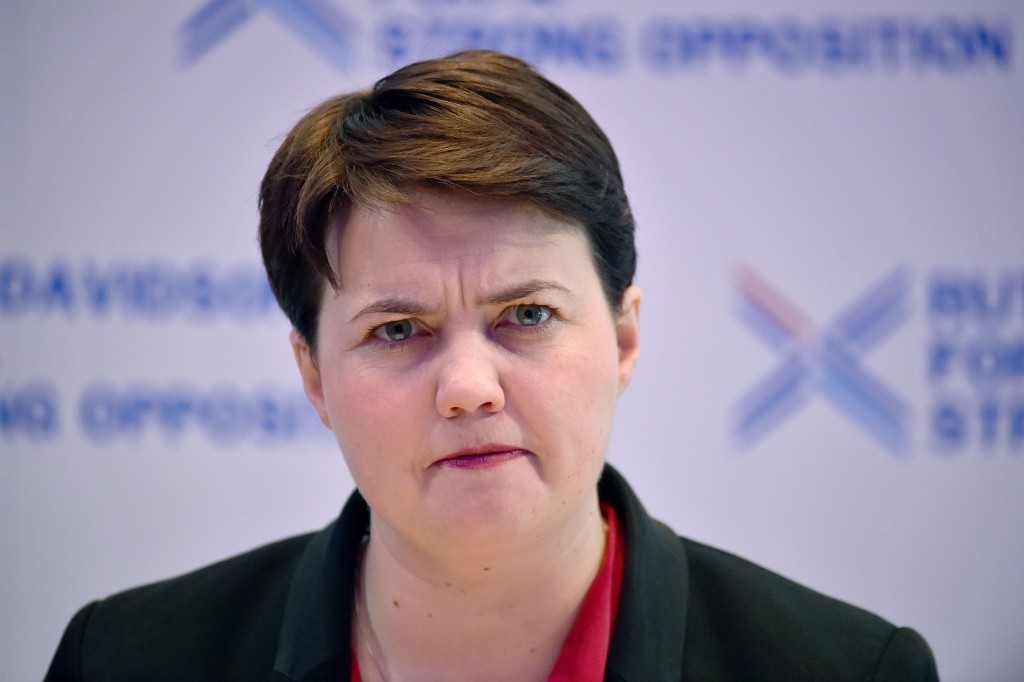 Ruth Davidson has ordered fellow Tories to "man up" and get over the "nervous breakdown" gripping the party.
The Scottish Conservative leader again refused to rule out going for the top job in the UK party during a Tory conference event.
But she played the prospect down, describing it as "the loneliest job in the world".
Ms Davidson, who grew up and worked in Fife, also criticised Theresa May's decision to pitch her social care reforms during a general election campaign.
In a fringe event hosted by The Times, the Edinburgh MSP tried to rally the party following Theresa May's humiliating general election, which saw her lose her Commons majority.
"I don't think the party needs saving. I think it needs to get over its current nervous breakdown and man up a little bit," she said at the Times Red Box fringe event at the Tory party conference in Manchester.
"Just because people are chanting 'Oh Jeremy Corbyn', let's not be fainthearted about this.
"We are on the right side of the argument on the economy, we know that we need to ensure that we adapt to a changing world, that we are supporting our public services, that we are looking after the younger generation.
"But we don't just pack up and go home because they have got a bit of a spring in their step. We get stuck in."
Asked if she would ever run to be leader of the UK party, Ms Davidson said: "I honestly can't see that.
"I'm really lucky, and I'm regularly behind the door of Number 10, but it honestly looks like the loneliest job in the world."
She added: "I do want the job of being first minister of Scotland and that's what I'm working towards in 2021."
Wearing a wry smile, Ms Davidson warned her MSPs against following the lead of Foreign Secretary Boris Johnson, who has made interventions on Brexit widely seen as challenges to the PM's authority.
"If any of you think of writing anything, without telling me, that is counter to current Scottish Conservative policy; you are out on your ear because nobody is unsackable," she said.
Earlier, Chancellor Philip Hammond warned that signs of disunity in Government were harming the UK's Brexit negotiations.
He sent a thinly-veiled caution to the Foreign Secretary that cabinet ministers owe their loyalty to Theresa May and "nobody is unsackable".
Monica Lennon, for Scottish Labour, criticised Ms Davidson's use of the phrase "nervous breakdown".
"These are ignorant comments from Ruth Davidson," she said.
"Good progress has been made to better understand mental health in recent years, but Ruth Davidson's bad jokes show how out of step she and the Tories are."